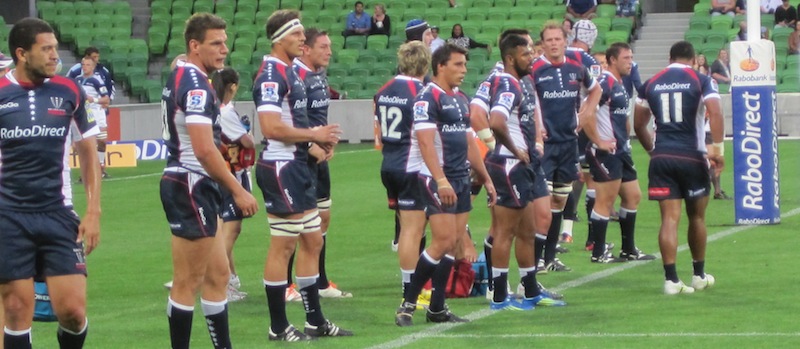 The Melbourne Rebels make one of the hardest roadtrips in Super Rugby this week, travelling to play the Highlanders in Invercargill, in search of the club's first ever win past border security.
Indeed, they'll never be gifted a better opportunity to get the four points stamped on their passports, taking on a weakened Highlanders outfit in their first match minus their pivot, the unluckiest bloke in world rugby, Colin Slade. The hosts are also playing away from their main home ground, the greenhouse at Forsyth-Barr Stadium quickly becoming a fortress for the Otagans. Combined with the surprise loss to the Brumbies ending their unbeaten start to the year, and the Highlanders are vulnerable.
As vulnerable as a team second in their conference and undefeated until last week can be, that is. The Highlanders, along with their conference colleagues the Chiefs, have been the surprise packet for me this year. Their forward pack has been excellent, controlling the pace of play and forcing a lot of opposition penalties, like the early 7-1 count in their match against the Hurricanes. Despite the loss of Slade, they still have a back line in top form, and an incredible ability to see out tight matches, their highest winning margin being just four points.
For the Rebels, their season got the kick start it desperately needed last week, with the 30-29 win against the Western Force. In terms of consistency, it was easily their best game of the year, with the exclamation mark being the fact that they earned the win minus a lot of their starting XV. They are still far from 'there', if you will, their match against the Force was still dotted with poor decision making and easy penalties conceded. They will be boosted by the return of James O'Connor and Kurtley Beale from injury, but the onus will be on the forwards, who will have to beat New Zealand's best pack in order to deliver an unlikely win.
TEAMS
HIGHLANDERS
1. Jamie Mackintosh (c), 2. Jason Rutledge, 3. Chris King, 4. Josh Bekhuis, 5. Jarrad Hoeata, 6. James Haskell, 7. Adam Thomson, 8. Nasi Manu, 9. Aaron Smith, 10. Chris Noakes, 11. Hosea Gear, 12. Shaun Treeby, 13. Tamati Ellison, 14. Kade Poki, 15. Ben Smith
REPLACEMENTS: 16. Brayden Mitchell, 17. Ma'afu Fia, 18. Culum Retallick, 19. Doug Tietjens, 20. Jimmy Cowan, 21. Phil Burleigh, 22. Buxton Popoali'i
Colin Slade is out for the year, joining John Hardie, Lima Sopoaga and Nick Crosswell on Otago's growing long-term injury list. In his place, Chris Noakes takes the #10 jersey in just his second Super match. All Black mainstay Andrew Hore is out of the match, but fellow representatives Adam Thomson and Jarrad Hoeata are back in action.
MELBOURNE REBELS
1. Nic Henderson, 2. Adam Freier, 3. Laurie Weeks, 4. Luke Jones, 5. Hugh Pyle, 6. Jarrod Saffy, 7. Tom Chamberlain, 8. Gareth Delve (c), 9. Nick Phipps, 10. James O'Connor, 11. Cooper Vuna, 12. Lloyd Johansson, 13. Lachlan Mitchell, 14. Mark Gerrard, 15. Kurtley Beale
REPLACEMENTS: 16. Ged Robinson, 17. Rodney Blake, 18. Alistair Campbell, 19. Michael Lipman, 20. Nic Stirzaker, 21. James Hilgendorf, 22. Julian Huxley
The Rebels have two big ins with James O'Connor slotting straight into #10 after his hamstring strain, and Kurtley Beale coming back from a calf tear. The dancing Danny Cipriani is out for three weeks with a hamstring tear, continuing the Melburnians' awful run of soft tissue injuries.
DETAILS
This game kicks off at Rugby Park Stadium, Invercargill, on Friday March 30 at 5.35pm AEDT (7.35pm local)
It is, as always, live on FOX SPORTS 3 and 3HD.
These teams have played once before, the Highlanders smacking the Rebels 40-18 in Round 9, 2011, at AAMI Park in Melbourne.
THE GAME BREAKER
It's going to be a good old battle of the forwards, this one. Invercargill will no doubt be cold, windy, wet and who knows what else, meaning ball security and controlling the tempo of the match will be paramount. The Rebels forward pack have been one of the feel-good stories of Super Rugby this year, continually playing out of their skins and putting the Victorians in the hunt in all but one of their matches. They were serviceable against the Force, particularly in the final ten minutes of frenzied defence, but they will need to lift again to take on the Highlanders pack, who will expose any weakness the Rebel forwards show.
The backs will take a back seat in this match, but Kurtley Beale will need to fire to give the Rebels a chance. Opportunities will be few and far between, so the Victorians need to give the ball to the player who can create the most out of the least. I would have liked to see Kurtley in at 10 or 12 in this game, if only to make sure he is continually involved – the Rebels will need him at the coalface to find whatever opportunities the Highlanders afford them. I wouldn't be surprised to see Damien Hil roll the dice at half time if things are looking particularly grievous and do just that, replacing Johansson for Huxley who would go to 15, moving Kurtley into a 10/12 pairing with James O'Connor.
I think the Highlanders will be happy to kick Melbourne out of this game.  They will know that it doesn't take a lot to force Melbourne into errors, and will try to peg the visitors back into their own 22 to pile on the forward pressure. I'm expecting a very high penalty count in this match, further illustrating the need for the Rebel inside backs to take whatever opportunities they're lucky enough to get – a couple of tries could be enough.
FEARLESS PREDICTION
As I said earlier, there will never be a better opportunity for the Victorians to snatch a win overseas. They'll be full of confidence after registering a win last week, and, combined with the injuries to the Highlanders, they could just steal a result if everything goes their way.
It won't, though, and they won't. A weakened Highlanders team is still a very, very good team, and, despite being away from their cauldron at Forsyth-Barr Stadium, they couldn't have asked for a better venue than the dreary surroundings of Invercargill. Their forwards will know how to play the conditions to their advantage, and, unless the Rebel pack can rise to the challenge and win the ball on the ground, they will simply have too much possession for the visitors to have a chance.
I think it will be a close match, though, and any competition points overseas for the Rebels will be a big improvement on last year's efforts.
Highlanders by 6.
Who do you think will take away the points from the deep south?