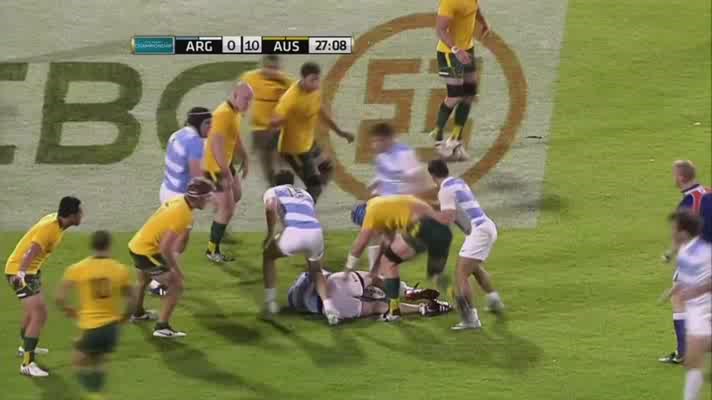 The shock of the win in Rosario is wearing off. Who would have thought going into this game that the Wallabies could win so comprehensively. Certainly not the bookies – who paid $5:80 for the 13+ win – but I don't know anyone who was brave enough to back them.
1. Benn Robinson didn't really save us.
I've heard around the traps that Benn was the difference in that scrum and that's why the ball popped out. To me it looked just like the seven scrums before it. What do you think?
[youtube id=d5_puaVx0Lo width="600″ height="350″]
2. Was it a knock-on?
Adam Ashley-Cooper has just scored in the right corner, referee Wayne Barnes asks the video ref to look at a possible knock-on on the other side of the field and 40 metres back. Now it looked like a knock-on to me but that's not what concerns me about the call. Barnes thought there was a knock-on or someone suggested it and no one called it at the time. So if there hadn't been a try they were happy to continue with play but because there was a try they decided it should be checked. Maybe one of the Argentinean's suggested it? To me things like knock-ons and forward passes should be checked in the act of scoring a try but not 40 metres back and on the opposite side of the ground.
3. It wasn't a ruck.
It's a little thing but James Horwill was penalised for hands in the ruck when there was no ruck for him to have his hands in. Here is the IRB definition:
How can a ruck form? Players are on their feet. At least one player must be in physical contact with an opponent.
And here is the incident: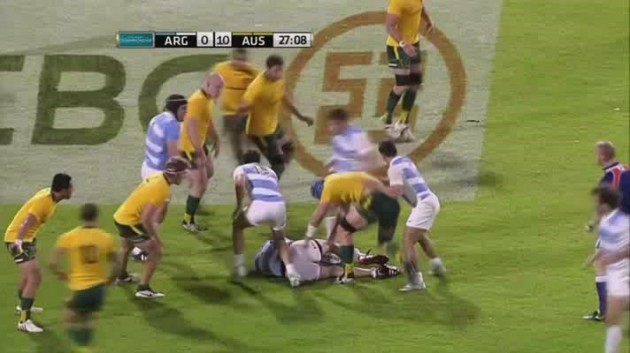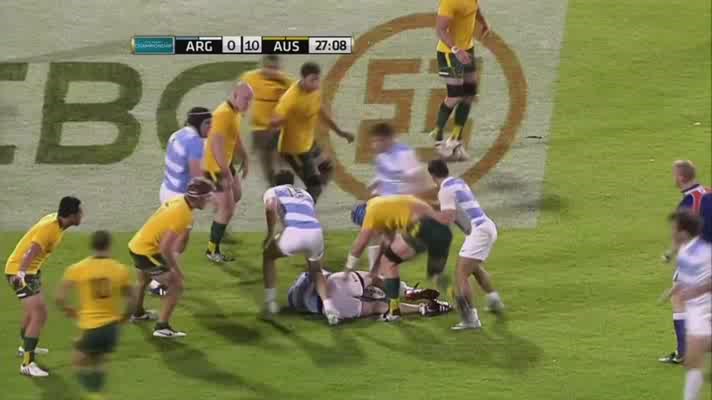 4. What a step
As Israel Folau stepped past Horacio Agulla on the way to his second try Greg Clarke screamed 'what a step'. I can't help but think it's not the last time we will hear it and I'm pretty sure I will never get sick of seeing it.
[youtube id=BFvsRNu1J-Q width="600″ height="350″]
5. Tomane was pretty good.
Okay he was great. The first time I watched I thought he had been caught out a lot in defence. With a second look I can see it was his inside men not realigning forcing him to commit to the inside runner and leaving his winger open. I can hear the old farts moaning 'always stay on your winger the inside guy is not your problem' but after gaining 160 metres with the ball I think we can cut him a break.
6. Genia and Cooper are back baby!
One of them threw the last pass for more than half our tries! Genia's ruck passes were fast and accurate and some he took no steps for. Cooper and, to a lesser extent, Genia, took on the line and asked questions of the defence. It was great to see though Genia slowed up in the second half.Do I want too much from him? And Cooper had a kick blocked, threw a intercepted pass and put us under pressure with an atrocious left-foot kick. Is this just the price of running him at flyhalf? On the plus side his defence is no longer an issue and the work he does covering his mistakes is sensational.
7. Timani caught a lineout!
His feet never left the ground but there is still a one next to his name in the lineout column. It's a core skill for second rowers and I can't understand how an international lock can not have it in his arsenal.
8. Martin Landajo cited
He knew the whistle had blown. I hope he gets done big time.
I forgot to mention the scrum.
So here is an unofficial ninth observation.
I was impressed with all our scrums especially the tighthead in the second half. There just seemed to be more starch in them. Andrew Blades has obviously been putting a lot of work into them and the only criticism I can come up with is that I'd love to see the backrowers looking through the scrum instead of popping their heads up and not pushing. Argentina has one of the best scrums in the world and our boys worked there butts off to compete with them.