CAS v GPS 1st XV
at St Josephs College
CAS 24 Defeated GPS 19
The annual clash between the two dominant rugby school associations lived up to the hype, with the game in the balance down to the very last play of the day.
With Barker and Scots dominating the selections in both sides with 8 players a piece, this match would be as close as the two teams would get to see which school is the better team in 2018. Having watched the GPS 2nds run out easy winners 47/17, and with the GPS 1st XV forwards having the edge certainly in height and weight, this game on paper at least looked to be GPS's to lose.
From the kick off, GPS dominated the early exchanges with Bell (1) and McLennan (2) prominent, recycling possession and swinging the ball wide, but critically GPS were not getting across the advantage line. Pollard (2) and Moretti (8) were providing the starch in defence while Edmed (10) and Ilias (13) ensured that the Riverview pairing of Easy (12) and Bell (13) were not going to find an easy way through.
A turnover by Dring (4), gave the CAS a sniff and with Tejcek (9) giving quick ball to Reimer(6) who put Ilias (13) in space broke clear. As the defence, swarmed Ilias found Ben Bryden (11) who beat one tackle and ran 35m to score the opening try. The sideline conversion was wide and CAS lead 5 nil.
The CAS lads were not letting the GPS team get any momentum as Moretti terrified the ball runners and with Molloy (7) and Reimer (6) cleaning up at the breakdown CAS applied the pressure to force errors from the GPS team. Passes went forward or behind players and simple passes were dropped while in the set piece, the GPS size advantage was not proving any benefit. A CAS lineout on the GPS 22m line, had the Barker combination work a treat, with Pollard finding Flaherty taking a clean ball, who tossed down to Tejcek who found Moretti, who strolled through the GPS centres and scored next to the posts. With Edmed adding the extras CAS lead 12 nil.
GPS were trying hard but their execution was off. The defensive effort by CAS was impressive with Tejcek and Bryden pulling off some crucial movement stopping tackles out wide that just killed the GPS boys momentum. With the CAS again deep in GPS territory a strong scrum win had Moretti peel off and create an overlap for Tejcek to score in the corner. No extras and after 28 min CAS led 17 nil.
The GPS dominated crowd were very quiet and with good reason. CAS were playing like a team and were sticking passes, making tackles and dominating the breakdown. A try by Barkers go to man Luke Reimer (6) had the GPS heart muscle in cardiac arrest on half time with the lead out to 24 nil when the ref called for Oranges.
The 2nd half started with the same line up for both sides, and the chat by the GPS coach at halftime worked. The GPS became more tradesman like and started using their size to their advantage and worked the ball up field. The passes started to stick and their timing of running onto the ball at pace started to bend the CAS line. The score when it came looked easy with Wellington (6) opening the scoring for GPS.
24/7 to CAS.
The size of the GPS lads was starting to have an effect and that lifted their confidence and their execution improved. A rolling maul 10m out following a set piece had McLennon (2) over for the 2nd try in the corner. GPS were starting to rumble but still trailed 24/12.
It was at this point two critical events happened that nearly won the GPS this game. The first was GPS subbed 4 forwards with Gillies (4), Bokeham(5), Schmidt (6) and Heaven (2) all coming on with 20 min left to play. These subs, despite having played a full game were fresher and equally as able as there 1st XV counterparts, and the lift in intensity showed.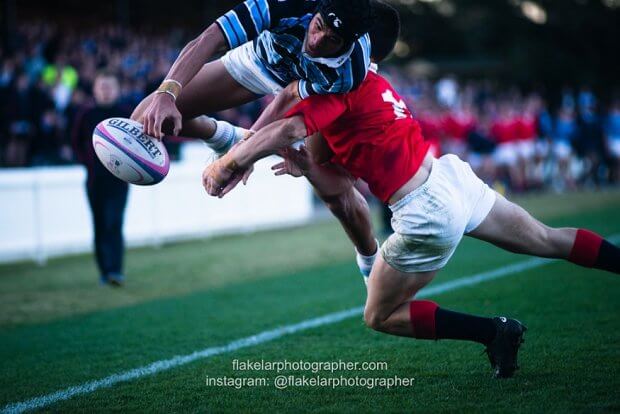 The CAS 1st XV forwards remained unchanged.
The second was from the restart; CAS centre Ilias (13) despite a clear no intent to tackle caught Wellington high off the ground and was issued with a red card. This was unfortunate but probably the correct call going on the letter of the law. CAS were down to 14 men and defending a 12 point lead, facing fresh subs. The game was very much in the balance and GPS were on the ascendance and the confidence started to show. Strang and Savala finally clicked and Bell started to punish the CAS defensive line which was a man down. The pressure told and Savala strolled over for a soft try. With the extras it was 24/19 with 8 min to go.
Savala then cramped up and was subbed by Minnogue (GPS 2nds 10) who had a stella game against CAS in the 2nds and the heat was really applied. The clock was ticking, but the CAS forwards played smart. Dring and Flaherty held the ball. Moretti, Reimer and Pollard won the collisions and Molloy scrapped and slowed the GPS ball down. Time was running out and when the Joeys clock stopped ticking down with 2min to go, it was nail biting time. GPS were finishing strong, with Minogue now dictating proceedings.
With time almost up, GPS found space down the grandstand side and put Suaali clear. With 40m to run to the line there was no one to oppose him, but for a charging far side winger in form of Ben Bryden. Sualli at full pace and 5m out, executed a huge diving lunge for the line only to be met by an equally quick and desperate and fully committed diving tackle from Barkers Ben Bryden. The mid-air collision had both players crash heavily over the sideline and the ball bouncing lose. No try.
On referral with the touch judge, the ref blue full time in a game that the CAS team deservedly won in the most dramatic fashion 24 points to 19.
This was a fantastic game of rugby and both teams should be congratulated on their efforts. No doubt, the GPS lads did not play to their potential in the first half, but that was because CAS did not let them and played like they wanted it bad.
Moretti and Reimer were huge for CAS today, showing why they deserve a Sky Blue jumper later in the year while Malloy was a total pest at the breakdown and played his best game ever. Along with Pollard and his Barker teammates Dring and Flaherty, the CAS forwards muscled up and did the simple thing well and most importantly played as a team.
The GPS forwards were off their game. Reputations were shot today and despite having enough ball and opportunity they just did not step up and play with the intensity or desire that you need to win games like this. What can be said, is the GPS teams have more depth than CAS, with the players from the 2nds nearly winning this game for GPS.
In the end it was not to be and CAS thoroughly deserved the win.
In the backs, Captain Tejcek (9) was superb at the base of the scrum and his combination with Tane Edmed (10) really out played their GPS opponents. Along with Ilias (13) and the wingers Galloway (14) and my man of the match Ben Bryden (11), the CAS lads showed class, speed, character and a real desire to win.
That is what won them this game.
For the GPS backs, there is no doubt Suaali is a class player and if he had been given more opportunity this game may well have been different and I will be surprised if he is not partnered with Tricks as the wingers on Friday. In addition the GPS 2nds back line had more speed and better execution than their 1st XV colleagues which was strange given the combinations selected.
All players head to Friday without any apparent injuries. The GPS teams will no doubt be rejigged to face CHS 1sts and 2nds while CAS 2nds take on CCC and the CAS 1sts take on ISA.
Best for CAS. Bryden, Moretti, Reimer, Pollard, Dring, Tejcek, Molloy
Best for GPS. Williams, Bell, Harris, Minogue (2nds), Suaali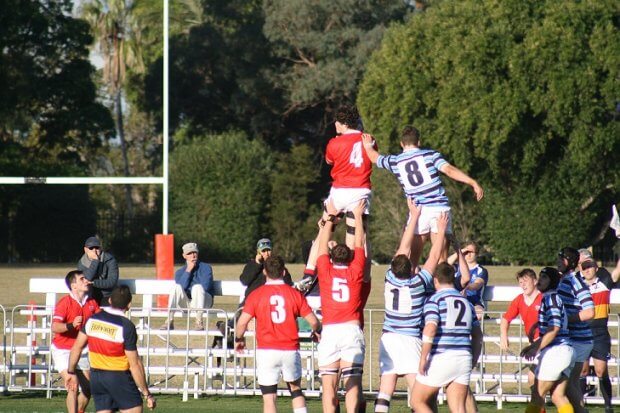 GPS 2nds v CAS 2nds
By "thats_gold"
The depth in the GPS shone through in this clash of the CAS and GPS second XVs. A powerful pack of piggies fronted a backline that played themselves into serious contention for higher honours, running in seven tries to three to win 40 to 17.
First half
A solid 30 metre solo effort from Vinnie Creagh (Joeys 12) opened the scoring for GPS after just two minutes and, with the first of six conversions from Matt Minogue successful, GPS led 7 – 0.
CAS looked to be next to score. But no. Held up was the call.
After defending a promising CAS raid, GPS set off on a counter-attack led by Hugh Bokeham (Joeys 5) before offloading to Lachlan Albert (View 9) who raced away to score. 14 – 0.
A big bust from Simeone Schmidt (View 6) nearly resulted in another GPS five-pointer. But it was CAS who scored next, following a dash down the sideline by Darcy Hampton (Aloys 14) and quick hands found Matt Graham (Barker 13) in space. Conversion unsuccessful. 14 – 5.
It took 15 minutes for the first scrum and despite a noticeable size advantage to GPS the contest looked even.
With seven minutes left in the half, Fred Tricks (Scots 14) made a 25 metre break down the right flank, before kicking in-field for Albert who regathered. Extras added.
Half-time score: GPS 21 – 5 CAS
Second half
The second verse started the same as the first, with a try inside the first two minutes, this one to Minogue. 28 – 5.
Another great run by Tricks put GPS in great field position before simple hands found Johnny Connolly who darted over. 35 – 5.
A brilliant run by Luca Martin (Waverley 23) provided a much needed try for CAS and with the kick good, GPS led 35 – 12.
Tricks then set off again and scored one for himself, after beating at least four defenders, before Minogue showed he is actually human and missed his only conversion for the afternoon. 40 – 12.
Malachi Hawkes crunched through the GPS defensive line and scored the third try for CAS will full-time nearing. 40 – 17.
The final play saw Creagh set off on another galloping run, with goose step thrown in, to grab his second meaty for the day. 45 – 17.
To cap off a bountiful afternoon with the boot, Minogue claimed the extras with a cheeky drop goal from the sideline.
Full-time score: GPS 47 – 17 CAS
The wrap
While the anticipated GPS dominance in the set piece didn't materialise, their forwards were stronger with ball in hand and their offensive defence was impressive.
The highlight of the day was the performance of the GPS backs who sent a strong message to selectors. It would not surprise if several of the GPS II playmakers and speedsters get a guernsey at the Nationals next month.
The game was played in great spirit and enjoyed by a good crowd, but being a 1.45pm kick-off, it was sadly missed by potentially thousands of kids, young and old.
Best players
GPS – Minogue (10), Tricks (14) and Connolly (15)
CAS – Cameron (6), Cheal (7) and Graham (13)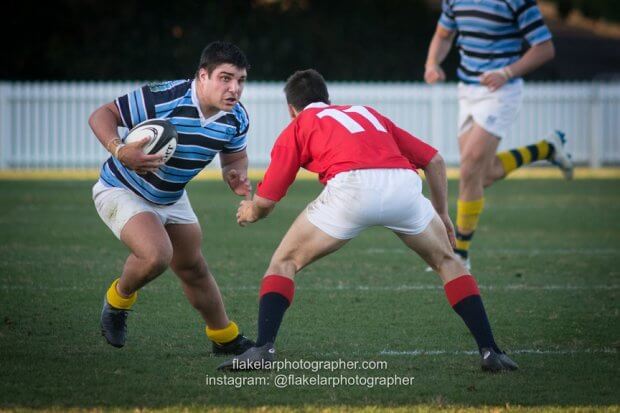 GPS White v GPS Blue
Written by Armchairselector
It was quite evident early that players from both GPS Blue and GPS White were still finding their feet with unfamiliar team mates to work with. As is always the challenge with trial Rugby, finding the balance between showcasing your individual talent and working as a team made for a frustrating opening 15 minutes with both teams guilty of dropped ball, silly penalties and unstructured solo hit ups.
With 16 minutes gone, a mid field line break by Blue #3 Shanks-Anderson (J) was the first glimmer of consistent team work with a deft offload to #15 Ryan (J) in space with speed to burn over for a try. #10 Vei (N) converted to give Blue the lead 7-0.
White hit back 8 minutes later with loose ball scooped up on their 22 by #14 Latu (N) who ran 75 metres to touch down . Try unconverted Blue 7 White 5.
5 minutes before half time, Blue # 10 Vei (N) darted through a hole in the white defences, stepping prop Atiola (N) to score. The try was unconverted and at half time Blue 12 White 5.
The first half was a scrappy affair with little or no ball through the hands. Clearly they are a talented group of players but it was only when the boys began to play with structure and as teams that the game started to move beyond 1 or 2 phases.
10 minutes into the second half in a carbon copy repeat of his opening line break Shanks-Anderson offloaded again to Ryan. Blue lead 17 White 5.
White hit back capitalising off a penalty with a quick tap by #9 Murray (J) through the hands with #4 Cale (K) scoring. #10 Gibbs (J) converted. Blue 17 White 12.
It was Shanks-Anderson again midpoint through the second half who finished off a patient series of pick and drive from 10 metres out. Vei adding the extras. Blue 24 White 12.
But momentum was building in Whites favour as they worked as a back line. In a purple patch for White, #11 O'brien (J) was gifted ball in space to score twice in two minutes. Gibbs converting both to secure White the lead 26 Blue 24.
For the final 10 minutes, White were on attack and continued to reap the benefit of Blue errors. Missed tackles and poor ball handling were proving costly for GPS Blue. A yellow card to Blue #11 Williams (K) for cynical play in the 35th minute allowed White #9 Murray space to snipe from the back of a scrum 15 metres out, sealing the match to White. Gibbs converted, final score White 33 Blue 24.
White 33 (tries: O'Brien (J) 2, Latu (N), Cale (K), Murray (J), Conversion: Gibbs (J) 4)
Blue 24 (tries: Ryan (J) 2, Vei (N), Shanks-Anderson (J), Conversion: Vei (N) 2)
Best for White were #9 Murray (J) , #10 Gibbs (J) and #4 Cale (K),
Best for Blue were #3 Shanks-Anderson (J), #10 Vei (N) and #15 Ryan (J)
I look forward to watching both Blue and White in their matches on Thursday night against the NSWJRU U18 1sts and 2nds at Boronia Park Hunters Hill. Given today's result, hopefully selectors will make some necessary changes.
Both Blue and White will need to improve markedly and play as teams rather than a group of talented individuals. NSWJRU 1sts include two former Australian Schoolboy Barbarian players from 2017 and an array of talented Club players from across NSW. All vying for selection in the NSW team to play on the Gold Coast at the Australian Schoolboys Div 2 championships.