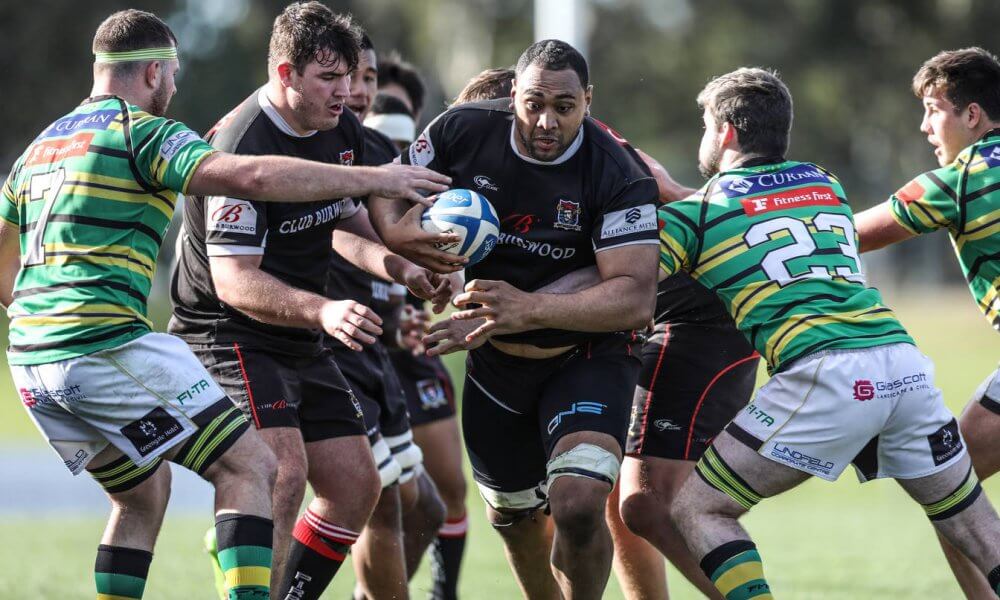 Well, that was a cracking weekend! It's time to talk about the Intrust Super Shute Shield, and round fourteen served us some truly thrilling matches. Here is our review of the round.
EASTWOOD 14 – 32 RANDWICK, T G MILLNER FIELD, 8TH JULY 2017
The broadcast match on 7TWO was a close one in the first half, and it was clear from the outset that the Woodies were determined as all hell to try and turn their form around. They held their own for more than half the game, but in the end, like so many weeks beforehand, they fell away off the back of some outstanding tries by the Randwick backs. It is troubling times at TG Millner Field, with the Woodies dropping to fifth place as a result of this loss. Only Northern Suburbs separates them from a dangerous Sydney Uni outfit that is returning to form.
The Wicks were phenomenal in the second half. They trusted their depth and skill and showed it, running in some cracking tries to shut Eastwood out of the game. This win will do much for the Galloping Green faithful after their loss against Warringah last week. They look set to finish in the top three if they keep playing like that second half.
Eastwood will hope to get some form back when they host Eastern Suburbs next week, while Randwick head back home to Coogee to face Parramatta. Check out the highlights of the broadcast game below, courtesy of the lads at 7TWO.
WEST HARBOUR 29 – 25 GORDON, CONCORD OVAL, 8TH JULY 2017
The two rising form teams met this week in what turned out to be a thriller at Concord Oval. The Pirates had taken some big scalps of Eastwood and Sydney University, and they were favoured against their northern rivals. But, their opposition came to play. However, it was clear that those two wins had done wonders to the Pirates confidence, and their finishing skills saw them home against this Gordon outfit. That's three in a row for the men from Concord Oval, with their race to the finals still alive.
Full credit to the Highlanders on this one. They would not go away. After their mixed performance last week against Penrith that they were, in some respects, lucky to get away with, they came to Concord, and played well. While they didn't get the win, this was probably their most focused and threatening performance yet.
Wests will be looking to go four in a row when they head to Nepean next week to take on an increasingly challenging Penrith outfit, while Gordon will sniff a chance to become giant killers themselves when they travel away to play against an out-of-sorts Northern Suburbs.
SOUTHERN DISTRICTS 37 – 33 NORTHERN SUBURBS, FORSHAW RUGBY PARK, 8TH JULY 2017.
Speaking of Norths, it was another four point thriller when they travelled to Forshaw Rugby Park to play a red hot Southern Districts side. The Rebels, much like Wests, will take a lot out of this match. Their confidence built up out of some outstanding recent form got them home on this one. Wins like this will do much to keep the players feet on the ground. Souths will be better for it.
As for Norths, it was once again so near, but so far. They are playing good rugby, but they're missing that spark and finishing style that made them champions last year. They have stepped up their performances in recent weeks, and to push this Southern Districts outfit away from home is no mean feat.
Southern Districts face the biggest challenge of their season next week when they head up to the peninsula to face Manly, while Northern Suburbs  should be wary of a potential banana peel that Gordon might be when they host them next week.
PENRITH 28 – 33 PARRAMATTA, NEPEAN RUGBY PARK, 8TH JULY 2017.
What a match the battle of the west was! I'd gone with my heart and had backed the Emus to finally get that elusive win. They had a small lead at halftime, but eventually fell at the death. But I'm gonna have some perspective on this. Ever since the Warringah second half three weeks ago, the Emu boys have been playing some great rugby. Every match, they've been turning up to play, and for two of those three weeks, they led the game at halftime. I hope Julian Huxley stays on at Nepean Rugby Park, because based on current form, it's not a matter of if Penrith get that first win, but when.
But, full credit to the Two Blues here. They didn't take their neighbours lightly. They knew they had a match on their hands. They shrugged off their recent poor performances and played a great game to grab their third win of the season. In a match that showed there is plenty of talent in the West, the Two Blues showed they can play good rugby.
Penrith will be looking to chase that elusive win when they host a red-hot West Harbour next week, while Parramatta will have a tough assignment on their hands when they travel to Coogee to play Randwick.
WARRINGAH 45 – 18 EASTERN SUBURBS, PITTWATER RUGBY PARK, 8TH JULY 2017.
There is something brewing at Rat Park. The Warringah boys, ever since the gut-wrenching events of a few weeks ago, have been playing like a team with an agenda, to give their faithful something to smile about. They have been playing some beautiful rugby, and they turned it on against Easts with a dominant display. This recent saw them close the gap on Manly, and saw them more than consolidate second place on the ladder.
For Easts, it was simply not their day. They were outplayed by a better team, and despite some good moments, never looked like pulling off an upset. The loss sees them fall to tenth on the ladder. While their season is pretty much dead and gone, hopefully this may galvanise them into playing for some pride, because they do have the talent to push some of the teams at the top of the table.
Warringah host a dangerous Sydney Uni outfit next week, while Eastern Suburbs will sniff a good chance for a win when they head up to T G Millner Field to play Eastwood.
SYDNEY UNIVERSITY 30 – 30 MANLY, SYDNEY UNIVERSITY FOOTBALL GROUND, 8TH JULY 2017.
We've had so many close matches the last few weeks, but I personally was surprised that we hadn't had a draw in the middle of all of this. Then this game happened. They're weird things, draws are. The Students played out of their skin for this one, and despite not grabbing the win, they should take a huge amount of confidence from this result. Only one other team has been able to knock off Manly this year, so to draw with them is a good sign that they have the talent to make it to the finals.
If there is any sense I get from this Marlins outfit over the last fortnight, it is that some complacency is creeping in. Granted, they have come up against some tough sides recently, and they played well to get the draw here. But we've seen what these guys are capable of. A win here would have effectively wrapped up the race for the top of the table. Warringah has now closed the gap to nine points. Manly should not look to take their foot off the throat. They need to show some more of the razzle dazzle that got them to the top in the first place.
Sydney University will face a match which will probably decide whether they make it into the top six when they take on Warringah away from home, while Manly may have some trouble of their own when they head back to the peninsula to take on a dangerous Southern Districts outfit that has jumped up the ladder to fourth place over the last few weeks.
---
The Intrust Super Shute Shield will be back on July 15th. Be sure to get along to your local club rugby games, and lets #makeclubrugbygreatagain
ROUND FIFTEEN FIXTURES (15TH JULY 2017)
Randwick vs. Parramatta, Coogee Oval
Manly vs. Southern Districts, Manly Oval (Live on 7TWO)
Penrith vs. West Harbour, Nepean Rugby Park
Northern Suburbs vs. Gordon, North Sydney Oval
Warringah vs. Sydney University, Pittwater Rugby Park
Eastwood vs. Eastern Suburbs, T G Millner Field
Featured Image Credit: Unknown