Greetings, G&GRs, and welcome to Friday's Rugby News, now Hoss-free for one whole week! *cries*
You're all in luck though, he has sent us this postcard via His Majesty's snail mail service: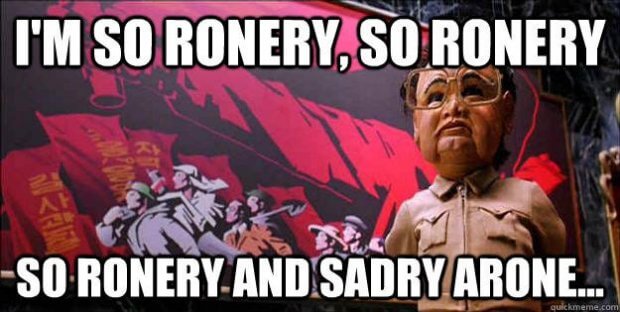 Fortunately, our own Apple Islander, Keith Butler (aka the old man who shouts at clouds) visited the Tasmanian version of the Ponderosa (which is startingly similar in looks and smell to the Taswegian gene pool) to bring you today's topic of rugby-related work absenteeism, I mean, G&GR news for this fine Friday before a long weekend! Here's optimistically hoping more Aussie sides than the Ponies make it through to the semis!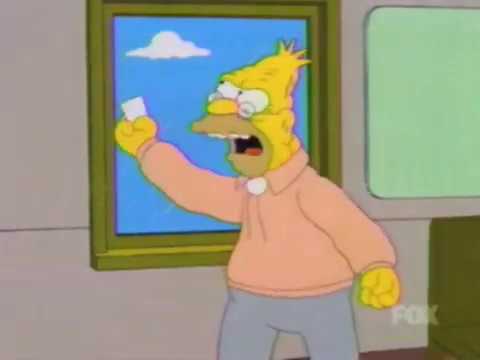 NEWS FROM TASWEGIA
This turned into a bit of a labour of love but whether it has any meaning is open for discussion. However, I did enjoy putting it together.
This all kicked off a few weeks back when the late demented lamented Hoss mentioned a furore that had broken out regarding the resting of Super Rugby Pacific players. I suppose the question was what possible impact this might have on the final positions on the ladder. Well, the Ponies well and truly shot themselves in the foot on this one. Discussion was carried on by KARL referring to an article in the Guardian that stated that core SD players were only playing on average, around 40% of Premiership games that was giving those self righteous owners/benefactors a good dose the yips. Tough s@1t boys. Discussion then moved on into the area of are our players playing enough games and does lack of game time affect fitness levels?
The table showing SD game time is however a little misleading as it does not take into account the European Champions/Challenge Cups that the Premiership and the URC qualify for.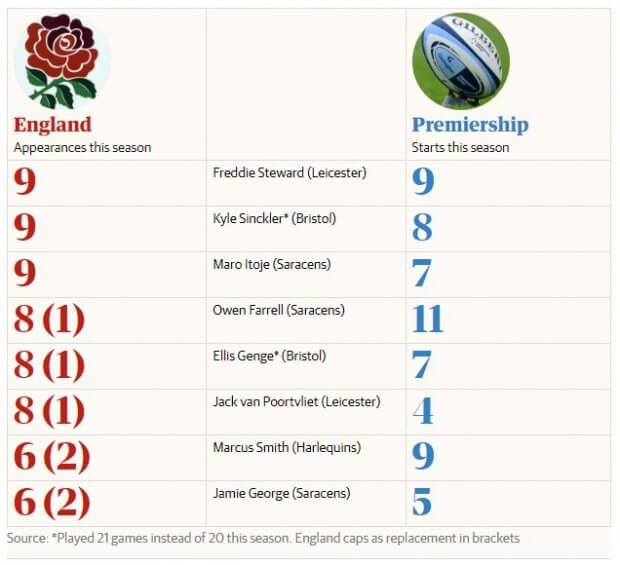 So, to put things into perspective let's have a look at the maximum number of club games that can be played in the NH in a season, excluding the Frogs because they don't count, and in Super Rugby.
English Premiership 20 + s/f + final = 22 European Cup/Challenge 4 pool +4 knockout = 8 total potential club games = 30
United Rugby Championship 18 + q/f +s/f + final = 21 European Cup/Challenge 4 pool + 4 knockout = 8 total club games = 29
Now compare that potential workload with Super Rugby. Ignoring the fact that our Aus teams have a Buckley's and none chance (Chuck edit – "lol – Rebels") of making the final we have Super Rugby 14 games + q/f + s/f +final. Total club games a massive 17 at best.
However, I haven't included games that might be played by potential G&G players in the Shite Shield or Hospital Pass Cup. Few and far between I reckon.
To get some idea of the actual number of club games played by internationals I looked at three areas, front row, half back and back three of the SDs, G&G and the world No 1, the Irish. Now I know it's not up to date but I've drawn the players picked in the last international test match for each country. Which gives us this. (Stats courtesy of AllRugby.com)
P = played, S = started
Front Row
SDs – Genge Played 11 Started 10 George P 14 S 13 Sinckler P 12 S 11
Paddies – Porter P 17 S 12 Sheehan P 17 S 14 Furlong P 7 S6
G&G – Slips P11 S 10 Fingers P7 S 7 7As P 10 S 9
Half Backs
SDs – Van Poortvliet P18 S8 Farrell P17 S17
Paddies – Gibson-Park P11 S 9 Sexton P5 S4
G&G – White P 11 S 8 Noah P13 S10
Back Three
SDs – Arundell P9 S 5 Steward P16 S15 Watson P16 S15
Paddies – Lowe P 7 S5 Keenan P 12 S 12 Hansen P14 S14
G&G – Petaia P 9 S 9 Wright P 12 S12 Marky Mark P 14 S 14
Not being a statistician I haven't the foggiest idea of how to interpret the figures. To this old brain they all seem to be pretty even with some pretty obvious exceptions. For example Van Poortvliet appeared in 18 games for the Tigers but only started in 8 games. For the simple reason that he was behind Ben Youngs in the pecking order. Generally speaking front rows are replaced in their entirety during the game so actual minutes played would be less. Some low numbers in the Irish players can be attributed to the simple fact that most of the players come from Leinster, who apart from supplying the majority of the Irish team have such a strong squad that they can afford to rest the likes of Sexton to the benefit of the international side.
I think that we can say one thing with relative certainty and that is, even adding international games, the idea of player burnout is in the past. However, if new rules regarding player replacement come into force all bets could be off. That's a discussion for another day.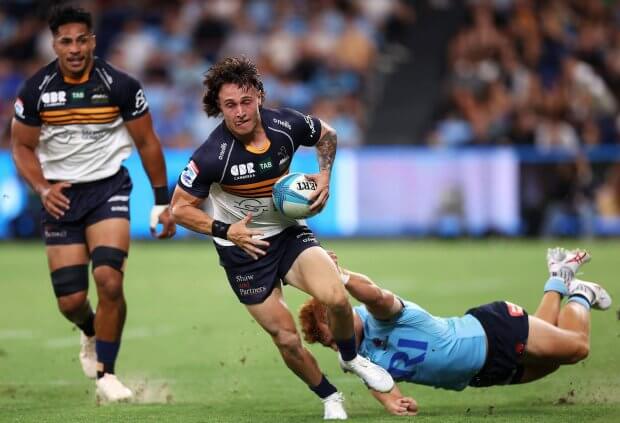 SUPER RUGBY QUARTER FINALS
Blues v Waratahs – Auckland – Friday 9th June – 5:05pm AEST
Now that Friday's News is a Waratah propaganda free zone, we can reflect on what little chance the Tahs have against a decent Blues side. For me, the Tahs face an uphill battle in the scrums, with a vastly inexperienced Archer Holz packing against an All Black prop pairing and the capable Riccitelli in at hooker. Some injuries to some starting players, and others woefully out of form, should see the Blues home by 16.
Blues (1-15): Ofa Tuungafasi, Ricky Riccitelli, Nepo Laulala, Tom Robinson, James Tucker, Akira Ioane, Dalton Papalii (c), Hoskins Sotutu, Finlay Christie, Beauden Barrett, AJ Lam, Bryce Heem, Rieko Ioane, Mark Telea, Zarn Sullivan
Replacements: Kurt Eklund, Jordan Lay, Marcel Renata, Cameron Suafoa, Anton Segner, Sam Nock, Harry Plummer, Stephen Perofeta
Waratahs (1-15): Te Tera Faulkner, Dave Porecki, Archer Holz, Jed Holloway, Ned Hanigan, Lachie Swinton, Michael Hooper (c), Langi Gleeson, Harrison Goddard, Ben Donaldson, Dylan Pietsch, Lalakai Foketi, Joey Walton, Izaia Perese, Mark Nawaqanitawase
Replacements: Mahe Vailanu, Tom Lambert, Nephi Leatigaga, Taleni Seu, Charlie Gamble, Teddy Wilson, Tane Edmed, Harry Wilson
Ref: Ben O'Keeffe (NZ)
Chiefs v Reds – Hamilton – Saturday 10th June – 2:35pm AEST
Another game where the winning team is very much expected, though the Reds do have the runs on the board that no other team, Australian, Kiwi or Islander, has this season. After watching the Chiefs 'B' team give the Force quite the crash back to earth, strange things can and will happen. While it's unlikely to be in this game, you never know.
JOC 2.0 back to his best position, centre, which lets Lynagh 2.0.b get another crack at 10. Again though, I see the Chiefs dishing out some punishment to the Reds scrum and Shaun Stevenson teaching Suli and Filipo exactly what it takes to be a quality rugby player. Chiefs by 25
Chiefs (1-15): Aidan Ross, Samisoni Taukei'aho, John Ryan, Brodie Retallick, Josh Lord, Samipeni Finau, Sam Cane (co-c),Luke Jacobson, Brad Weber (co-c), Damian McKenzie, Etene Nanai-Seturo, Rameka Poihipi, Anton Lienert-Brown, Emoni Narawa, Shaun Stevenson
Replacements: Bradley Slater, Ollie Norris, George Dyer, Naitoa Ah Kuoi, Pita Gus Sowakula, Cortez Ratima, Josh Ioane, Daniela Rona
Reds (1-15): Peni Ravai, Matt Faessler, Sef Fa'agase, Angus Blyth, Ryan Smith, Seru Uru, Fraser McReight, Harry Wilson, Tate McDermott, Tom Lynagh, Josh Flook, James O'Connor, Filpo Daugunu, Suliasi Vunivalu, Jock Campbell
Replacements: Richie Asiata, Dane Zander, Zane Nonggorr, Lopeti Faifua, Jake Upfield, Kalani Thomas, Lawson Creighton, Taj Annan
Ref: Angus Gardner (RA)
Crusaders v Drua – Christchurch – Saturday 10th June – 5:05pm AEST
This could well be interesting, depending on which Drua side boarded the plane to Christchurch. One the one hand, the Drua have the runs on the board against the Saders, albeit in the glorious climes of paradise of Fiji compared to the frozen wasteland that is Christchurch, anything could happen. In Sevens, if there was any team I'd back to do some crazy shit, especially when they are, or can, win, it'd be Fiji. With any luck, the islander ball hasn't been entirely coached out of them yet! The Crusaders are not at their best, with a loss to the Canes last weekend and chalking up an injury list that is getting to be Wallaby 2022 spring touresque, this could easily be the upset of the round. Fuq it – Drua by 2 – only to make sure Razor ain't breakdancing AGAIN!
Crusaders: (1-15) Tamaiti Williams, Codie Taylor, Oli Jager, Scott Barrett (c), Quinten Strange, Sione Havili-Talitui, Tom Christie, Christian Lio-Willie, Mitch Drummond, Richie Mo'unga, Leicester Fainga'anuku, Jack Goodhue, Braydon Ennor, Dallas McLeod, WIll Jordan
Replacements: Brodie McAlister, Kershawl Sykes-Martin, Reuben O'Neill, Zach Gallagher, Ethan Blackadder, Willi Heinz, Fergus Burke, Chay Fihaki.
Drua (1-15): Haereiti Hetet, Tevita Ikanivere, Mesake Doge, Isoa Nasilasila, Te Ahiwaru Cirikidaveta, Vilive Miramira, Motikiai Murray, Meli Derenalagi (c), Frank Lomani, Caleb Muntz, Kalaveti Ravouvou, Teti Tela, Iosefi Masi, Selestino Ravutaumada, Ilaisa Droasese
Replacements: Zuriel Togiatama, Meli Tuni, Samuela Tawake, Etonia Waqa, Elia Canakaivata, Peni Matawalu, Michael Naitokani, Eroni Sau
Ref: Brendon Pickerill (NZ)
Brumbies v Hurricanes – Canberra – Saturday 10th June 7:35pm AEST
While I'd like to think that the Ponies are relatively settled, a key injury to 7As and the late scratching of Corey "Jet Shoes" Toole potentially leaves the nags a bit low. I mean, Sapsford ain't no Toole, and Kautai ain't no 7As. I'm hoping to see a huge game from the Ponies, but I fear their crappy back end of the season may yet continue. The Canes have found form and a fired up Ardie Savea could well see them over the line. My heart says Ponies by 2 and bugger what my head says! #neigh
Brumbies: James Slipper, Lachlan Lonergan, Sefo Kautai, Nick Frost, Cadeyrn Neville, Rob Valetini, Jahrome Brown, Pete Samu, Nic White (c), Jack Debreczeni, Ollie Sapsford, Tamati Tua, Len Ikitau, Andy Muirhead, Tom Wright
Replacements: Connal McInerney, Blake Schoupp, Rhys Vank Nek, Tom Hooper, Luke Reimer, Ryan Lonergan, Noah Lolesio, Jesse Mogg
Hurricanes (1-15): Xavier Numia, Dane Coles, Tyrel Lomax, James Blackwell, Caleb Delany, Devan Flanders, Ardie Savea (c), Brayden Iose, Cam Roigard, Brett Cameron, Kini Naholo, Jordie Barrett, Billy Proctor, Daniel Sinkinson, Josh Moorby
Replacements: Asafo Aumua, Tevita Mafileo, Owen Franks, Isaia Walker-Leawere, Du'Plessis Kirifi, Jamie Booth, Ruben Love, Bailyn Sullivan
Ref: Nic Berry (RA)
VALE, WAYNE SMITH
It was a blow to the Craparazzi this week to learn of the sudden passing of Wayne Smith. What a phenomenal writer, investigative journalist and rugby/sport personality. You will be missed.
See here for Jim Tucker's piece.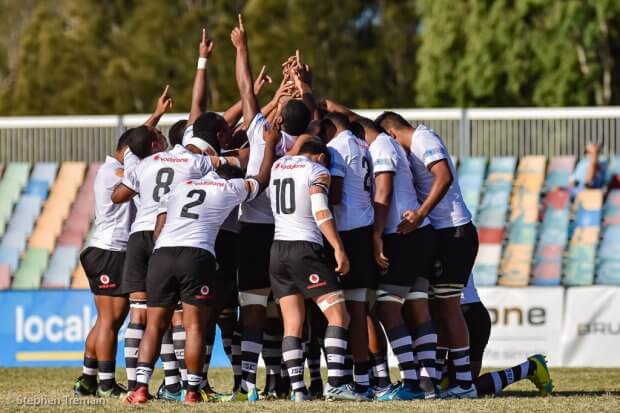 FIJI NAME RWC TRAINING SQUAD
Simon Raiwalui has named a strong 45 man Fiji training squad as they continue their preparations for the Rugby World Cup in France.
All the big names are there, with the Pacific Islanders particularly stacked with talent in the back-row and the wider channels.
"I think it's a great balance of players in the team. We know the different systems they play in especially the Sire Shipping Drua judging from the results that they have produced this year," said head coach Raiwalui.
See here for the list of likely players the Wobs will line up against in the Parisian Festival of the Bill, only 91 days to go!
Happy Friday, folks! CM, KB and the rest of the Craparazzi.