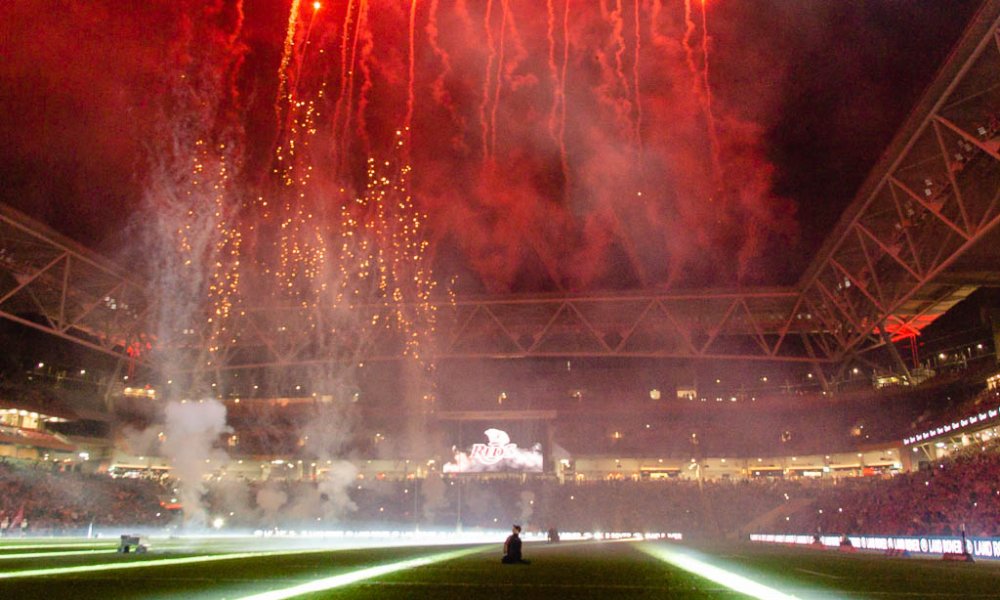 'We're gonna get it on, cause we don't get along!'
Trans-Tasman preview
The wait is over !!
It seems like only yesterday Australian Rugby was 'invited' to tender for 2-3 teams to play in a NZ based competition. No doubt a genuine & heartfelt offer akin to that of the Chinese Communist Party offer to the Uyghur population to attend 'weekend re-education camps' & karaoke carnival. History will show however that Rugby Oz said 'up yours' and here we are 12 months later with a fully fledged TT competition set to kick-off today.
The refreshments are cold, the snacks are at hand and as The Prince of Soul, Mr Marvin Gaye would say 'let's get it on'.
Two years in the making, have Aussie teams grown and built momentum, skills and – shhhhh – whisper it quietly, 'belief'. All seemingly achieved whilst protected and huddled, socially distanced of course, under the cloak of COVID isolation? Or is it to be yet another false dawn, brutally exposed by those from Middle Earth as they too awake from their slumber?
The most exciting part for mine, with all sides reset to zero points, is that technically, the Tah's are currently equal leaders and what a meteoric rise it's been! At $501 for winning the comp, what are the rules if I cash-out now?
To celebrate the TT  kick-off this weekend a gala edition (6 articles) Friday News. I am tipping two Oz wins from the opening round and looking forward, I am tipping 50% win-ratio by seasons end as the Red's win the whole thing.
So, waddya reckon about my 'Hosstradamus' prophecies? Combination 'fearless predictions', drunken ramble or as three magistrates, 2 chief justices and 1 defence counsel have said – 'completely full of shit'. Either way time will tell, but Trans-Tasman is back. You bloody ripper. 

 Highlanders v Reds
Friday 14th May – Forsyth Barr Stadium Dunedin – 5.05pm AEST – Stan

TT kicks off with the Oz champions taking on the 4th placed side from NZ. With several workload / injury-forced changes to the match day XXIII (McDermott (rest), Harry Wilson (concussion) and Jordan Petaia (Quad) along with Alex Mafi with out with concussion  Reds depth will be sorely tested and they will need to be 'on' from the kick-off.

The Highlanders have some big names out with Josh Ioane injured and loose forward tyro Shannon Frizelle stood down for an alleged NRL audition last weekend.

Some cavalry have been called up for the Reds and with the announcement of co-captains in Wright (starting) & JOC2.0 they will be well lead and will need to be as this will match will be no 'gimme'.

With the team changes, short turn-around time, travel and emotional fatigue (aka too much alcohol)  that follow a huge event like their SRA title win, it would appear the biggest obstacle & challenge to a Red's win will be their control of the 'grey matter'.

I am a Padre fan, but it will be interesting to see tangible signs of their maturity and growth of this young side not so much by the result, but by the industry and quality of their endeavours against a first-up Kiwi side.

As the Crusaders have shown time and again, a true champion side is able to produce consistently regardless of external factors. The Reds have the potential to be a champion side and in this one I believe the bench and leadership group still gets them home in front – IF they are masters of their attitudes. Reds by 16

HIGHLANDERS (1-15): Who care's

REDS (1-15): Dane Zander, Brandon Paenga-Amosa, Feao Fotuaika, Ryan Smith, Angus Blyth, Angus Scott-Young, Liam Wright (co-c), Seru Uru, Kalani Thomas, James O'Connor (co-c), Jock Campbell, Hamish Stewart, Josh Flook, Filipo Daugunu, Bryce Hegarty Reserves: Josh Nasser, Harry Hoopert, Taniela Tupou, Lukhan Salakaia-Loto, Fraser McReight, Moses Sorovi, Isaac Henry, Suliasi Vunivalu 
 God's own Waratahs v Hurricanes
Friday 14th May – SCG – 7.45pm AEST – Stan

Clash of the respective competitions 'cellar dwellers' in what could be an expansive, attacking and exciting affair

The Hurricanes have taking pity on the Tah's either that or the Canes players or have pooled their dosh to get on the Tah's at a healthy $501 to win TT (I put $100 for shits & giggles), by resting their bull-like, one man wrecking ball Ngani Laumape for this match.

However, there's a certain refreshing liberty when there are no or very low expectations of you – I know first-hand from my parents what that feels like. With that in mind and with the growing danger of Foketti and the ever dangerous Perese young Ben Donaldson getting another start at 10, allowing for the return of Will Harrison from the bench. The experience, leadership & guile of a fully fit Commissioner Gordon at 9 cannot be underestimated and the tah's seem more cohesive and calm when he is on the field. With Tizzano coming from the pine which I put down to workload management Charlie Gamble gets a rare start. The return of Tepai Moeroa to the bench also gives them so 'go forward' later in the piece.

Playing in Sydney, refreshed, released of the shackles of expectation, the Canes having an average season by their standards and resting their most dangerous attacking player – add in my slight Tah's bias and voilà.

Tah's by 5.

WARATAHS (1-15): Angus Bell, David Porecki, Harry Johnson-Holmes, Hugh Sinclair, Max Douglas, Lachie Swinton, Charlie Gamble, Will Harris, Jake Gordon (c), Ben Donaldson, Mark Nawaqanitawase, Lalakai Foketi, Izaia Perese, Alex Newsome, Jack Maddocks Reserves: Joe Cotton, Tetera Faulkner, Darcy Breen, Jeremy Williams, Carlo Tizzano, Jack Grant, Will Harrison, Tepai Moeroa

HURRICANES (1-15): Won't matter 

 
 Crusaders v Brumbies
Saturday 15th May – Orange Theory Stadium – Christchurch – AEST 5.05pm – Stan

Preview of the TT Final – or just an absolute bell-ringer to have in round one?

Perennial South Island powerhouse, back to back Super Rugby Aotearoa titles and worlds best provincial side v perennial OZ powerhouse smarting, no, seething after a contentious Oz decider.

I said in last week's preview of The Red's v Ponies that you can never discount the side from the ACT. It would seem however, the odds are firmly against them for this one on nearly every count.

No doubt 7A's and his boys will be decidedly unhappy with the outcome last week and will seek to channel that into an aggressive, yet composed and consistent performance against the Saders at the strangely named Occult / Rugby Venue in Christchurch.

For a plethora of reasons you simply have to pick the Crusaders for this game, indeed it's almost a shame this match isn't 3-4 weeks down the track. Whilst the Crusaders have a thousand things going for them, the Ponies will need the planets to align to be any chance. No Neville (my seasons MVP for Ponies), no Nic White, no Muirhead, no Slipper and a largely untested and inexperienced bench means things could go 'pear shaped' real quick. Certainly 7A's will need to keep his players tight and provide a real captains knock for 80 minutes to keep his side close and the score line respectable.

Rightly or wrongly the Canberran's feel aggrieved from last week and you should never dismiss spite as a motivating factor, my 3.5 ex-wives certainly didn't.  Common sense says injury, squad depth, travel, emotional baggage and tired bodies will count against the Ponies and blind Freddy would tip the Crusaders. Indeed, if the South Island supremo's are kept to a 21 point or under victory that will be a moral win for the Ponies. Ha! Take that NZ. Crusaders by 21.

TEAMS 

BRUMBIES (1-15): Scott Sio, Folau Fainga'a, Allan Alaalatoa (c), Darcy Swain, Nick Frost, Henry Stowers, Rory Scott, Rob Valetini, Ryan Lonergan, Noah Lolesio, Tom Wright, Irae Simone, Len Ikitau, Solomone Kata, Tom Banks Reserves: Lachlan Lonergan, Harry Lloyd, Tom Ross, Tom Hooper*, Luke Reimer, Issak Fines-Leleiwasa, Reesjan Pasitoa, Mack Hansen

CRUSADERS (1-15): From the 'Saders production line  – strong throughout
 Rebels v Blues
Saturday 15th May AAMI Park Melbourne – 7.45pm AEST – 9GEM / Stan

The Rebels are the Forrest Gump Chocolate Box of Oz Rugby, you just never know what you're gonna get and I feel for Rebel's fans, yep, both of them.

On paper its 4th in Oz v 3rd in NZ but it's hard to back the Reb's with key suspensions to Isi Naisarani, Trevor Hosea & Pone Fa'amausili they seemingly lack their most valuable three forwards in both meters gained and providing sting in defence.

Add to that the coaching changes that saw Dave 'Keppler' Wessell's  – ahemmm – 'resign', the services of attach coach Shaun Berne no longer required and the interim appointment of former  Rebel's defence coach Kevin Foote for the TT campaign and it's almost 'Fait accompli' that the Blues will run away with this one.

No doubt the temporary secondment of Wallabies attack coach Scott Wisemantel will help add some sparkle to what has been a fairly lifeless Rebels backline, but with so much muscle missing up front and the relative lack-lustre sizzle of the Reb's backs during Oz-ball then it's hard to have too much love for the Melbourne side for this one.

If Two-Cows can rediscover his mojo and they get Marika 'The Exocet' Koroibete more involved they will be competitive, but I simply don't see the ability to lay a forward platform to get anywhere near grabbing the lollies in this one. Blues by 18+.

TEAMS – 

REBELS (1-15): Cameron Orr, Jordan Uelese, Cabous Eloff, Rob Leota, Ross Haylett-Petty, Josh Kemeny, Richard Hardwick, Michael Wells, Joe Powell, Matt To'omua, Marika Koroibete, Campbell Magnay, Stacey Ili, Frank Lomani, Tom Pincus Reserves: James Hanson, Matt Gibbon, Lucio Sordoni, Steve Cummins, Michael Icely, James Tuttle, Carter Gordon, Lachie Anderson

BLUES (1-15): No Caleb Clarke – thank (insert deity here) for that
 Force v Chiefs
Saturday 15th May HCF Park – Perth 9.55pm AEST – Stan

The first edition of TT rounds-out when the Chiefs of Waikato travel to the far side of the moon to take on the Force at Perth's HCF Park.

I truly believe the Force are capable of claiming some  Kiwi scalps through their sheer, bloody minded graft, determination, effort and abundant heart, but until they can better turn these qualities into actual points they will struggle.

At #9 Cubelli & Ian Pryor are 'serviceable' – the way a Big Mac is serviceable as 'food', but neither are known as running 9's or have that real threat or danger to them, that a McDermott, Powell or Gordon does. Their 10's are almost carbon-copies of their 9's. They do the job but not to the standard required to capitalise on the work of the pack. The return of McIntyre to the run-on may help their shape somewhat, as too the aging Irish tourist and Guinness fan, Rob 'The Gun Show' Kearney returns at 15. But if McIntyre can't spark his side, I admit I have little confidence in the Force's Argentinian 10 Domingo Miotti, who plays far too much like a NH 10 for my liking – stands too deep, runs lateral and kicks too much pill away and simply can't / won't unlock the points the Force have in them out wide.

From #1 – # 8, the Force pack have much to like about them.  Indeed their piggies consistently provide a good platform &  enough ball & territory for the backs to do their thing, but alas……

Up front 1-3 can hold their own against any. Dr Robbo has been in career best form since leaving the Tah's. At 2 Feleti Kaitu'u, for mine has been THE best hooker throughout SRA. Their propping threesome is complete with Santiago Medrano who has proven a very shrewd addition to the Forces roster and has grown in stature and performance throughout the season.

The experienced and excellent Jeremy Thrush is joined at lock by Fergus Lee Warner for this match with Timani out injured. They are complimented by terrific loosies in the skilled, fast and energetic Tim Anstee, Kane Koteka who never plays a bad game and the ever reliable Brynard Stander.

As a forward pack they get through a mountain of work, can compete against all and should enjoy more 'W's' next to their names, barring the Force's struggles at 9 & 10, they would.

So for all that those in small numbers offer, through honest toil and endeavour and just bloody hard work, will they outscore the Chiefs Saturday night at home? No chance. Chiefs by 18.

FORCE (1-15): Tom Robertson, Feleti Kaitu'u, Santiago Medrano, Jeremy Thrush, Fergus Lee-Warner, Tim Anstee, Kane Koteka, Brynard Stander, Tomas Cubelli, Jake McIntyre, Jordan Olowofela, Henry Taefu, Kyle Godwin (c), Richard Kahui, Rob Kearney Reserves: Andrew Ready, Angus Warner, Greg Holmes, Ryan McCauley, Ollie Callan, Ian Prior, Domingo Miotti, Jake Strachan

CHIEFS (1-15): All losers from last week.
 Friday's Fast Five Bonus
1. Tah's pass on Pablo

News the NSW Waratah's pass on securing the services of barnstorming FISMS #8, sometimes captain, prolific tweeter and South African Tourism 'influencer' one  Mr Pablo Matera . For a variety of reasons I reckon the decision to pass is a good one by NSW Rugby – long time since I've typed those words

2. The law is the law – well, sometimes.

A number of Super Rugby AU laws have made the cut for the new TT competition kicking off today in Dunedin.

The Kiwis were however successful in retaining laws that provide for them being constantly offside, entering the ruck form anywhere at any time, laying over attacking ruck ball and failing to 'roll away' from the back of opposing rucks, all while feigning piety and righteous indignation if challenged. The spirit of Richie lives on

3. Super Rugby Oz – Mark III ?

RA chairman Hamish McLennan believes there could be room for an Australian-only element to continue in 2022, this from Tom Decent at the SMH

"I've always liked the local component and believe it's something we should give serious consideration to, in conjunction with Trans-Tasman," McLennan told the Herald. "It's reminiscent of our original thinking around local derbies and replicating some of the success of the Big Bash. That was proven on Saturday night.

"The ratings were massive and we always believed the game would come back," McLennan said.

"We were right. We knew there was life in this iconic, global game and this is just the start of good things to come".

Here bloody here.

4. Southern Highlands whine

You simply have to read Fitzy's response to former rentable opinion, Mr Alan Jones and his latest whine about Rugby in an article in The Australian recently. Fitzy's response – as only Fitzy can. If you read nothing else this weekend, read this.

https://www.smh.com.au/sport/rugby-union/alan-jones-keeps-barking-questions-at-rugby-australia-i-ve-got-the-answers-20210512-p57rbv.html

 5. Cadbury Wallabies Gold

The good news hits keep coming in for RA and the code this week. After what seems like a lifetime of Wallaby jerseys in a colour spectrum ranging from canary yellow through to watery urine / hepatitis yellow. Wallaby Gold is back baby for this year's tests against the tadpoles in July.

To round out the great vibe, Cadbury has been announced as major sponsor for 5 years and will be blazoned across said Wallaby Gold.

How sweet it is…………