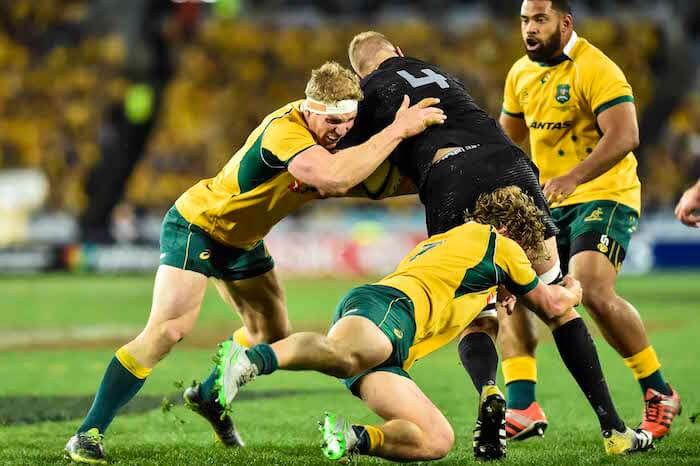 Friday's Rugby News has Smith on the pooper, Foketi signing, another O'Connor late and, what to do with fringe Wallabies.
---
King George Poops on the Pooper
Hot on the heals of Phill Kearns' 'insights' yesterday comes a missive from his royal awesomness King George Smith. While Kearns is happy to give up size and height to have two opensides on the park George isn't so sure.
Smith started alongside Phil Waugh in the 2003 Rugby World Cup but the 111-Test great said while there were 'pros' and 'cons' to the dual open side tactic, he would stick with status quo and have Pocock coming off the bench against Fiji.
"They work well together and I think they have worked well in the past," Smith said at the KAYO Rugby World Cup launch in Sydney.
"(But) I like the combination they have at the moment with Lukhan and Isi there, and obviously with Hooper being the incumbent and the captain of Australia. I think that combination is working well and persisting with that would be great.
"It's hard. They're both starting no.7s and they're fantastic to the team and add to it, not only on the field but off the field as well.
"Obviously Pocock has done a lot to get back to where he is now, to get selected and to be in the touring squad.
"They're two quality players but I would like to see them persist with the combination they have now.
"Consistency is quite a big thing. Leading into this match Lukhan has played the majority of matches and he has performed well in those games, and allowing that momentum to carry on is a good thing."
Lalakai Foketi Extends Tah's Contract!
Sometimes the road less travelled gets you where you're supposed to be. Hopefully, that's what's happened for Lalakai Foketi after a run in the U20 national set up and a stint at the Rebels Foketi decided to jump ship and have a run for BoP in the Mitre 10 cup. Three years later he picked up a contract with Bayonne in France.
NSWRU General Manager of Rugby, Tim Rapp said that Foketi's experience abroad has been beneficial during his time with the Waratahs.
"Lalakai has really taken his opportunity to return to Super Rugby with both hands, he returned a more mature and complete player and performed really strongly when called upon [in 2019]," Rapp said.
"He hit the ground running in pre-season after an extended injury lay off, scoring a hat-trick in our trial against the Highlanders which gives you an idea of what he's capable of with ball in hand.
"He's got a real willingness to improve as a player and leads through his actions, his desire to represent New South Wales is something that will only help him in what will be a competitive [2020] pre-season.
"Given the trajectory of his development since arriving [in 2018], we're excited about Lalakai's potential over the coming years."
"After coming back from a stress fracture, I was just looking forward to getting back to playing after a really good pre-season [in 2019]," Foketi said.
"I'm stoked to be here at the Waratahs for the next few seasons and feel there's plenty more to accomplish in the sky blue jersey.
"I want to reach my potential as a player and I'd love to do that here in New South Wales, I'm really thankful for this contract extension and the support of the entire organisation.
"It's been an honour to represent the Waratahs [since returning to Super Rugby] and I can only speak positively about how the coaches, support staff and my teammates have impacted my game – it's a great environment.
"The NRC is an opportunity to get some more game time before pre-season and continue to make improvements ahead of 2020.
"It was a nice surprise when Whits [Chris Whitaker] asked me to captain the side, it's a role I'm keen to embrace and a challenge I'm looking forward to."
Qld Fires Delay O'Connor
Wallaby selector and dual international Michael O'Connor had a little trouble getting to Japan and it had nothing to do with a typhoon. O'Connor managed to get caught up in another natural disaster when he was evacuated from his Sunshine Coast home because of fires near his Peregian Beach home.
It's a lot of years since I've been to Peregian beach but I do remember a great surf break and some nice houses.
The Wallabies were supposed to fly to Japan on Sunday following their 34-15 victory over Samoa at Bankwest Stadium but were forced to spend another night Sydney's west at the team hotel due to a typhoon that swept through Tokyo, causing winds of over 200km/h and thousands of power outages.
After a 16-hour delay, the squad finally left for Asia on Monday but there was one team official who had to attend to a serious situation up north.
 O'Connor, who has come on board this year as a third selector alongside coach Michael Cheika and director of rugby Scott Johnson, was forced to help family rush out of their home at Peregian Beach.
Luckily the fire bypassed the O'connor's but others weren't so fortunate. Anyone wanting to help victims of the fires can donate on
the Vinnie's website.
 All money donated will go directly to those affected.
NRC game time crucial now for fringe Wallabies
It's hard to argue with GaGr's own Brett McKay when he calls for fringe Wallabies to be playing in the NRC instead of training separately to the squad in Japan. Tom Banks, Jack Maddocks and, Luke Jones are currently training with the Wallabies in Odawara but, once the tournament officially starts they can't stay with the team.
Banks, Maddocks, and Jones are allowed to train with the 'main' squad until Saturday, though I've also heard suggestions that they can remain in Japan training after this, but just detached from the 31-man squad.
How detached that actually is – is it the hotel down the road and the training field next door, or is it a different city altogether? – I'm not so sure, and I'll happily stand corrected.
What this highlights is how crucial it is to ensure the players on the fringe of the squad maintain some semblance of match fitness.
At this time of year, the obvious, best, and only real option is for them to be pulling on jerseys in the National Rugby Championship.
The third round of the NRC is this weekend, and the remaining five rounds will coincide with the pool games of the World Cup.
The NRC semi-finals are on the same weekend as the Rugby World Cup quarter-finals, while the NRC final is the same weekend as the Rugby World Cup semis.
 So, from a game-time perspective, the timing is good.
I mentioned above the possibility of the three fringe players remaining Japan, but just to contradict myself within the space of five paragraphs, I also understand that Banks and Jones will be made available for Canberra and Melbourne, respectively, in the coming weeks.
The final three rounds of the NRC was the suggestion, which would seem to marry up with the prospect of them remaining Japan for another week yet.