In the previous two segments to this analysis piece, we looked at how Michael Cheika has used his Wallaby squad (forwards and backs) since the last Rugby World Cup. Today, we complete the 'project' a little further by deep diving a little further around who was picked, how often and who wasn't.
Breakdown by games played:
There are a few different tiers of players that can be dissected here, but realistically there have been 46 games between the RWC and now and we should have a spine of settled players. Discounting players that might have only just fallen into the eligibility parameters or that are young and only recently started playing professionally, let's have a peek.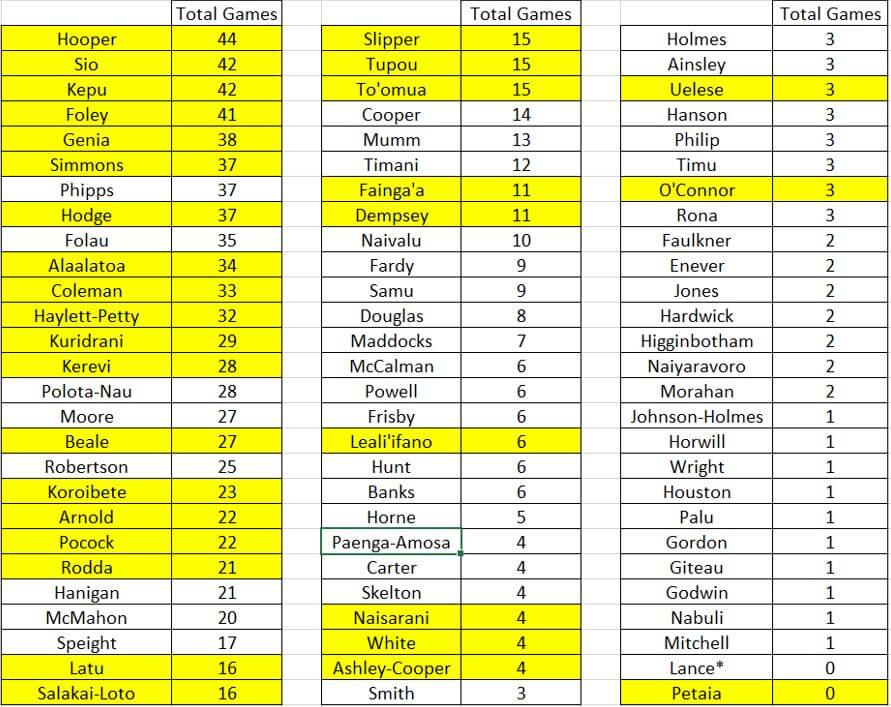 30 + Test Appearances in this Rugby World Cup cycle:
In this cohort, there are 12 players who played in over 30 of those test matches, getting a very solid stretch of game time. Out of that 12, ten players have been selected to represent the Wallabies abroad, with the only two missing being Phipps, due to the return of White, and Folau, due to his social media activity.
Hooper, Sio, Kepu, Foley, Genia, Simmons, Hodge, Alaalatoa, Coleman and Haylett-Petty have all been exposed to some consistent game time, so I'm glad they've been rewarded with a ticket for the most part. The only potential negative is that Simmons played the most games despite being the least likely to start in our big games, but other than that, this is a nice area of experience.
20-29 Test Appearances in this Rugby World Cup cycle:
In the next category is a solid group as well; people that have played 20-29 games. At the higher end, Kuridrani, Kerevi, Polota-Nau, Moore and Beale received a lot of minutes, while Robertson, Koroibete, Arnold, Rodda and Pocock were around half of the games and Hanigan and McMahon received a tad under.
This area is an area of concern for me, as it should be filled with players that are ready for the World Cup, either players that took to the scene in 2017 or that have been in and around the team the whole time but are fringe players in the match day squad. Sadly, five of the 12 in this contingent are no longer in the squad. McMahon has left the country, Moore has retired and the others were probably close to next in line in their respective positions, but the issue is in succession planning as mentioned earlier. Moore and Polota-Nau amassed 55 test caps between them at hooker, meaning the bulk of the other 37 caps had to be spread between Fainga'a, Latu and Uelese, seriously undermanning us in the failure to plan ahead.
Likewise in the backrow, for McMahon and Hanigan to have played over 20 matches each, combining for 28 test starts, a large chunk of game time was afforded to these two only for them to be let go be Rugby Australia or deemed surplus once other selectors joined the panel. The positive is the amount of time Rodda and Arnold, Kerevi and Kuridrani as well as Haylett-Petty, Koroibete and Beale as combinations have shared given their likely inclusions in our best 23.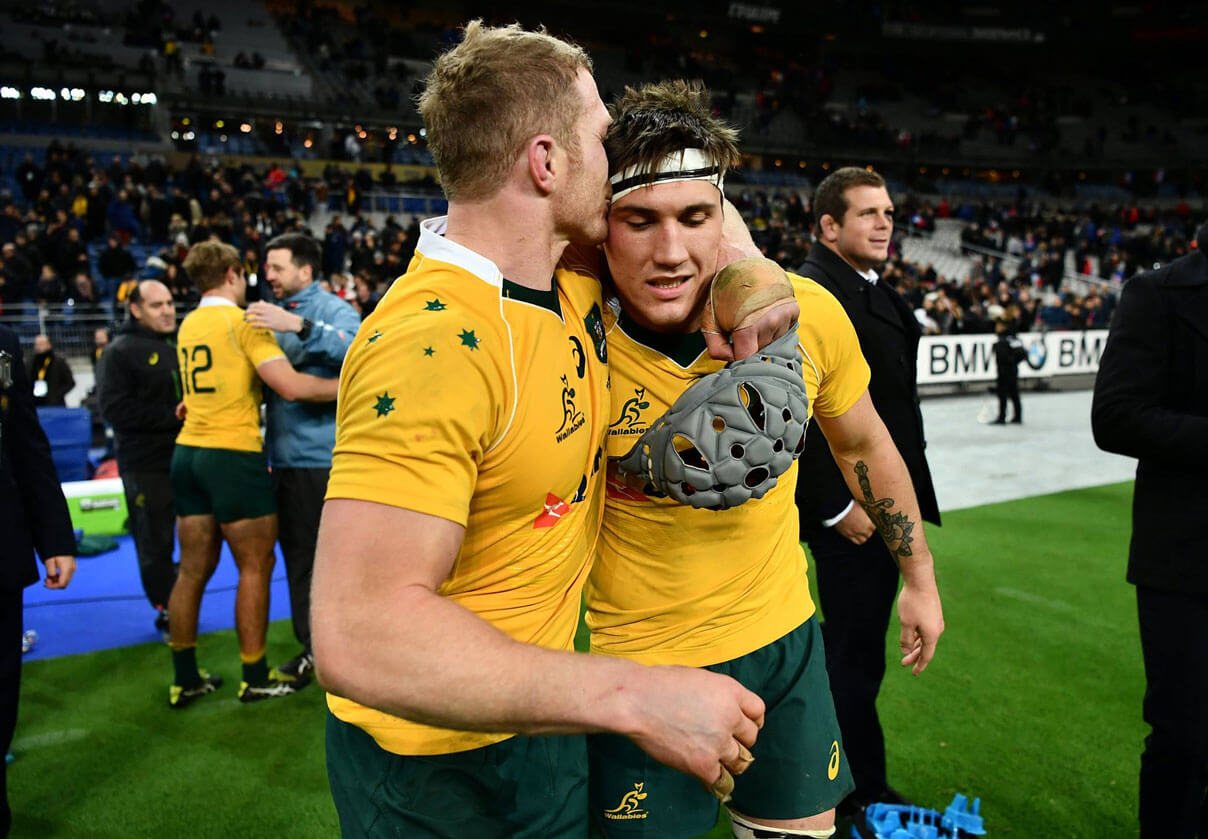 10-19 Test Appearances in this Rugby World Cup cycle:
The next section is a mix, but for the most part is comprised of players that are genuinely up there in their positions, but other players or journeys overseas have inhibited more consistent game time. Having played 10-19 test matches in this period puts you in a trusted level to deliver at the big event, and that is what you'd expect from the likes of To'omua, Tupou, Slipper, Salakai-Loto, Latu, Fainga'a and Dempsey.  Cooper probably was not given enough time to prove himself in this stanza, but no one should feel too surprised that he missed the squad.
The bigger concerns are Speight and Naivalu, two genuine wings that have displayed great to mediocre in test jerseys, but have since been overlooked. Why was so much time afforded to these two only to be discontinued this year to be replaced by utility players? Not that either has form so outstanding that they've earned a spot, but Cheika has remained the coach all of this time, so why give 30 caps to these two for so much of his tenure when Haylett-Petty, Ashley-Cooper and Hodge have since been the clear front runners under the new management? The back three will continue as a point of conjecture as this list continues. A missed opportunity seems to be Timani. He had the size and ability to be a test 6 or 8, yet failed to consistently show the mongrel or running game you would expect from his bulk, leading to less game time for him and an eventual move overseas.
The lower numbers of test appearances are rife with players of different quality that were tested for different reasons, so they have been broken up into some different categories.
5-9 Test Appearances in this Rugby World Cup cycle:
The first of which have played anywhere from five to nine matches, generally deemed to have been too few. With the exception of Leali'ifano and Horne, who had careers limited and ended respectively due to sickness and injury, the other players were given games to prove themselves, but not enough to cement themselves in the team. Banks, Maddocks and Hunt got some opportunity in the backline, often from the bench, but none of them did enough to stake their claim.
Banks was probably the only of those three in form good enough to feel hard done by for missing the squad. Similarly, Powell and Frisby both got six games off the bench, but neither were trusted enough to usurp either of Genia or Phipps. Ben McCalman, Fardy and Douglas were all around for the last World Cup and did spectacularly then, but with ageing bodies and moves away from Australian rugby or just rugby in general, these guys were never realistically in the frame for 2019 despite Fardy's awesome performances for Leinster. Samu was jettisoned from across the ditch in 2018 and got given some chances, but some more time this year if not hampered by injury would probably have been enough to see him taken as the fifth backrower.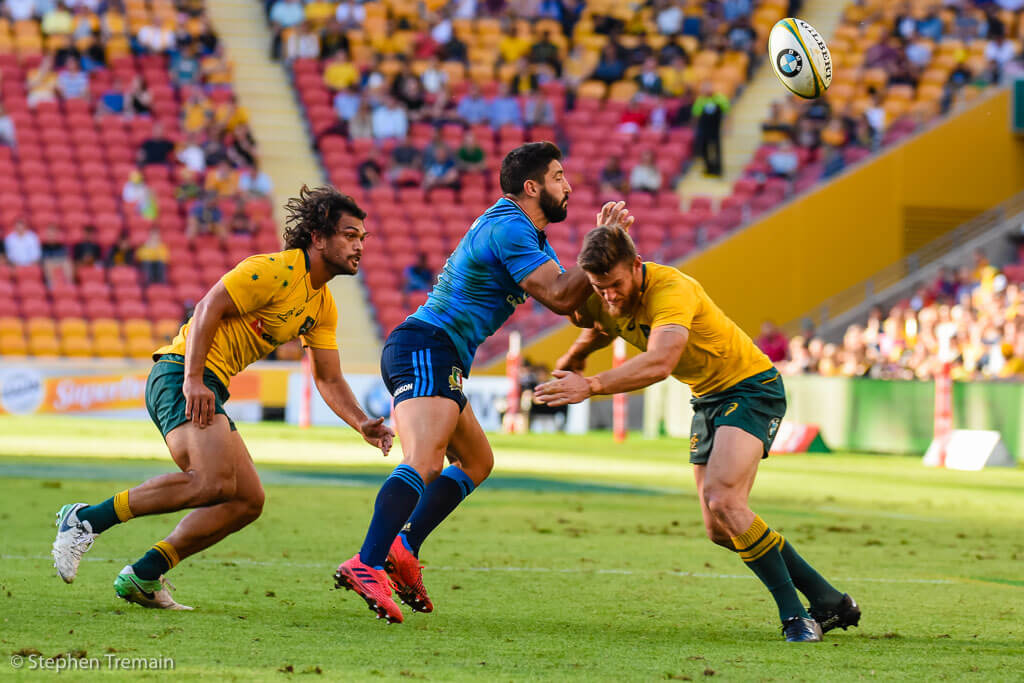 2-4 Test Appearances in this Rugby World Cup cycle:
The next category is for those who played two to four tests, or for the most part, too long or too late. This area is littered with players who were trialled briefly before being thrown to the side or were simply enlisted due to being the next in line following strings of injuries. In the props, Holmes was kept on briefly after his heroic efforts in 2015, but Faulkner, Smith and Ainsley received game time when the services of Robertson, Slipper and Alaalatoa were not readily available.
This situation rings true for the locks after Enever, Carter, Skelton and Philip received time, with only the latter two being in 'top four Aussie locks' conversation depending on selection rules. Again, the hookers, backrow and back three copped rotation with Hanson, Paenga-Amosa, Higginbotham, Hardwick, Timu, Jones, Luke Morahan, Rona and Naiyaravoro all receiving limited game time, offering promise, but having it taken away rather quickly.
The only members of this group to make it into the squad are O'Connor and White, both of whom only became eligible after signing last-minute Super Rugby contracts this year, Naisarani, who only became eligible this year and Ashley-Cooper, who is seasoned and trusted to be able to perform after more than 100 tests in the gold jersey over a decorated career. Outside of those four is Uelese, who has been picked based more on potential than any observable form. Injury has limited his minutes, but he is probably the second biggest gamble in this squad.
Named (but did not take the field) or one Test Appearance in this Rugby World Cup cycle:
The last section is for those with a sole test, bench appearance or World Cup ticket and none of the above. Thankfully, only one member of this list has made the cut in the ultimate test of promise to young gun Petaia. He had been scheduled to play against Italy and would have likely played against Samoa had injury not set him back, but in spite of this he will go to Japan to hopefully make his debut.
Most of these guys are either old greats that got a go in 2016 when no one else was available (Mitchell, Giteau, Palu and Horwill) or players who got given a cap when things got desperate in certain areas (Nabuli, Godwin and Houston). Johnson-Holmes, Gordon and Wright, have a lot to offer the Wallabies in the future. These three made their debuts in the last 9 months and are still young and able, but will have to wait for the next World Cup cycle to be given another chance.
Summary by XVs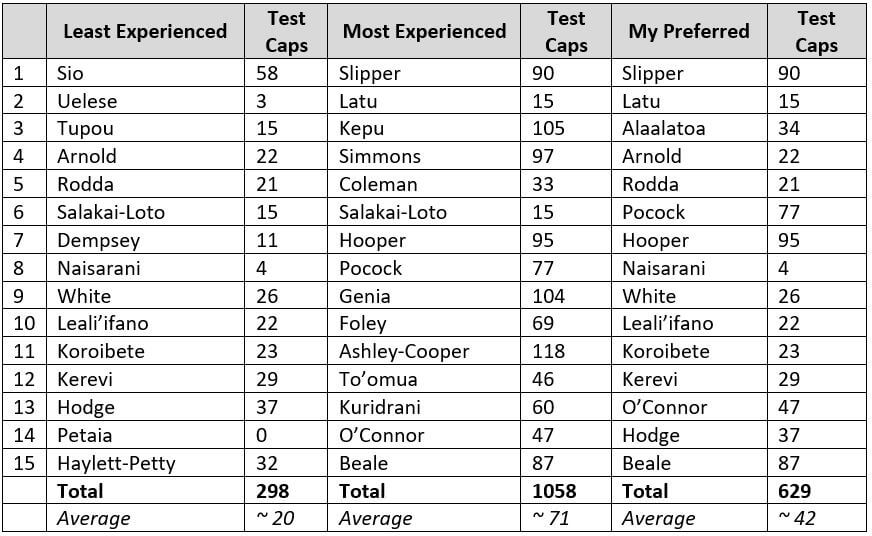 Overall, there is good and bad among this list. While areas such as both props, locks, openside flanker, flyhalf, centres and fullback have been narrowed down and focused so that only our best are getting game time, this is compounded by the lack of foundation surrounding hookers, blindside flankers, number 8s, and wings. Taking that into consideration, the backline looks well established and experienced outside of Petaia and even our least experienced possible side would boast an average of nearly 20 test caps each.
Furthermore, the average of the most experienced side would average just over 70 test caps and my preferred side meets roughly in the middle at about 42 test caps on average. The above data highlights that there is a mix of newer players coming in with some of the older, more reliable players thrust into the mix of our best XV (whatever that might be).
While there are very clear flaws with some of the strategising leading up to this event, and there should be a lot more caps next to the names of some of these players, it is hard to look past that the Wallabies are packaging together a competitive and comparatively experienced squad at the 2019 Rugby World Cup.
Would I lock us in as favourites? Top three? No, but there is enough to be observed through past performances and promise that this avid fan can be cautiously optimistic for the next few weeks.