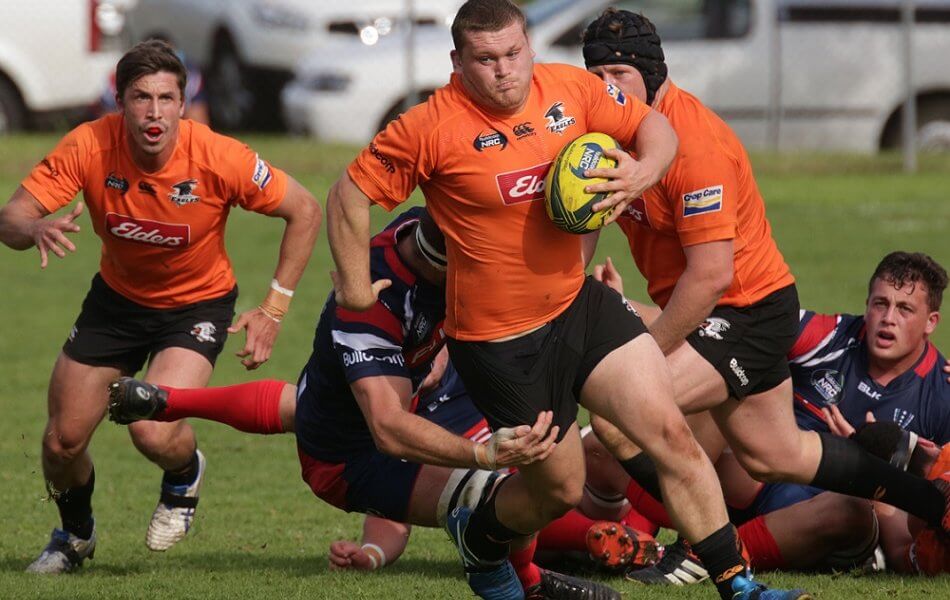 The "Clockwork Orange" Eagles has defeated the Rising in Newcastle to book their first NRC final.
In a vibrant match NSW Country prevailed 50-24 against Melbourne with an excellent game of rugby and will host the grand final in Tamworth next week against the winner of tomorrow's match between Sydney Rays and Perth Spirit. The Melbourne team has lost its third semifinal in three years.
The Eagles showed great composure and patience during the whole game, controlling every aspect of the game and confirming their credentials to be the Brisbane City's successors on top of the NRC.
First Half:
The Melbourne Rising were hot out of the block and scored two early tries thanks to speedster Sefa Naivalu and hooker Pat Leafa in the first six minutes. Jack Debreczeni converted both majors to give an early 16-0 lead to the visitors.
The Rising kept attacking and put the Eagles under pressure, but a brilliant intercept from backrower Sam Figg saw the home team score one against the run of play.
Shortly after it was Reece Robinson to cross the chalk and thanks to another precise conversion by Andrew Deegan. The Country winger wasn't done and scored another try after just 2 minutes to give the home team the lead for the first time in the game.
Three minutes before the end of the first the half, Figg scored another try for the  Eagles to extend their lead to 12 points into the break.
First half score: NSW Country Eagles 28 – Melbourne Rising 16.
Second Half:
The second half started with the Eagles camped into the Rising's 22 meters. After extended pressure Rohan O'Regan pushed his big body over the line and scored the 5th try for the clockwork orange.
The Eagles kept attacking the visitors' try line and find another major thanks to scum half Jake Gordon, who scored an impressive 30 meter try from a well directed scrum.
Jordy Reid gave the Rising one back with 15 minutes to play but the clock was against the visitors and the 18 points gap impossible to close.
Jake Gordon put the icing on the cake with his second try after the siren to make it 50 point to the Eagles.
Final score: NSW Country Eagles 50 – Melbourne Rising 24
The Game Changer
Sam Figg's intercept try really on in the game shifted the momentum that the Rising built early on towards the Eagles. The visitors were leading 16-0 and looked impressive, they took 55 minutes before scoring again. In the meanwhile the hosts scored 6 tries to open a comfortable lead.
The GAGR MOTM
Jake Gordon was superb in orchestrating his team, he kept the forwards moving and gaining meters before unleashing his backline, a brilliant display in the midfield for the young Waratahs.
OZ BaaBaa Watch
Future Brumby Rob Valetini had another good game coming from the bench in a losing team.
The Details:
NSW Country: 50

Tries: 7
Figg (20 12', 37'
Robinson (2) 28, 31'
Gordon (2) 60', 80'
O'Regan 50'

Conv: 4
Deegan (3/6) 13', 29', 50'
Adams (1/ 1) 80


Melbourne: 24

Tries: 3
Naivalu 2'
Leafa 7'
Reid 64'


Conv: 3
Debreczeni (3/3) 3', 8, 65'



Cards:
n/a


Cards:
n/a


Referee: Graham Cooper

Attendance: tba

New South Wales Country Eagles: 1. Paddy Ryan (c), 2.* Tolu Latu, 3. Tom Robertson, 4 .Rohan O'Regan, 5. Tim Buchanan, 6. Sam Figg, 7. Rowan Perry, 8. Sam Ward; 9. Jake Gordon, 10. Andrew Deegan, 11. Alex Newsome, 12. Kyle Godwin, 13. David Horwitz, 14. Reece Robinson, 15. Andrew Kellaway. Replacements: 16. Luke Holmes, 17. Jed Gillespie, 18. Sam Needs, 19. Ryan McCauley, 20. Tom Cusack, 21. Mark Baldwin, 22. Tayler Adams, 23. Angus Roberts. Coach: Darren Coleman.

Melbourne Rising: 1. Toby Smith, 2. Pat Leafa, 3. Tyrel Lomax, 4. Sam Jeffries, 5. Alex Toolis, 6 .Ikapote Tupai, 7. Jordy Reid, 8.Colby Fainga'a; 9. Mick Snowden, 10. Jack Debreczeni, 11. Jonah Placid, 12. Sione Tuipulotu, 13. Tom English, 14. Sefa Naivalu, 15. Dom Shipperley. Replacements: 16. James Hanson, 17. Tom Moloney, 18. Tim Metcher, 19. Rob Valetini, 20. Jordan Uelese, 2.1 Keisuke Yamada, 22. Taiso Silafai-Leaana, 23. Ah-Mu Tuimalealiifano. Coach: Zane Hilton.

* Lineup changes