One of the aims of performance is to win. The Wallabies are winning, but it looks like they've only got a tentative grip on continuing in that state – and that's because our performance is not where it needs to be and is not where it was at the end of last international season.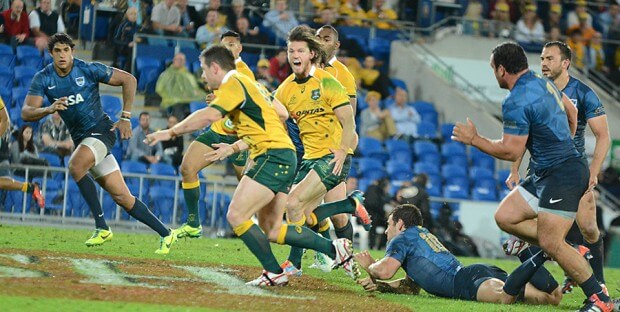 The longer I stay associated with the game the more it occurs to me that the one of the major factors in performance is accurate selection. I know selection's not an exact science and I've had plenty of occasions when my selections have been complained about, but nevertheless I have an opinion about such matters and if others disagree – that's fine.
To me I cant see how our selection of the Wallabies team is helping us to play well enough – indeed it seems we play worse.
Backs
First off – our back line. Most people would have assumed Phipps and Foley were the best performed halves in the Super Rugby competition. Then we add the fact they play together  – although I'm not a great one for picking combos – but if they also play together that would seem to make that selection obvious. Belatedly we find them both together for the Wallabies. An error finally righted.
Then I look further out and most readers will know what I think about the centres. Our 10 and our 12 always take the outside shoulder: all we've succeeded in doing is having an attack which invariably goes across field, dragging the defence with it. So we get comments that opposition defences seem to have 'worked out' Folau. This is completely false: every time he gets the ball he beats two tacklers, but has four defenders on him and no space!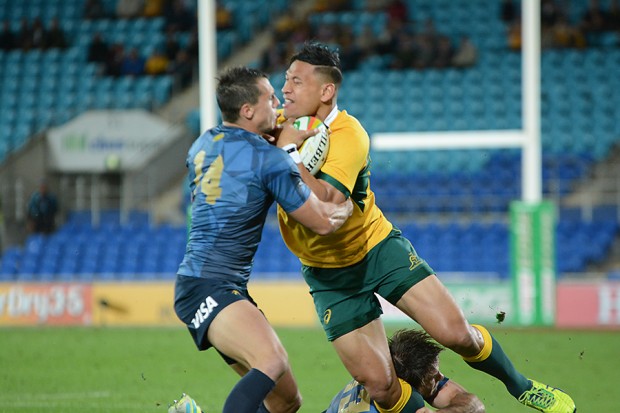 We have to have people in the midfield who can run straight. While Foley doesn't run straight and usually uses pace to attack the outside shoulder, he plays so flat that he can usually get away with it. Because he doesn't have to travel over so much ground, his cross-field running doesn't cause so much problem. Toomua on the other hand plays deeper both at 10 and 12, causing a big problem.
A couple of weeks ago the NZ commentators made a point of saying that Crotty takes the hard yards by straightening on the inside shoulder of his opponent – therefore he'll do well in the position. They understand that only too clearly. Why don't we?
I've suggested Kuridrani at inside centre for over a year for just this reason. He takes the inside shoulder and goes further forward – surely a valuable commodity. But what I see in the press is that he's not a ball distributor – so how is Toomua? There's no evidence other than one ball to Folau – although the skill there was from Folau for straightening into a hole that even Will Skelton – surely not a ball distributor – could pass that ball (as he did versus France).
We have to do something with the performance of our backline which enables us to move the ball across the line with players in motion and put the ball in front of runners. The commentators in the New Zealand versus South Africa test opined on how wonderful some of the All Blacks backline was because the ball was always in front of the receiver. This is in no way difficult, especially when runners come straight.
Next we must insist on the right things happening. We rarely ever have a sequence of play where the passes are all accurate. We say after that we have to cut out our mistakes – but the question is how? We do this by having accurate technique in catching, passing and lines of running.
Campo mark II
Can anyone in Australia think that Kurtley Beale is not among the best seven backs in Australia, even if the rest are fit? I posed the question last week that could Kurtley be Campo mark II? Campo had pretty good pace – but not olympic standard – same as Beale. Excellent acceleration – Campo had it and at one stage KB had the fastest 40m time in the whole Wallaby squad. Very high work rate – you see him involved in everything, as was Campo. Very high skill level, the both of them. The same with their terrific lateral vision and field sense.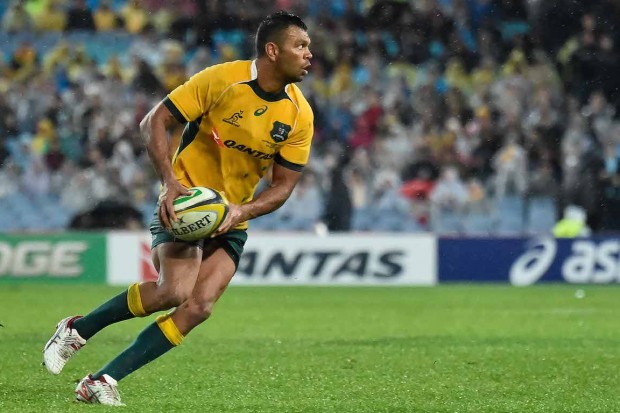 It was suggested to me though that would Beale really like to play wing? Well, how about suggesting him being the new Campo? I could see him getting more touches at wing than at inside centre; coming in from the blind side to first receiver. Then I can also see him coming into the play by sliding across the field – seeing it all in front of him and pick out the opportunities that exist. I think of all the wingers who have done that – like Sivivatu in France now who even does it on a pick and go.
We can't leave a player of his ability out of the team and his best abilities are at 13 and wider. He's done a good job for the Tahs at twelve, but his instincts for injecting himself and his running skills are such that we don't want  him restricted by the proximity of players on either side of him. The suggestion of moving Folau from fullback to wing for Beale at 15 is nonsensical when you see the value of Izzy under the high ball.
Similarly I wouldn't have Ashley-Cooper  – who runs the best lines at 13 in the country – on the wing.
Forwards
In the forwards I want to know what it is that Pek Cowan can do better than Benn Robinson? Admittedly we changed hookers as well, but our scrum became infinitely less reliable when Cowan – an honest player –  came on the field. We rushed TPN back into the team but then we leave a better scrummager and infinitely more experienced player out of the squad. And it's not his work rate, because that's up there as well.
By the way, commentators talk about Palu's and Fardy's work rate as not being up there on the international stage – I would say it also stems from the cross field running of our backs, because it means these guys are out of play – unable to run straight and hard onto the ball or into opportunity.
PS – Some months ago I suggested that the tight head prop with the best back in Australia was Paul Alo-Emile. Nothing I've seen since have changed my mind about that, but last week he added to that a fantastic work rate with a team that keeps the ball in hand with the Melbourne Rising. If this guy's not the most promising tight head in the country then I'm a monkey's uncle.