Barker College thrashed Knox Grammar School 38-3 in the opening round of of the 2013 Associated Schools competition and got some sweet revenge: Knox had spoiled an undefeated season in the last game of 2012.
---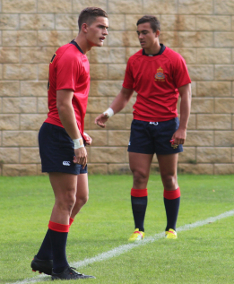 The Play
It was a Gala Day at the Knox school but there was no fun for the Knox crowd as they watched their team score just one penalty goal whilst the Barker machine scored five tries plus sundries.
Most of the tries had a similar method to them. Though not a big pack, the Barker forwards attracted too many defenders towards them, which narrowed the Knox defence. Then just as the Barker momentum slowed, the ball was whipped out to their backs. Because the Knox defence had lost numbers to the middle, the Barker back three had their own gala day out wide.
Time and time again.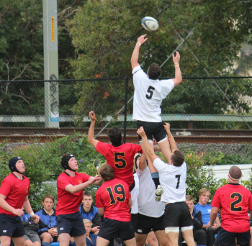 But there wasn't as much damage in the first half as there should have been: some Barker passes went astray and some good ball was dropped. Rustiness.
Barker wingers, Tyson Davis and Eddie Ellwood-Hall, scored unconverted tries and fullback Harry Jones had kicked a penalty goal – as had the Knox fullback Lucas Price – but down 3-13, Knox was still in touch at half-time.
Barker knew it too. Jones kicked two penalties after oranges to get a more comfortable margin for his team; then came tries to Jones, flyhalf David Smerdon, and a second one to Davis.
Barker ran the ball from their own half a lot and often had the Knox defence scrambling. A yellow card for a late charge did not help the home team, but it wouldn't have mattered: Barker were far too good on attack and they put up a wall on defence.
---
The Players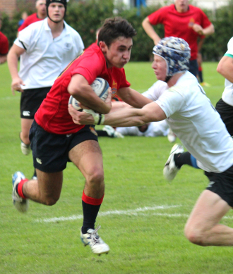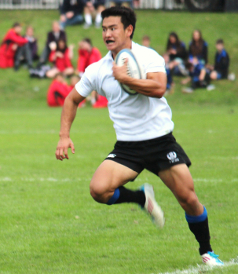 It was difficult for the Knox lads to shine but blindside flanker James Widders-Leece was aggressive and had some good runs. Speedy winger James Paek was dangerous with ball in hand, often having to create his own chances; and more Barker tries would have been scored had he not stopped them.
There weren't many ordinary Barker players. Jones played for Australian Schools last year and, now at a new school, lived up to his reputation by either terrifying defenders one-on-one or drawing them to him and passing. His combination with with winger Davis in several moves like this was a pleasure to watch.
There was another good combination also: between David Smerdon and his inside centre Devan Stoltz – but part of the credit for their success, and team success on the day, has to be given to the Barker forwards, who gave them the platform.
Their pack mentality was better than that of Knox, but special mention should be given to loose-head prop Jack Slack-Smith who was tireless, despite being aggressive all day.
---
The Wrap-up
Barker have made an emphatic statement by beating a well-regarded team which was expected to give them stiff competition. Unless they have an unfortunate run of injuries they should be favoured to win the competition.
---
The Scorers: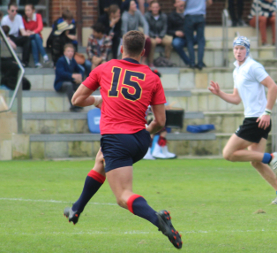 Barker College: 38
Tries: Tyson Davis (2), Eddie Ellwood-Hall, Harry Jones, David Smerdon.
Conversions: Jones (2)
Penalty goals: Jones (3)
 Knox Grammar School: 3
Penalty goal: Lucas Price
---
Other Scores (unofficial)
Waverley College 38 – Trinity Grammar School 10
Cranbrook School 44 – St Aloysius' College 10
---
Snort's preview of the CAS season can be seen here.