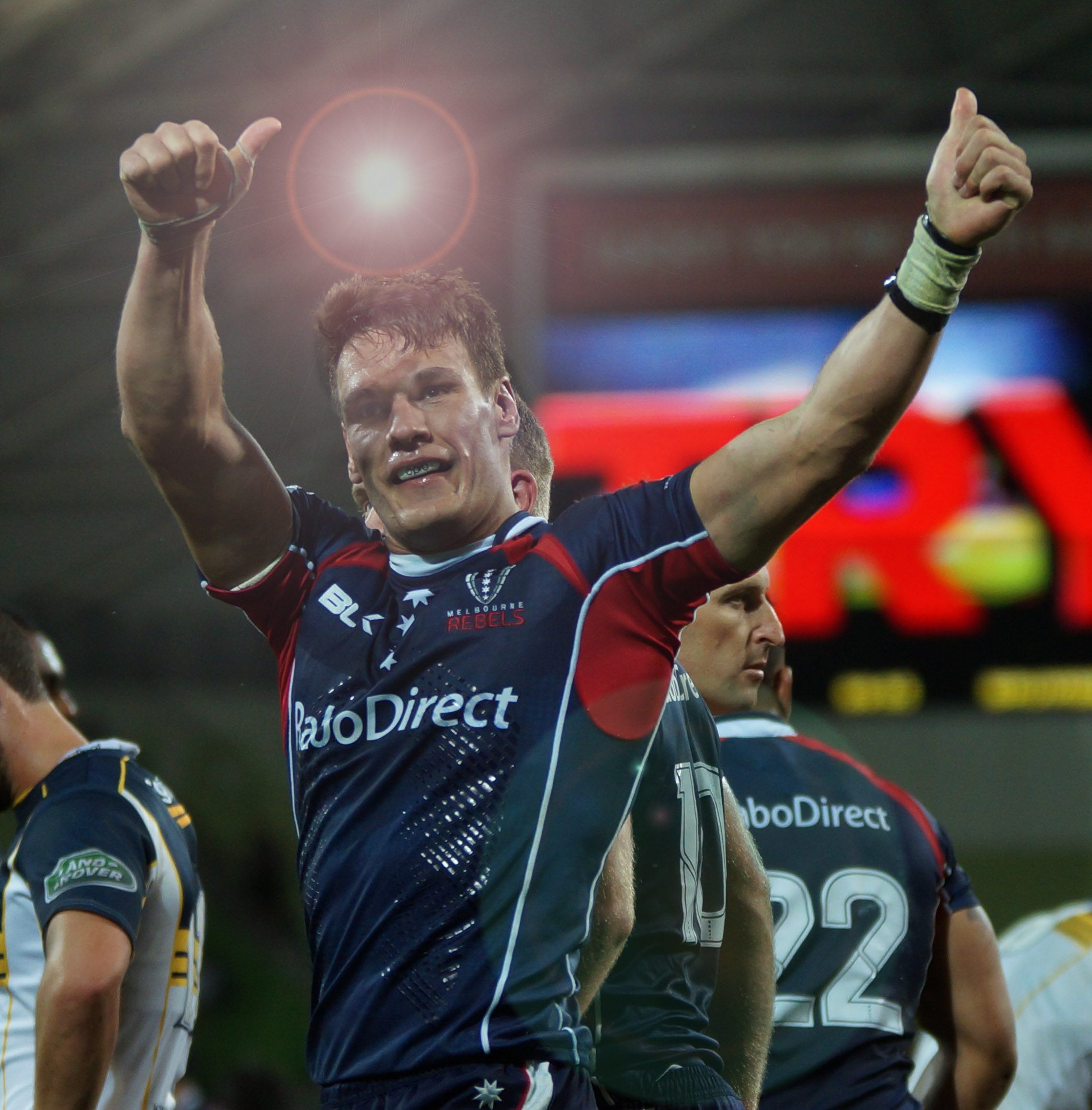 From SANZAR HQ
Awarded the Wooden Spoon – Melbourne Rebels Rugby Union
For immediate release to all SANZAR Conference Forces.
Citation
For the most inconspicuous capture of points in action as the 5th Australian Conference Team, under the auspices of SANZAR, ARU and Super Rugby.
The Melbourne Rebels enlisted in SANZAR in 2010. After completing the requisite courses and payment of licences, they were posted to AAMI Park where they first saw active service in 2011, as the RaboDirect Melbourne Rebels. During 2014, they successfully attained the highest number of "likes" on Facebook.
During their tenure with SANZAR in 2014, as well as various local Australian skirmishes, they deployed on overseas operations in Forsyth Barr, Hamilton, Ellis Park and this week at Loftus. The Melbourne Rebels were stripped of the Weary Dunlop Shield for their actions against the Waratahs.
On the 12th July 2014, a specially selected team of Melbourne Rebels will complete their 2014 campaign by conducting a "smash and grab" assault into Loftus, South Africa, in order to capture or share points against the 10th placed Bulls. While there is a chance that victory may require this Wooden Spoon Award to be rescinded, SANZAR feels that the unlikely nature of operational success is limited, and therefore preliminary preparations for the investiture of the Wooden Spoon may commence.
Immediately upon insertion to the hot zone via team bus from their hotel, the Rebels will be engaged by a formidable number of forwards from multiple, dominating positions. The Rebels will be pinned down by counter-attacking measures from two Bull locks in an elevated fortified position (line-out) to the immediate west of the interchange area. Under the cover of rolling mauls, suppressive props and relentless small winger attacks, The Rebels Captain and his centres will be manoeuvred to within 22 metres of the enemy try-line by the attacking Bulls, in order to neutralise their defence. At this point the Rebels will need to dig-in and attempt to engage in trench warfare to regain the initiative.
However, this may well be a fruitless strategy and it is unlikely that the reserve forces will replace the starting team casualties with the required try-scoring power. The lack of team discipline in circumstances of extreme breakdown work will be instrumental to the defeat of the Rebels, against a superior enemy force.
As a result, the unconditional surrender of the RaboDirect Melbourne Rebels at the 80 minute mark should be anticipated.
The awarding of the Wooden Spoon to the RaboDirect Melbourne Rebels will be a relief to the other teams who were within range of the honour, such as the Golden Lions and the Qld Reds, and is in keeping with the finest traditions of SANZAR and the Australian Rugby Union.
Message Ends.
| | | |
| --- | --- | --- |
| Morné Mellet | 1 | Toby Smith |
| Bandise Maku | 2 | Shota Horie |
| Marcel vd Merwe | 3 | Laurie Weeks |
| Paul Willemse | 4 | Hugh Pyle |
| Victor Matfield (Capt) | 5 | Cadeyrn Neville |
| Roelof Smit | 6 | Luke Jones |
| Jono Ross | 7 | Scott Fuglistaller |
| Jacques Engelbrecht | 8 | Colby Fainga'a |
| Piet van Zyl | 9 | Luke Burgess |
| Handré Pollard | 10 | Jack Debreczeni |
| Francois Hougaard | 11 | Tom English |
| Jan Serfontein | 12 | Mitch Inman |
| JJ Engelbrecht | 13 | Tamati Ellison |
| Bjorn Basson | 14 | Alex Rokobaro |
| Jurgen Visser | 15 | Telusa Veainu |
| | Reserves | |
| | | |
| Callie Visagie | 16 | Pat Leafa |
| Werner Kruger | 17 | Cruze Ah-Nau |
| Nicolaas Janse van Rensburg | 18 | Paul Alo-Emile |
| Marvin Orie | 19 | Sam Jeffries |
| Jesse Kriel | 20 | Lopeti Timani |
| Jacques-Louis Potgieter | 21 | Jordy Reid |
| William-Small Smith | 22 | Nic Stirzaker |
| Dean Greyling | 23 | Lalakai Foketi |
| | | |
| | | |
| Location: | Loftus Versfeld | Pretoria |
| Kickoff: | Sat 12 Jul 3:10 | |
| Referee: | Rohan Hoffmann | |
| Assistant Ref 1: | Stuart Berry | |
| Assistant Ref 2: | Sieg van Staden | |
| TMO : | Johan Greeff | |