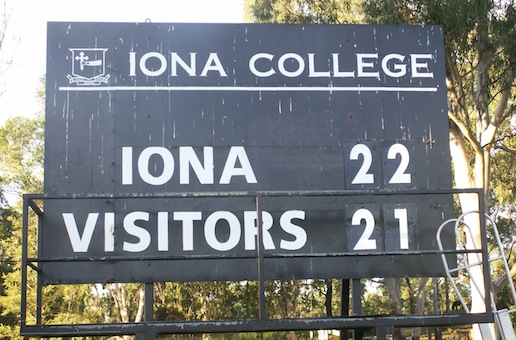 Iona held off a desperate and fast finishing St. Peter's outfit to claim a huge victory in an exciting start to the 2013 AIC first XV season. 
[Other round 1 scores at bottom]
The game between the title contenders and reigning champions was a thrilling match. Despite a late comeback and even a converted try scored after the siren, Iona managed to hold on, winning 22-21.
Iona dominated the first half, pinning down Peter's in their own 22 for most of the early stages. Iona's strong cover defence contained any effort by Peter's pacey outside backs to run the ball out of their half.
Also, Iona's strong lineout – with a good jumping display by second rower Sharley Yak – continuously compiled back on any pressure Peter's alleviated with a clearance kick.
The match continued on like this until a big hit by Iona captain Brad Wilkin knocked the ball loose from a Peter's player grasp and then pounced on the ball to secure the turnover.
Moments later Iona put a kick through and centre Todd Dawson dived on a ball that Peter's defenders didn't look like they wanted to score under the posts. He then converted his try.
Straight from the kick off, Iona pressed again and found themselves in Peter's 22. The ball was spread out to the extremities and centre Sione Hola fended off two defenders to offload to winger Tristan Neave, who managed to plant the ball down in the corner whilst in mid-air.
Peter's then began to find their attacking groove late in the first half with fullback Adrian Henley running through a gap out wide in his 22, however his pass could not find his winger.
They continued to pile pressure on Iona until their momentum was halted by the half-time whistle. At half-time scores were 12-0. 
The second half opened up much like the first with Iona getting in their opponents 22 and piling on the pressure.
After an audacious scoring attempt off a banana kick infield that nearly pulled off, Iona were awarded a 5 metre scrum.
Of the scrum Iona launched a looping set piece move that saw replacement outside back Sam Leadbetter cross in the corner for his first.
Peter's then got themselves into the opposing 22 and looked to have spoiled a rare opportunity when Wilkin again turned the ball over. However, Peter's got the ball back a few phases later and flanker Travis Mullins barrelled over underneath the posts. Henley converted.
Iona hit back after this with a few strong carries to get into the attacking zone and Leadbetter crossed again in the same corner to give his team what looked like a demanding win.
However Peter's dramatically increased their intensity half-way through the second half, using their quick backs to get on the front foot.
Peter's seemd to have missed the opportunity of a 3 player overlap when the Iona winger looked to have made a big tackle on No.8 Ikaika Fa'aoso, but the powerful backrower shook it off and managed to keep his feet planting the ball on the white line. Henley then converted.
Peter's appeared to build upon this shift in momentum when star halfback Moses Sorovi made a break from the back of the ruck and had just the fullback to beat with a player on his outside.
However, he then threw the ball inside to no-one but was saved by a teammate who dived on the ball.
The game was then set for an exhilarating last few minutes when the Peter's electrifying backs stretched the Iona defence with the dangerous inside centre Narhyl Bennet crashing over for the final try which was converted by Henley.
But a Peter's victory was not meant to be as the final whistle was blown immediately after the kick to Peter's disappointment and the elation of Iona fans on their annual oldboys day.
Final Score- Iona 22 (tries: Dawson, Neave, Leadbetter 2, cons: Dawson), St Peter's 21 (tries: Mullins, Fa'aoso, Bennett, cons: Henley 3)
Other Results:
Villanova 16 def Padua 12
Ashgrove 66 def St. Patrick's 24 
St. Edmund's 57 def St. Laurence's 10