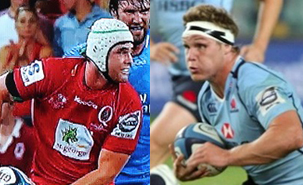 Who is the Wallaby Openside?
Liam Gill or Michael Hooper?
I'm going to put my cards on the table straight up. I'm a Reds fan. And I am a massive Liam Gill fan. Don't get me wrong I'm a fan of Michael Hooper as well, but for the start of the Rugby Championship I think Liam Gill should be starting for the Wallabies.
Here's why.
Let's start by looking at the other two backrow positions. With the injuries to Palu, Higginbotham and Kimlin it's actually looking a little thin. I'm assuming Ben Mowen has one of the spots sewn up. I think he will start at number 8 despite McKenzie including Jake Schatz and Ben McCalman in the squad.
Which leaves the Blindside Flanker spot. There are four players in the running. Two, Scott Fardy and Hugh McMeniman can be considered as second rowers who can play six and the other two, Ben McCalman and Jake Schatz play mostly at number 8 but play blindside as well. Fardy and McMeniman bring bulk and while McCalman and Shatz aren't midgets they are faster and have huge work rates.
I think Ewen McKenzie will go with work rate and test experience and start Ben McCalman with Fardy and McMeniman on the bench as Lock/Backrow cover.
If McKenzie picks McCalman and Mowen as the six and eight do you want Michael Hopper as a fleet footed attacking weapon running with them or do you want Liam Gill as a ball stealing tackling machine? Now I'm not saying Hopper can't tackle! But Gill is over six per cent better than him this season and for guys who are near the top of their clubs tackle count every game that's a big difference.
The Stats!
Hooper is the clear leader in Attacking stats.
Hooper leads in nearly every category except total runs, lineout wins and pilfers. I know it's unfair to add lineout wins to a opensides stats debate but I think it's important to note that Gill is a lineout option a very rare thing for an openside flanker in Australia. Pilfers could be considered a defensive skill. I thought it was 50-50 so here it stays.
The Defensive stats show Gill as the clear leader.
Gill leads most categories with Hoopers massive tackle count being the exception. The most impressive stats for me are the penalties conceded , error and tackle percentage figures. Gill rarely make mistakes, rarely gives away penalties and tackle at a 91.3 per cent rate.
The Conclusion
Who is the Wallaby Openside? If the Wallabies go with a hard working, high work rate back row I'd pick Liam Gill to start with them and Michael Hooper on the bench to work with the big boppers later in the game. I think Gills high workrate, low error and penalties and high pilfer rate will work perfectly with McCalman and Mowen's style of game. But don't take my word for it. Tell me where I'm wrong. Tell me why I'm wrong. Tell me I'm a one eyed, red necked Reds supporter. But deep down you know it makes sense.