Wednesday's Rugby News has Quade leaving Toulon, officially, Meakes signing for the Force, officially, the Fainga'a brothers meeting all sorts of milestones, and John Connolly ragging on Aussie rugby.
---
[one_half last="no"]
Quade Leaves Toulon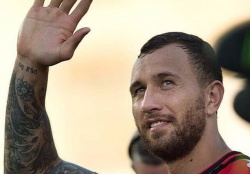 Quade Cooper has confirmed he's left French club Toulon, reports Sky Sports and others.
Posting on Twitter in French, Quade told his horde of dedicated fans "Goodbye, thanks everyone, to my brothers and my family in Toulon, I'll miss you. See you soon." Interestingly, he also tweeted:"When I get back to Aus I'm going to whoop Jarryd Hayne at Fifa & in return he will join the Super rugby franchise I join.."
Since joining Toulon only last year, soon after the end of the World Cup in November, Quade struggled to settle in south of France and struggled for form at the megabucks French club. Bigmouth Toulon owner Mourad Boudjellal rather amusingly compared him to Jonny Wilkinson as, saying that going from the Englishman to Quade was like going from "foie gras to pate".
This frees up the mercurial and popular flyhalf to return to the promised land for next season. Whether that's the Reds or the Rebels or perhaps even the Force, remains to be seen.
[/one_half] [one_half last="yes"]
Meakes Signs For Force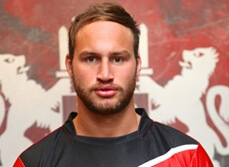 As reported last week, Bill Meakes has put pen to paper on a two-year deal to play for the Western Force.
"I am absolutely stoked to be here and looking forward to getting stuck in," Meakes told the media, especially rugby.com.au. "I met the boys just a few days ago and everyone has been extremely welcoming and the city looks beautiful so I'm really excited to be here for the next two years."
"Dane Haylett-Petty even left me a surprise welcome gift in outside my hotel room" he didn't add.
Meakes, a Sydney lad, is coming back home after heading overseas without any Super caps. Also a former U20s and sevens rep, Meakes played 46 times for Gloucester.
Dave Wessels, the interim Force coach, also added that "All the way through the negotiations it was very clear that [Meakes] is extremely ambitious and has a hunger to perform which is a great attribute to have."
[/one_half] [one_half last="no"]
Saia Wanted 100 Caps

Reds and Wallabies hooker Saia Fainga'a is raring to play against the Rebels this weekend, after recovering from illness and a lack of match fitness.
Saia, currently on 99 caps, really wants to get to 100. Having missed out on the Chiefs game last Friday (luckily, some could say), Saia is now stuck on 99 caps.  "I'm hurting because making 100 was one of my bucket-list goals," Faingaa told the Daily Tele. "I probably pushed too hard when I kept playing on the foot and ruined my own season in a way."
This will be Saia's final game for the Reds, as next year he is returning to the Brumbies to replace the Reds-bound Stephen Moore. It will also be the final game Saia plays with his twin brother Anthony; the twins have played their club rugby together so far to date, but next year Anthony will be in Japan (Kintetsu Liners, to be exact).
Furthermore, this game will be momentous for Mrs Fainga'a, as Saia and Anthony will be facing up against their Rebels brother Colby.
"Of all the milestones I look back on fondly at the Reds, that first time Anthony and I played against Colby in 2010 was one of the really special moments, with mum and dad in the stands crying," Saia said. "To have that chance again in a farewell game would be great." Naw.
Seeing off his Reds career, Saia Fainga'a is quite pleased with himself in reflection. "We were told we'd made a bad decision in 2008 by coming to a club that had just finished last, had a losing culture and was disorganised off the field. We're very proud of the part we played in a Reds revival, winning the 2011 Super Rugby title, building a team culture to be proud of and making Brisbane home."
The Reds will play the Rebels in the Fainga'a Derby in Brisbane on Friday.
[/one_half] [one_half last="yes"]
Aus Rugby "Predictable"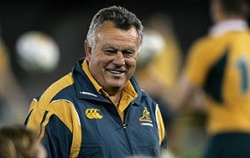 Ex-Wallabies chief John "Knuckles" Connolly has told Fox Sports that he thinks Australian rugby has become predictable, having an obsession with the ball-in-hand strategy.
"We're obsessed with ball-in-hand in Australia," Connolly said, "but kicking is an important part of the game."
Connolly added: "New Zealand sides, and Canterbury and Otago  particularly, kick more than any other side so they kick to attack as well, so they've got a complete game. We all want to see running rugby, but I think we need to mix it up."
Running rugby has had a massive emphasis put on it in this country since Michael Cheika returned to coach the Waratahs, and is seen as important part of the ARU's engagement strategy as it as seen as the most entertaining form of the game.
"If you know what the opposition is going to do all the time it becomes very predictable," Connolly continued. "The Force beat Michael Cheika's side three times when he coached NSW, so they knew what he was doing."
"Eddie Jones didn't do anything last month. All they did was tackle strongly in the midfield, knew where the opposition were coming, kicked their penalties and kicked for good field position. They played very little rugby, but they definitely outsmarted us."
Connolly went on to say that he believes if any changes are to be made, it starts with how youngsters and grassroots rugby are coached.
[/one_half]