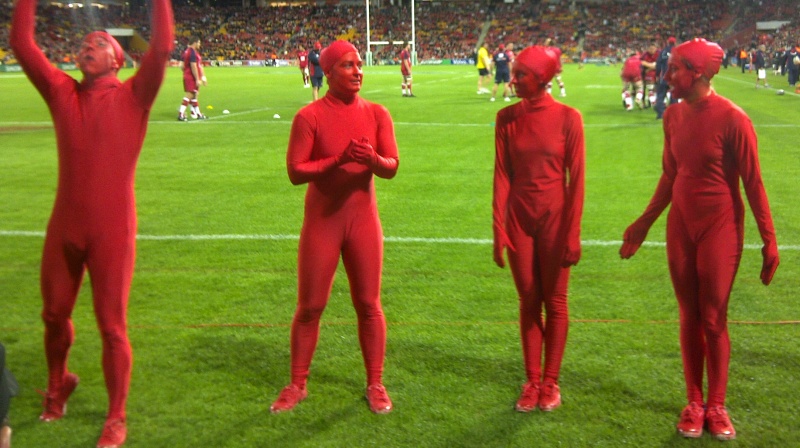 Tri Nations 6, Bledisloe 2, the final hit out before the Battle of Bill across the dutch.
This post will cover the match as it happens, refresh to read the latest coverage from Lang Park in Brisbane. By my count there are 17 players back from the Super Rugby final last month.
Match Details
Ground: Lang Park, Brisbane
Wayne Barnes
Assistant Referees: Craig Joubert / Cobus Wessels
TMO: Matt Goddard
Head to Head
Wallabies: 15 Kurtley Beale, 14 Adam Ashley-Cooper, 13 Anthony Faingaa, 12 Pat McCabe, 11 Digby Ioane, 10 Quade Cooper, 9 Will Genia, 8 Radike Samo, 7 David Pocock, 6 Rocky Elsom, 5 James Horwill (c), 4 Dan Vickerman, 3 Ben Alexander, 2 Stephen Moore, 1 Sekope Kepu. Reserves: 16 Saia Faingaa, 17 Salesi Ma'afu, 18 Rob Simmons, 19 Ben McCalman, 20 Scott Higginbotham, 21 Luke Burgess, 22 Rob Horne.
All Blacks: 15 Mils Muliaina, 14 Cory Jane, 13 Conrad Smith, 12 Ma'a Nonu, 11 Zac Guildford, 10 Daniel Carter, 9 Piri Weepu, 8 Kieran Read, 7 Richie McCaw (c), 6 Adam Thomson, 5 Samuel Whitelock, 4 Brad Thorn, 3 Owen Franks, 2 Keven Mealamu, 1 Tony Woodcock. Reserves: 16 Andrew Hore, 17 John Afoa, 18 Ali Williams, 19 Victor Vito, 20 Andy Ellis, 21 Colin Slade, 22 Isaia Toeava.
Pre Match
The rain has eased off for now, however light drizzly rain in the first half, increasing later in the match.
Saia is clearly happy to have his twin in the squad, as Ant is happily braiding his hair in the changerooms.
Richie is interviewed about his last (unhappy) trip to Lang Park, Richie reckons the Super loss is far from his mind. Well, it was, until Kafe reminded him about it.
Dan Vickerman is very vocal in the on field huddle, from my couch he looks to be channeling another ageing lock – Van Humphries.
Digby Ioane has gone for the look pioneered by Wesley Snipes in Demolition Man. Smooth.
I always like the Kiwi anthem, since they've cut back their military they're basically reliant on Australia to defend New Zealand. Then they sing a song about Australia being God.
Anthems done, time for an interpretive dance from the Blecks. Wallabies stared them down for 20 seconds after their eistefford.
First Half
First 5 minutes
Great start for the Wallabies with Adam Ashley-Cooper securing a deep kickoff. A clearing kick was well chased, turned over and a penalty won on half way. From this we set up a lineout on Kiwi 22 but forgot to contest the throw which went straight to McCaw at the back. Dan Carter's clearance kick was charged down by Ben Alexander and the Wallabies kept it tight right up to the line. Kieran Reid infringed at the ruck, and Quade Cooper slots it from right in front.
5 to 10 minutes
The Wallabies regained a midfield bomb and a pinpoint touch finder by Kurtley set up a lineout 5 metres out. Kiwi lineout solid and this passage of play for well contested by both teams. Impressed by the hard work of Radike Samo, david Pocock and Rocky Elsom hitting lots of rucks.
10 to 15 minutes
McCaw down injured, sore ribs, bleeding eyebrow, and tightness around the throat. Kieran Read also down and the trainer is on the field.
Nice work by Adam Ashley Cooper to get over the tryline however Mils Muliana grabs the ball as he's forcing it to the ground. 5 meter scrum to the Wallabies – wrong call, should have been a 22 as if it wasn't a try then Mils grounded it in goal. Kieran Reid is now subbed for Victor Vito, Adam Thomson also getting attention from the medicos.
15 to 20 minutes
Wallabies still camped in the Kiwi 22, very dominant stanza of play for the home team who are keeping it tight with the pick and drive. Quick ball from the ruck for Will Genia who disects Owen Franks and Keven Mealamu for a 5 pointer under the posts.
A great run from Samo makes 20 metres for the Wallabies, though shortly after Radike is injured in backplay. Solid pressure from the kiwis who blow a 6 man overlap 10 metres out from the line with a knock on thanks to pressure from Anthony Fainga'a.
20 to 25 minutes
Ben Alexander concedes a full arm penalty at a scrum, Kiwis push into our 22 and win a penalty for James Horwill apparently offside. Seemed like he was retiring after making a tackle to me. Carter slots the penalty, 10-3.
Another massive tackle from Radike coming out of the line for hammer time.
25 to 30 minutes
Nice run from Kurtley Beale who fields a high ball then steps Conrad Smith, Mils Muliana and Richie McCaw in a 15 metre run. Lots of broken play running rugby, ends in a brilliant kick from Quade that stops 1 metre from the touch line. Great chasing from Cooper also – sets up a Wallaby lineout inside the Kiwi 22.
We win the lineout and combo of forwards and MacCabe hitting it up tight. Genia spreads it left and the Kiwis steal it at the next ruck through Mealamu, who then wins a penalty for Big Kev holding on.
30 to 35 minutes
Wallabies playing all the rugby in the Kiwi half here, applying great pressure around the fringes. Ma'a Nonu concedes a penalty for tackling without the ball, Quade converts, 13-3.
More box kicks that we regain. Radike Samo makes Adam Thomson HIS BITCH, scores a 50 metre try after bitch-slapping Thomson and carries Mils and Corey Jane the last 5 metres to score under the posts. Quade slots, 20-3.
35 to 40 minutes
The Wallabies are now running the All Blacks ragged, hot potato between the backs making good ground up the middle.
Ali Williams subbed on for Adam Thomson, looks like he's blown a gun. First time a box kick doesn't work for Genia – out on the full and the Blecks have one last chance to take something from this half. They win their lineout and push it wide. Piri Weepu sniping, into the Wallabies 22. Pick, drive, Vito spills it! Clearance is good, and that's half time. Wallabies 20, Blecks 3.
Standing ovation for the Wallabies after that performance.
Second Half
Stats thanks to @ruckingoodstats: Concerning #All Blacks 1/2time stats:11 lost possessions/turnovers (inc 8 hand errs) 18 missed tacks, 4 pens #TriNations #AUSvNZ
40 to 45 minutes
Vickerman to call the fist lineout of the second half. Victor Vito puts on a big hit, and the box kick is back on. Ali Williams lucky to get away with a trip that is somehow missed by the three on field officials.
Several phases from the Wallabies around the halfway line, Blacks concede a short arm penalty and it's scrum time. Genia goes the box kick, straight into the forehead of a ducking Horwill from 1 metre. FALCON highlights package coming this week.
45 to 50 minutes
The All Blacks now picking and driving, great defence from the Wallabies though – holding them behind or at most to the advantage line. Clarkie describes it as "trench warfare", good call. Kiwi's win a full arm for Rocky's entry at the ruck. Carter slots – 20-6.
Adam Ashley-Cooper having his best game of the year, perhaps wing is his position. Kiwis win a penalty and clear to halfway. Bleck setpiece solid and many more pick and drives from them. They're looking much better this half and holding on to the ball. 16th phase, approaching the 22 now. Methodical, continuous, unimaginative.
50 to 55 minutes
They cross the 22 on their 22nd phase. Vickerman hitting a lot of rucks, as are all the Aussie forwards, and Pat MacaCabe. The All Blacks spread it on the 26th phase, Carter carries and offloads to Conrad smith who runs a great line to score. Dan converts, 20-13.
Quade gets Richie with a cheeky knee standing up, Brad Thorn sees it, STINK! Few handbags, nothing too big.
It's all Black this half, back into the Wallabies 22 now. Accidental Offside and the tide could turn here.
Rob Simmons on for Vickerman. Zac Guildford off for Ice Toeava.
55 to 60 minutes
Scrum time, resets. Full arm to the All Blacks, they're dominated both lineout and scrums all match. More pick and drives, Kiwis losing ground with each phase. Then Nonu cuts inside everyone and scores under the posts. Prick! Carter slots, 20-20.
60 to 65 minutes
Restart – Genia, Digby, Beale, TRY! That was all Will, brilliant vision and we've retaken the lead from what is just about our first touch of this half. Quade slides to the left, 25-20.
Blecks knock on from the restart, lets hope our scrum is up to this. Solid set piece, though we neglected to hook the ball. Tidied up by Genia whose box kick is charged down by Ali Williams who is way offside. Genia now getting his hammies stretched by the physio.
Andy Ellis on for Piri Weepu. McCalman on for Samo.
65 to 70 minutes
Dodgy ruck penalty against Rob Simmons for standing near a ruck, Carter sets up a lineout on our 10m line. Ali Williams with a strong run in traffic. Kiwi's up to the 22 on their 9th phase and spread it wide to Toeava who is handed the smackdown by AAC. The "home crowd" are now chanting "All Blacks, All Blacks". Mealamu in from the side, Wallabies out of gaol.
70 to 75 minutes
Short side snipe between Genia and AAC, MacCabe still trucking it up, but ball "pops out" and Kiwis in possession in their half. Another shit kick charged down by Kiwis, Genia counters with a box kick and Toeava steps in front of AAC who is chasing. Referee speaking with touchie and what was a blatant yellow is penalised. A tough kick this one for Quade, slices it to the right. 25-20 with 8 to go.
Nice kick by Corey Jane set ups an Aussie lineout on our 10 metre, line, 7 minutes to go. Moore overthrows but we clean up. Genia and Kepu both down with cramp! Blacks make a break on the wing, into our half, BAM MAN with a very timely turnover, Henry says "Fuck".
Rocky off for Higginbotham. Horne on for ,
Afoa on for Franks, Hore on for Mealamu.
75 to 80 minutes
Burgo for Genia, Saia for Moore, Ma'afu for Kepu
Ma'afood trucking it up, Pocock hot potato, PICK AND DRIVE. Bring it home Gold.
Thorn, Williams and McCaw a metre offside. 3 minutes to go. Still picking and driving. Ball lost. Shit. 2:15 on the clock.
Pocock so close to a turnover. Kiwi's consolidating on their 10 metre line. Carter clears, great kick but not out. Kurtley kicks it to the shithouse, back on halfway. 1:10 to go. What a finish. Go Gold.
Kiwis go wide, Kurtley intercept! Ruck time, 30 secs to go, Burgo a slow ball specialist, exactly what we need. Pick. Drive. Pick. Drive. Afoa 3 metres int hte side, Hore in the other side. Full time, Full ARM, FUCK YEAH!
22 man effort, WE ARE THE 3N CHAMPIONS.
Score
Wallabies 25
Tries: Will Genia (16′), Radike Samo (35′), Kurtley Beale (61′)
Conversions: Quade Cooper 2/3
Penalties: Quade Cooper 2/2
Drop Goals:
All Blacks 20
Tries: Conrad Smith, Ma'a Nonu (60′)
Conversions: Dan Carter 2/2
Penalties: Dan Carter 2/2
Drop Goals:
Crowd: 51,858
Thanks to 187prettyboy we've got some highlights as well