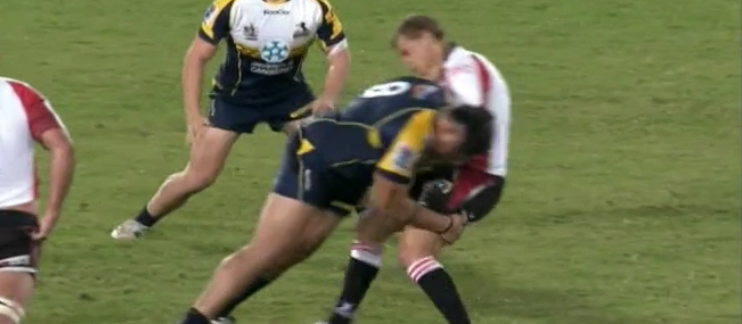 He's been making an impact on Australian rugby since joining the Brumbies, but on the weekend he left quite an impression on the Lions as well, as you can see below.
[youtube]http://www.youtube.com/watch?v=fkLzgEkf8o0[/youtube]
G&GR's resident player encyclopaedia, Lee Grant, gave me this run down on the big man
Fotu Auelua is the talk of the town in rugby circles in Canberra. He's an unlikely candidate: he had trouble with authority as a youth and got into scrapes with the police; he bounced from one high school to another and one wondered what would become of him not only in a rugby sense but also in an everyday sense.

He eventually found his way to the West Harbour club in Sydney. That and the strength of his family saw him through. He was looked at by the Tahs and played for their reserve team in 2006 with the likes of current stars Dave Dennis and Tom Carter, who he will play against on Saturday.

He went to France and got a contract with the Toulon club and played with other Aussies such as George Smith. Matt Henjak, and Luke Rooney, and other expats SBW, Felipe Contepomi and Jonny Wilkinson.

Something must have rubbed off on Fotu because he grew as a player. His brutish runs as a no. 8 were were still there, but he also developed skill in the lineout. In his last season at Toulon he played a lot in the centres, both outside and inside. He ran over his opponents in the midfield as expected, but also showed some deft ball playing skills.

I bet his name is down on Robbie Deans' clipboard; so watch this space.
Looks like we might have a contender for Cliffy's spot in the Wallabies?