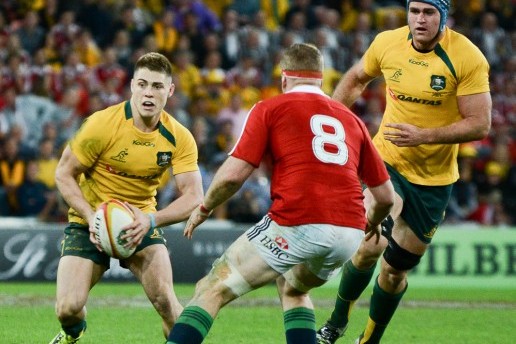 It's hard to deny that over the last World Cup cycle Fly Half has been a problem area for the Wallabies. Injuries, indifferent form and politics all seem to have played their part in chopping and changing between 6 different players: Cooper, Barnes, Beale, Toomua, Foley and O'Connor and seven months out from the world cup, it, along with scrumhalf, remains one of the most debated positions in World Rugby.
It's understandable, throughout the 80's and the 90's Australia revolutionised the role of the fly half – they became much more than simple game managers they became strike weapons, and players like Mark Ella, Michael Lynagh and Stephen Larkham demonstrated the influence a fly half could have on the attacking shape of a team.
So with it being a World Cup year I thought it'd be interesting (for me at least) to check up on the main contenders over the course of this super rugby season and lead that into a little bit of comparative analysis ahead of the Wallabies squad being selected.
First up it's the return of the prodigal son, James O'Connor.
Now, admittedly, O'Connor is probably a bit of an outside bet for the Wallabies 10 jumper, he's been playing mainly back three for the last year at London Irish and Toulon, but on his first start in the Queensland team he was straight into the 10 position stepping up to try and steady a rocky start to the season and while not a vintage performance it was a pretty positive hit out.
The video features clips split into "Attack" and "Defence" and to cut to the chase there is lots for Wallabies fans to be positive about in his performance. Some nice passing, some excellent defence and some brilliant open field running, but there also plenty of mistakes.
It's a good start though, but how realistic a contender he is for the Green and Gold 10 jersey remains to be seen. I have a feeling he'll slot in at 12 and 15 more than 10, but he's certainly a useful weapon to have in the side and a fearsome opponent to face. As an English Rugby fan (don't judge me) I always feel more confident when he's not facing my team and I'm sure we'll see a lot more of him over the next 7 months.