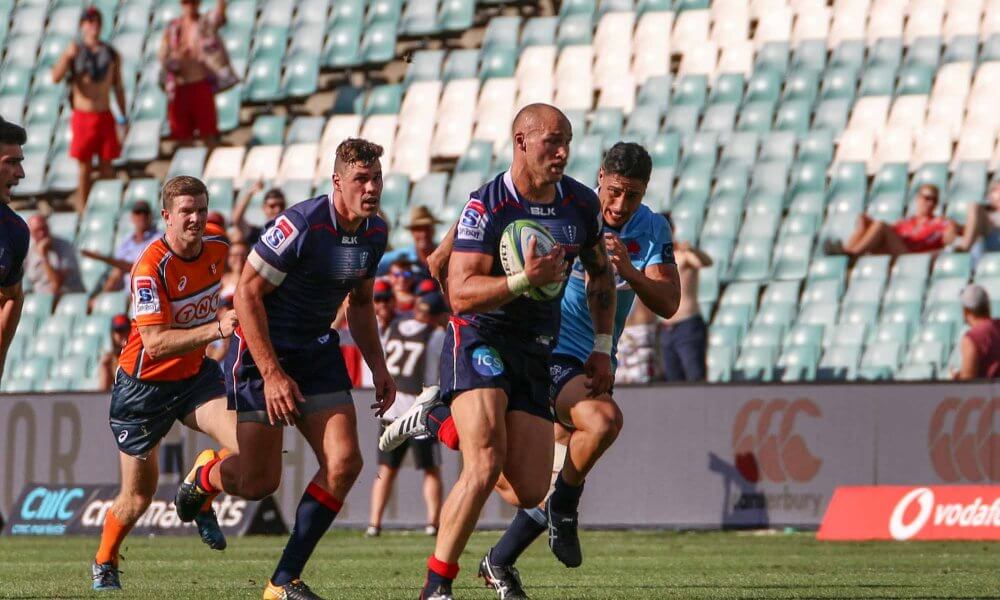 Thursdays Rugby News sees Red and Rebels squads announced, Two Aussie referees named for World Cup, and Japanese officials warned about beer supply.
---
THE MEAKES SHALL INHERIT THE 12 JERSEY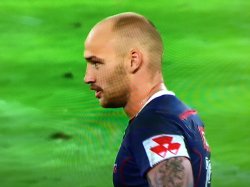 Wallaby hopeful Billy Meakes has forced his way back into the Melbourne Rebels starting lineup this week after he was named on the bench the previous match.

Meakes comes in at 12, pushing Reece Hodge out to 13 and Tom English gets a rest for the week, having played every Super Rugby match this season.

"Tom English has played every game and he deserved a break, while I though Billy did very well when he came on in the Hurricanes game," Dave Wessels said.

"Subsequent to team selection, Tom has got a bit of a calf niggle, it's nothing more than that and he'll be available next week."

"Billy's combination with Quade is one that's worked for us well this season.

"You can see them talking and connecting at training and talking a lot and I think they've improved with each other's support, so that's a big reason."

Adam Coleman is still sidelined with a shoulder complaint. 

Ross Haylett-Petty comes into the starting line up in the second row moving Luke Jones back to 6, replacing Rob Leota to the bench. Richard Hardwick joins the bench that features a 6-2 split to handle the strength of the Reds forwards.

Injured hooker Jordan Uelese will make his return to rugby this weekend through club rugby, hopefully to be eligible for selection next week, but Dave Wessels is adamant that the young rake will have to earn his spot given the performance of Rangi and Roach.

Wessels believes his team has the ability to bounce back from three consecutive losses to stay in the fight for the finals.

"I feel like we're a different team to where we were 10 days ago," Wessels said.

"We've got a couple of games at home now, so it's important we find our rhythm and our flow and really enjoy rugby again as well."

1. Tetera Faulkner 2. Anaru Rangi 3. Jermaine Ainsley 4. Ross Haylett-Petty 5. Matt Philip 6. Luke Jones 7. Angus Cottrell 8. Isi Naisarani 9. Will Genia 10. Quade Cooper 11. Marika Koroibete 12. Billy Meakes 13. Reece Hodge 14. Jack Maddocks 15. Dane Haylett-Petty (c)

Replacements

16. Hugh Roach 17. Matt Gibbon 18. Sam Talakai 19. Pone Fa'amausili 20. Rob Leota 21. Richard Hardwick 22. Michael Ruru 23. Campbell Magnay
BLYTH RUN ON DEBUT FOR REDS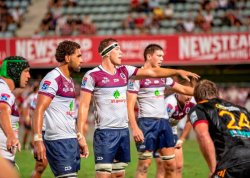 Angus Blyth will get his run on debut for the Queensland Reds on Friday night when they travel to Melbourne to take on the Rebels. Blyth will replace Harry Hockings who was suspended for three matches for putting his boot into the head of an opponent.
Brad Thorn has some big praise for Blyth, and expects big things from the young forward.
"A big well done to Angus. This'll be his fourth game for Queensland. He's come through the Queensland U20s and the NRC for Queensland Country," Thorn said.
"He's worked hard for this opportunity and we're proud of him.
"The Rebels are a tough opposition. They've only lost one game at home this year and will be looking for a good performance in front of their fans."
Blyth's start pushes Wallaby Lukhan Salakaia-Loto to the bench. JP Smith has been called up to start, pushing Harry Hoopert to the pine.
Reds attack coach Jim McKay has said the rotation of Salakaia-Loto to the bench is a combination of his lengthy game minutes and to offer some fire power off the bench.
"We've got three Wallabies to bring on – Lukhan (Salakaia-Loto) will come on and finish the game for us which is going to be an important area, and then you've got Caleb (Timu), who comes back from suspension and then you've got BPA (Brandon Paenga-Amosa) as well.
"So there's three Wallabies there to finish the game also." McKay said.
The Reds also welcome back Isaac Lucas, fresh off his U20s duties and Caleb Timu coming back from a five week suspension.
REDS (15-1): Hamish Stewart, Jock Campbell, Chris Feauai-Sautia, Samu Kerevi (c), Sefa Naivalu, Bryce Hegarty, Tate McDermott, Scott Higginbotham, Liam Wright, Angus Scott-Young, Angus Blyth, Izack Rodda, Taniela Tupou, Alex Mafi, JP Smith
Reserves: Brandon Paenga-Amosa, Harry Hoopert, Ruan Smith, Lukhan Salakaia-Loto, Caleb Timu, Moses Sorovi, Duncan Paia'aua, Isaac Lucas
RWC REFEREES NAMED
After not having any referees at the 2015 Rugby World Cup, Australia will have two match officials at the tournament with Angus Gardner and Nic Berry named. This is the first time in 16 years that Australia has had multiple referees named.
It comes as no surprise that Gardner was named given he was awarded World Rugby Referee of the Year 2018, but Berry was a shock given he officiated his first test match last year.
Berry, the former Queensland Reds halfback was forced to retire due to concussions, turned whistleblower in 2015 and has risen quickly through the officiating ranks.
Gardner says that a lot has gone into the referee program in Australia over the last four years and the his and Berry's selection is a testament to the hard work.
"When you get the news like that it is massively exciting, from a personal perspective but also from a Rugby Australia perspective," Gardner said.
"We have put a lot together as a referees program over the last four years, really driven by (Rugby Australia referees boss) Scotty Young and his team, and I suppose it has got to this position of Nic and I being selected.
"It's a great reflection on what we've done as a team and building the referee's program. If we look back to 2015 there was only one referee there as an assistant, so to have two now is huge."
Gardner had a lot of praise for Berry and how well he transitioned from player to referee in such a short period.
"Nic is just such a great bloke and a lot of that translates onto how he comes across onto the field," Gardner said.
"Nic has a great feel for the game. He loves to talk, he loves the weights, loves the gym. He is just an all-around top bloke so I am really looking forward to sharing nine weeks with Nic and sharing the Rugby World Cup."
The full panel is: Wayne Barnes (England), Luke Pearce (England), Jérôme Garcès (France), Romain Poite (France), Pascal Gaüzère (France), Mathieu Raynal (France), Nigel Owens (Wales), Jaco Peyper (South Africa), Ben O'Keeffe (New Zealand), Paul Williams (New Zealand), Nic Berry (Australia) and Angus Gardner (Australia.
AUSTRALIAN REFEREES AT RUGBY WORLD CUPS
1987: Bob Fordham, Kerry Fitzgerald (final).
1991: Kerry Fitzgerald (semi-final), Sandy McNeill.
1995: Wayne Erickson, Barry Leask
1999: Wayne Erickson, Andrew Cole, Stu Dickinson, Peter Marshall.
2003: Wayne Erickson, Scott Young, Stu Dickinson, Peter Marshall.
2007: Stu Dickinson
2011: Steve Walsh
2015: –
2019: Angus Gardner, Nic Berry
DON'T RUN OUT OF BEER: SAYS THIRSTY OFFICIALS
It might be the old saying "My drinking team has a rugby problem" but officials have warned Japanese organisers to not let Rugby fans go dry during the World Cup
Rugby World Cup officials have warned the organising committee of making sure there is enough of a supply of beer flowing in all towns hosting matches.
Local restaurants, hotels and bars have been warned about the perils of running out of beer during the tournament, informing them of the potential loss of lucrative business opportunities but also the damage to reputation through social media.
Japan is the first Asian country to host a World Cup, and whilst the sport is popular there, there is concern that they may be unfamiliar with Rugby Culture, including the heavy drinking of beer, before, during and after a match.
During the 2015 Rugby World Cup in England and Wales is is predicted more than two million litres of beer was consumed at the stadiums alone.With the event starting in September expecting to draw in more than 400,000 fans from abroad it is easy to see why officials may be concerned.. 
Heineken, the major beer sponsor, will be sold at all stadiums, with Japanese brewer Kirin (the local producer of Heineken) believing it is up to the challenge.
"This will be a great opportunity to showcase our products to the world,"
said Naomi Sasaki, a Kirin spokeswoman.
"We want our guests to really enjoy the quality of Japanese beers."
Kirin will be revising ticket sales and other forms of data to make sure the beer continues to flow.
Oita Prefecture in south-west Japan has already put a call out to Japanese brewers to increase the supply of beer to the town, with the region's restaurants and wholesalers had acknowledged the issue of beer shortages as "a realistic problem".
Oita Stadium is hosting three pool stage matches – Wales v Fiji, New Zealand v Canada, and Australia v Uruguay – along with two quarter-finals.