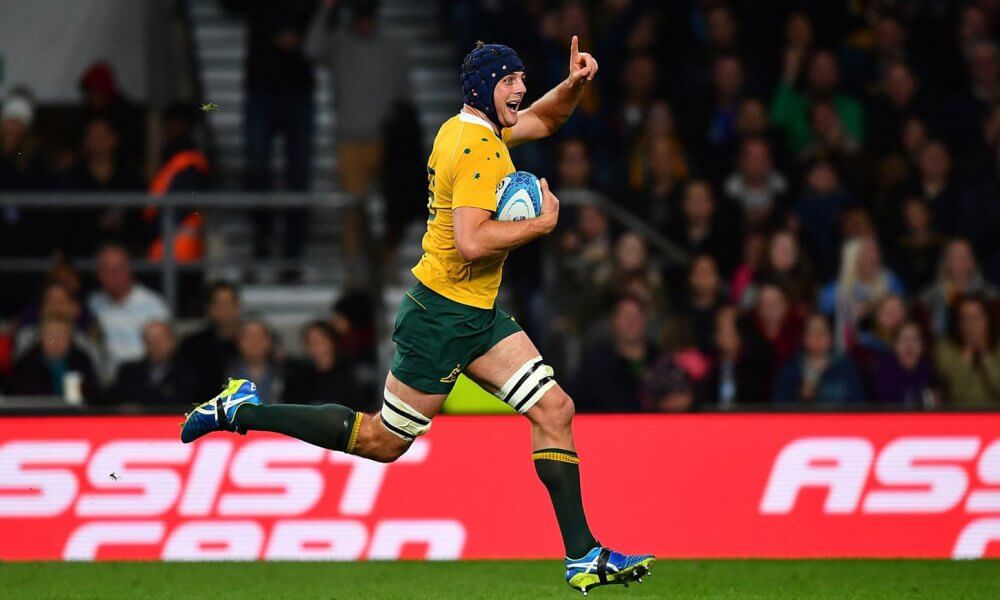 Thursday's Rugby News has Mumm in, Genia out, a satisfied Simmons, a fiery Foley and a passionate Agustin Pichot
---
Mr Mumm In, Genia Gone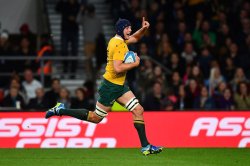 Dean Mumm has been set free by the World Rugby disciplinary committee, after the judiciary boffins decided that Mumm's sinbinning was punishment enough for his lifting taackle on Tadhg Furlong.
"The Disciplinary Committee concluded that, although Mr Mumm had committed an act of foul play (as he had accepted), the particular circumstances of the incident meant that Mr Mumm's actions would not have warranted a red card," the media release read.
"Accordingly, no sanction was imposed and Mr Mumm (!) is therefore free to resume playing immediately."
For his part, Michael Cheika was happy with the decision. "It didn't meet the red card from the viewing that was made, didn't meet the red card threshold and that was backed up by this committee," he said, reports rugby.com.au.
In other news, it's certain that Will Genia won't be showing up in Twickenham, after Stade Francais refused his release.
Cheika told the Daily Telegraph that he had hoped Stade Francais would pay back the goodwill that he had paid forward after letting Genia sit out the third Bledisloe.
However, Cheika accepts the decision of his former team, saying "They obviously place more importance on their game for Will than our international. That's the way the rules are, so we'll just have to deal with it."
Simmons Sparkling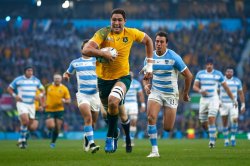 Rob Simmons feels quite proud of himself, telling rugby.com.au that he reckons he's come a long way in the past few weeks.
Simmons, who has gone from being first-choice lock to having to fight for his place, is feeling inspired by the challenge that those in the nose bleeds are saying he's met.
"It has been good, I think this tour in particular I've come a long way," Simmons said. "I'm working on those things at training and trying to impress and make myself a better player as well as moving forward in the lineout and scrum stuff.
"It's been enjoyable personally to be doing a couple of things a bit better, I was a fair way off at the start [of the year]."
Simmons, who has been restored to lineout calling duties after Adam Coleman was ruled out with injury, says learning the new system is exciting.
"I've actually enjoyed it, it's been a big change from the start of this year to where it is now," he said,.
"But for me personally it's been a big change, a new system that I had to get used to, and it took me a little bit to break some habits that I was used to doing and now coming into this one I've enjoyed it. It's a change up and it's probably made us all better players."
Foley Firing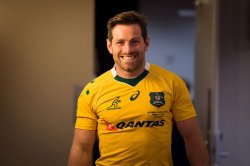 Bernard Foley really really really wants to beat England. Or something like that. He told the Daily Telegraph so.
"It's going to be very important to finish off well, we don't play another Test for seven months, you're only as good as your last performance. So that's a lot of motivation for us to go out there and play our best Test of the year," Foley said.
"This side's had a challenging year, there's no doubt about it. We've had a lot of new combinations and there was probably a bit of a mental hangover from last year. When we got together we thought it would click as easy as it did (last year), but it didn't. We had to start again.
"[But the] resilience shown by this side is going to be very beneficial for years to come."
Foley also opined on why the Wallabies lost the June series.
"We probably got lulled into carrying the ball too much, or getting caught at breakdowns, getting caught at rucks," the 'Iceman' said. "You want to have your 10 and 12 ball-playing rather than having to go to rucks or making tackles, or even getting caught in those physicality areas, I'll leave that up to the big guys.
"For me, England came in with a good plan and they executed that well."
He wasn't all about navelgazing was Foley, as he also offered up a few cents on England.
"It asks a few more questions of the defence, they've definitely done that, they've played quite an expansive game on the back of setting a good platform up front," Foley said, in the context of England traditionally being a 10-man rugby team.
"Their willingness and ability to score tries from long range has been something they've really benefited from this year. You probably put that down to having a couple of ballplayers in that 10 and 12 position."
Passionate Pichot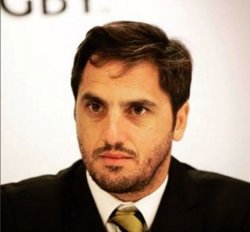 Agustin Pichot has said a few interesting things to the Guardian's Robert Kitson. Pichot, from Argentina, is currently World Rugby's vice-chairman and is on a mission to make rugby more equal.
"The Fiji v England game last Saturday wasn't very good for rugby. Having a Fijian saying he was better leaving Fiji to play for England…I don't like that. I think it's unfair for other teams," Pichot begins.
"Money is not the be-all and end-all. People shouldn't be playing rugby just to be rich. They should be playing because they love it.
"We are not just here to make a £10m profit at Twickenham this Saturday. What do we do with all that money? Put it in a bank or help grow the game everywhere, not just in England? That's the tricky part."
Pichot, who relates a story about how his father – a former rugby player himself – was disappointed in him after he took a professional contract, really wants rugby to use its money for good. He's just been down and around these here parts, talking to Australians and Kiwis, like John Eales, about what can be done.
"We have a brilliant, beautiful game that I'm passionate about. It can't just be on a Monday morning before Fiji play England that people start asking: 'What is going on in Fiji?' Bill [Beaumont, World Rugby chief] and I were in Fiji six months ago to find a solution. It's not easy but at least it's on the agenda now. Before it wasn't. It's the same with the global calendar. I'm not sure we're going to find a magical solution but at least we're trying.
"We're not just here to see if we can have a revenue share from England for Fiji on a Saturday once a year. That's not going to make the system work."
Pichot certainly doesn't do much to dissuade the fiery Latin stereotype.
"I was elected to make things better, not just to cruise along and float in the system…I don't like going away from my family, I don't need the money and I don't need to be in a Royal Box this weekend. I don't enjoy that."
"I like fighting for what I think is right. If in three to four years people don't listen I'll be very happy back in my house with my family again. I've captained my country, I played for some of the best clubs in Europe, I won leagues, I played in Rugby World Cups. I've achieved everything I wanted to. If people want to work together, we'll do it. If it's simply about [arguing over] a commercial entity, I'll go back home."
---
GRAND SLAM CRAFT BEER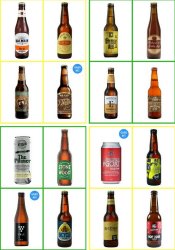 There's only one thing better than watching a clinical David Pocock pilfer, and that's drinking some craft beer while you watch your rugby. Green & Gold Rugby has teamed up with The Craft Beer Market to offer a stonking deal for you. For $84 delivered, you can get your hands on 16 of the finest craft beers around. This pack has everything – pilsners, pale ales, Indian pale ales, golden ales, bright ales, double lagers (if there can be Two Dads, there can be double lager, right?), wheat ales, chardonnay IPAs, and summer ales. All you have to do is enter the code "GAGR84" to receive your discount on a lineup of beers that would give the current Wallabies XV (plus coach Cheika) a run for their money. CLICK HERE TO ORDER DELICIOUS CRAFT BEER NOW