Earlier in the year we decided to discuss what Schools' rugby means to the sport in this country, and what to do about the future. We planned to publish the report during this week, since the international schools' matches start next Saturday at Newington.
But in doing some research on the matter we came across an enlightening paper by Br. RJ (Bob) Wallace, who has been the long-term President of the Australian Schools' Rugby Union [ASRU].
There is nobody more suited to giving an overview and some suggestions for the future, than Bob.
It was written in April last year but the content is still relevant. The ASRU have kindly consented to our presenting his paper, in full.
It is a long and absorbing piece; so we thought it best to break it up into two parts:
Part I deals with the unique setting of rugby in Australia in general terms and gives a digest of the same theme for other Tier 1 nations. It goes on to give a situation report of school rugby domestically, and starts on how it is with other countries.
Part I
Australian Rugby and Australian Schools Rugby are unique.
At the level of the Tier 1 rugby countries Australian Rugby and Australian Schools Rugby face unique challenges, unique situations, unique histories, unique resources, unique support and unique relationships with each other.
This paper will set out to show how the unique situation of rugby in Australian Schools has supported Australian Rugby—with its own special challenges, as will be outlined—and, in fact, acted as a "protective factor" for Australian Rugby in the very special and different conditions that exist in Australia.
To understand this we have to face some unpalatable truths, as well as some welcome and very pleasant facts and history.
Senior Rugby – the context
It is well known, but highly relevant, that in Australia the number of codes and the place of Rugby amongst them is very different from any other country.
More than half of the potential athletic talent of the country is locked into Australian Football (AFL), predominantly in the southern states. This means that not only is AFL the dominant code in club sport and in the media, but that in the schools almost all of the potential high level athletic talent is irrevocably directed towards AFL. Soccer, of course, dominates some of the statistics and is the dominant participant code in a number of areas.
In the areas where the rugby codes are strongest it competes from second place with Rugby League (NRL). Soccer is increasingly soaking up numbers of young players who, whilst they may not swell the senior ranks of soccer, are diverted from rugby, often by parents pushing for a rumoured 'safer' game. This point will be returned to later in this paper when concussion is discussed.
AFL is making inroads into the private schools of Sydney and to a lesser extent, Brisbane — so far without it being a major threat, but the potential is there for it to have significant effect.
All of the above is well known and has been mentioned many times before.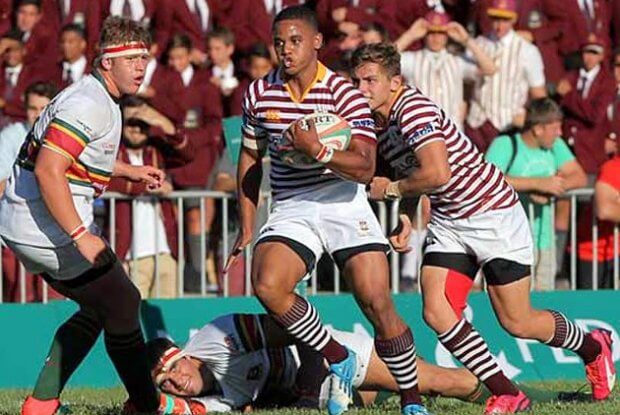 The others
A quick look at the other Tier 1 countries makes it clear that the Australian context is exceptional. In all of these countries, with the possible exception of Ireland, Rugby is relatively unchallenged by other codes.
• In New Zealand – NRL , whilst followed keenly, is not a threat in schools or clubs to the attraction of major athletic talent.
• In South Africa — rugby is dominant with the white population and is growing within the black population, even as soccer remains strong. As South Africa grows its black participation in Rugby it is clear that they will continue to grow in strength.
• In England — across the country, with the exception of the northern NRL areas, rugby does not face serious competition. Its 'balance' with soccer is long established. The number of clubs and schools playing rugby is more than 6 times the number playing in Australia.
• In Wales — it is stating the obvious that Rugby is dominant, even if they have had some problems with participation levels in a number of areas of Wales. It too has a strong increase in soccer participation in recent years.
• France — is very different, but rugby is well funded in the clubs, well-funded at the schools level (mainly by Government) and, again, has a balance with soccer. League is effectively dead in France.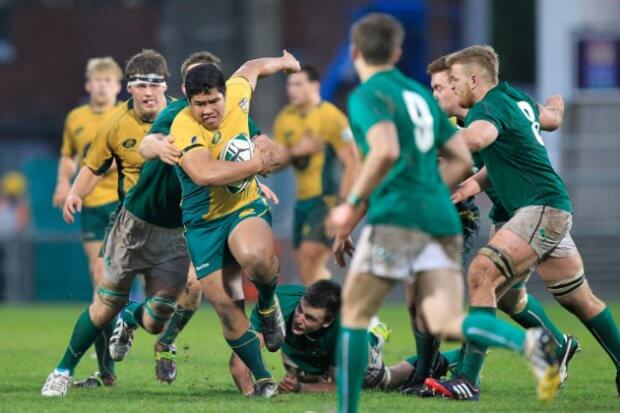 • Ireland — is a bit different from these and has some similarities to Australia in that it has significant competition from other games such as Gaelic Football and Hurling. They do not however have the climatic factor mentioned in the next paragraph. It is of interest though that they have retained a Schools Rugby Union—most likely for the same reasons as Australia.
Another significant factor unique to Australia is the nature of the climate, the beaches and many other opportunities for alternative open air activities that either do not occur in the other Tier 1 countries with their inclement weather (especially in winter) preventing any competition with activities that draw many young people away from sports such as rugby in Australia.
What is suggested is missing from this discussion is that Australian Rugby, in fact, performs above what might be expected , given all of the above factors.
This observation suggests several considerations—
• That Australian Rugby consistently performs above the level that might be expected given its minority situation. Before the professional era Australian Rugby was consistently ranked fourth in the world. In recent years we spent quite a bit of time at number 2.
• That, because of the context, Australian rugby should not be expected to be amongst the top 2 or 3 countries all of the time—BUT this is the expectation of many rugby supporters who do not understand why Australian Rugby is where it is from time to time.
• That Australian Rugby needs to look at where its strengths are, build these, as well as always looking to grow other areas.
Schools Rugby—the local context
Rugby has been the major winter sport in a relatively small number of private schools in Sydney, Brisbane and Canberra for a very long time.
Rugby is played, again in a relatively small number of private schools, in the other capital cities—where AFL predominates. It is a minority sport in these schools as just about all of the local athletic talent goes to AFL. It has survived, and grown, to some extent, from the 'ex-patriates'. In the past these where mainly from NSW and Queensland who moved south. In more recent years, these numbers have been swelled by Pacific Island and South African families who have settled in these cities.
A good example of the effect of this is the placement of Victoria and Western Australia into Division 1 of the Australian Schools Rugby Championships. Whilst they are still outclassed there, they have become competitive enough to stay in Division 1, thus adding to their growth and development.
It has been the case for many years that under age club rugby in Australia has not had the playing strength of schools rugby. This has been observable in all states where any competition involving both has the schools being quite dominant.
In other countries under age club rugby has been relatively much stronger in terms of playing standards. This factor has been a significant reason why schools rugby has been so dominant in Australia [by comparison].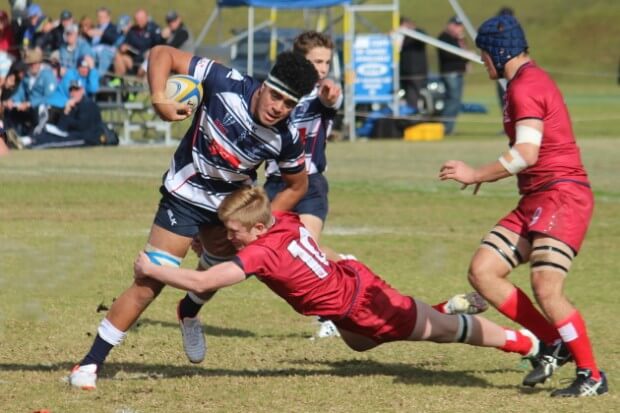 Schools Rugby—the international context
Australian Schools have had contact over the years with games here and tours out to—England, Ireland, Scotland, Wales and New Zealand, and much less regularly with France –amongst the Tier 1 countries.
There have been regular tours in and out with the Pacific Islands of Samoa, Tonga and Fiji.
There have never been games, home or away, with South African schools—for reasons that are quite complex, but also partly unknown. We have approached them on a number of occasions and their interest has been small*.
Christ College lads show their excitement in the annual grudge match against "High"
New Zealand
The most contact has been with NZ virtually every year on a home and away basis. In NZ the vast majority of schools play rugby and see themselves as part of the large operation of the all-conquering All Blacks. In NZ it has been possible to organise schools in ways that would not be possible in Australia. Schools in NZ see themselves as supported by senior rugby bodies and lend support to them—again in ways that would not be possible in Australia.
For example—in NZ the NZRU effectively dictates the rugby season for schools and all schools conform (c.f. GPS here in NSW and Qld). Also there the NZRU and its local bodies organise the schools into competitions that suit both the senior bodies as well as the local circumstances. School Principals in NZ would rarely dissent in any significant way from what the NZRU says. The Australian situation, as is well known, is very different.
In NZ senior bodies are much more closely linked to schools and have been for decades. Hence their ability to influence schools is quite strong.
Br Bob Wallace cfc, A.M.
President ASRU
* The Australian Schools' Rugby Union first convened as a committee in 1972; so the 1969 visit that toured South Africa at the personal invitation of Danie Craven was not an official tour. It included future Wallabies such as Greg Cornelsen and Russell Fairfax and played seven provincial games, but did not play in a "test match".
Victory for Aussie Schools v NZ 2012
Bob covers the other countries, outlines what school rugby has brought to Australian Rugby and suggests what to do in the future in "The Unique Nature of Australian School Rugby – Part II".
.