Hey Cobbers,
Well, we're out of the Super finals. With Australia's last hope resting on the shoulders of the Brumbies, the results didn't fall our way with the Brums going down to the Chiefs 19-6.
So now for the Aussies it's off to this year's Rugby Championship to be contested between Argentina (FISMs), New Zealand (Nearlies), South Africa (Jaapies) and the Wobblies (Wobblies) as a prelude to the Big Dance Rugby World Cup in France later this year. And given the unsettled nature of the squad, a few critical injuries, the newness of the coaching team and the still-missing overseas contingent, the early start on preparations for the national squad is actually a blessing in disguise I reckon.
Closing words on the Super semi finals:
For those who didn't see it, the Crusaders absolutely sworded the Blues 52-15 in semi final 1. It was a deadset clinic of controlled, well-executed rugby. From the perspective of a lover of the game, it was a masterclass, particularly from Richie Mo'unga. If you have anything to do with Auckland, it was 100% pure cringe. Frankly there isn't much more to say about it other than 'By Geez those Crusaders are dangerous' and to then check exactly how many All Blacks and 1st stringers they had NOT playing. Bloody hell!
In the other semi, the Brums and the Chiefs played out a tense game of wet weather chess, where the Donkeys blinked first to go down by 19-6 despite having the better of field and possession. Coming out onto a wet and heavy Hamilton arena, the Brums heavyweight pack initially seemed the right card to've played. But ultimately, the penalty interrupted kick-a-thon went the way of the Damian McKenzie orchestrated Chiefs.
Disappointingly, and in spite of some courageous defence, the Donkeys seemed unable to execute when the moment counted: building 10-12 phases in the Chiefs red zone and then inexplicably gambling on an aimless kick-through, or getting the attacking penalty in the Chiefs zone and then fluffing the lineout, or just needing to bounce-kick the ball into touch to end the half and instead gifting it into the hands of the most dangerous Chief on the field. The Brums seemed determined to give the Chiefs a chance to play their game.
To me, these were all symptoms of a lack of composure when the moment counted. And they simply invited the Chiefs into a match they were otherwise not genuinely in. Perhaps it's my Aussie bias, but the Brums lost that match rather than the Chiefs won it. But either way, good luck to the Chiefs next weekend against an awesome Crusaders outfit.
Viewing that match from a Brumby/Wobbly perspective, I'll draw attention to three guys:
Tom Wright did his Cadbury gold standings enormous damage in that game in my opinion. Perhaps some of his decision making was driven by coaches instructions (eg, to try a kick through when building attack early on). But I doubt it. He just had moments of momentary, inexplicable, madness at regular intervals. And he's a repeat offender for such silliness with dropped tries and needless niggle featuring repeatedly this year as well. And we just can't have that at 15, or any other number, for the Wobbs at any time, let alone at a World Cup. So I expect to see Andrew Kellaway in 15, or perhaps James O'Connor, or even Hodgey over the Rugby Championship.
Noah Lolesio also did himself no favours. Now bear in mind I am generally a Lolly fan. And strictly speaking he didn't really do anything wrong, per se (other than 1 over-cooked kick-off). But in getting his chance early when replacing Debreczeni with his head knock, and in the context of his competition with Carter Gordon and his ability to create play, Lolly failed to present any sort of attacking distraction or bait to the Chiefs defence. As a result, the Chiefs D promptly flowed off/around him and smothered the next man. By Noah failing to consistently demand the wholehearted attention Chief defenders, he created extra pressure for the next ball recipient. He needed to give his centres and outside backs better than that. And he needed to give EJ and Co a better impression leading into selection time. But he did neither.
In contrast, Cadeyrn Neville had his strongest game for the Brums in a long time I thought. Generally, he's there as a set-piece lock, getting through the unseen and unheralded stuff, and can be a bit anonymous around the field. Don't get me wrong, I'm a bread and butter guy and I know & like the value of that work. But on Saturday, outside his regularly strong set-piece, his involvement around the ground was, at least to this spectator, much more obvious and impactful. Perhaps the wet conditions suited him more. But either way, I thought he played one of his better games and he may have planted a seed with EJ and Co in contemplation of bigger opponents on heavier northern fields later in the year.
Aussie Rugby Team of the Tourny:
As regular readers would know, I ran an Aussie Super Team of the Week throughout this year's Super competition. While I wasn't completely scientific and process-bound in awarding jerseys, I have looked back over the team each week and settled on the following three teams for some chat:
Firstly, selecting my Super-based World Cup final team to play tomorrow – so they played domestic/Super (no off-shores) and are fit now to play the World Cup final tomorrow (if it were so):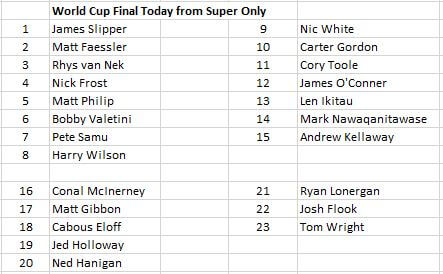 Secondly, would be my World Cup final team to play tomorrow if everyone was fit and available (so includes off-shores and the currently injured):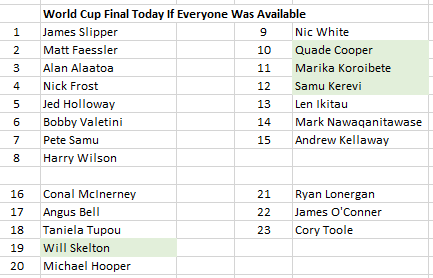 Thirdly, who is my World Cup 33 man squad as of now: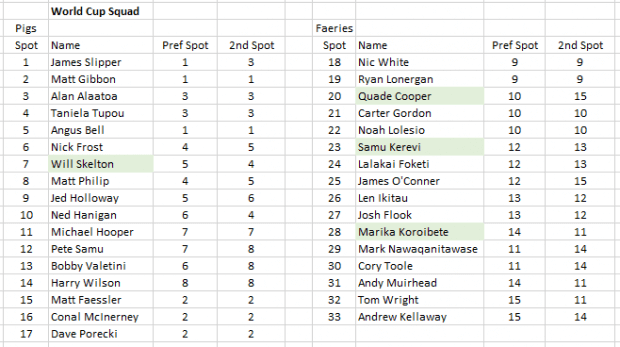 Comments welcome.
Late Edit: Apologies to the early starters as I posted the wrong World Cup Squad. It was one of the 52 variations possible "if such and such happened…" Fixed now.
Player of the Week:
Last Friday night saw the Walgett Rams and Ewes take on the newly formed Brewarrina/Bourke Barbarians at Walgett under lights. I don't know the outcomes. But Friday night country footy under lights and then adjourning back to the pub would have been a cracker of an evening surely. And while on the subject, the Walgett Rams (& Ewes) Ladies Day is 8 July for the home-game against Coonamble. So do yourself a favour…
And speaking of cracker days, the Trangie Tigers Ladies Day is on 24 June. So be sure to get along if you're out and about. And on Saturday 23 September Trangie are also having their 60th anniversary celebrations at the Trangie Racecourse with rugby icon Gordon Bray as their guest speaker.
And a big ups to Tasmanian rugby refereeing stalwart Craig Gardner who brought up his ton with the whistle in-hand as Tas Uni beat Glenorchy by 2pts over the last weekend.
Plus also a huge thumbs up to Ardie Savea for practicing the good word and fronting up as fullback for Wellington-based side, Oriental Rongotai Rugby Club over the weekend just gone. I must say I am looking forward to seeing all those Aussie Super Squad players also filtering back to grassroots rugby as well. Surely they won't just be 'training well' in isolation? Or maybe they will be playing in a third tier specifically developed to bring emerging players up to standard? Merde.
But for this week I have given my nod to Bismarck du Plessis. My understanding is that the 39yr old has decided to retire and he will play his last professional game sometime this month as the Bulls push into the Currie Cup finals. The 1.88m and 115kg hooker made his debut for the Bokke in 2007 and played 80 tests, including 15 World Cup matches. And alongside notable stints in both Super and European rugby, the guy leaves the sport as a well recognised colossus of the modern game. A classic opposition villain character, throughout his career he was known for abrasive, direct and typically South African physicality, often alongside his equally as ferocious brother Janie (playing at tighthead).
'Gesondheid Bizy!' And I'll leave you all with mine and KARL's favourite Bismarck du Plessis moment (for which he was subsequently cleared)…