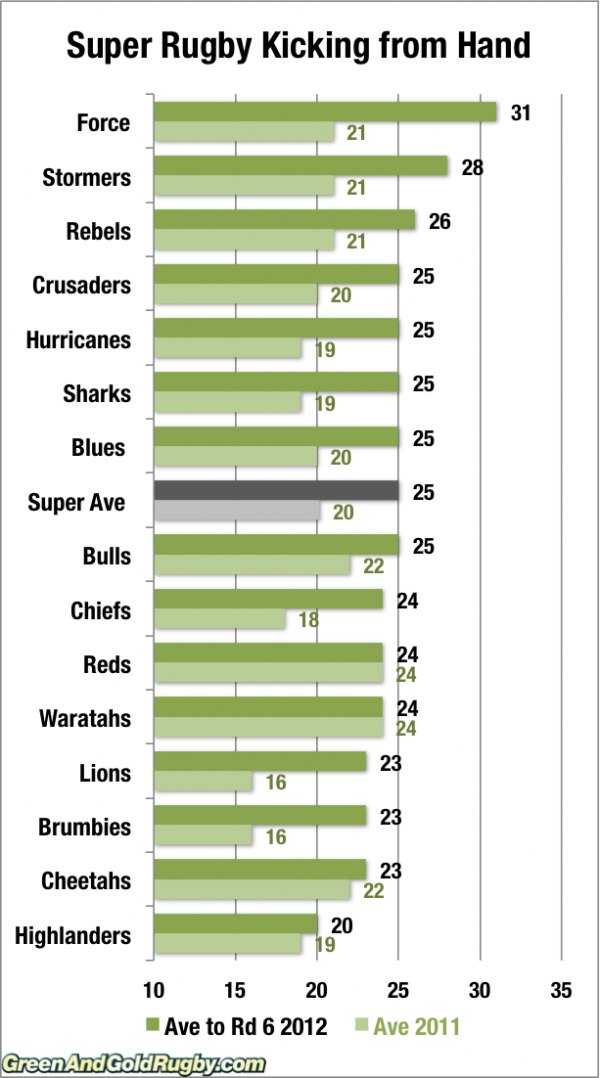 Following some friendly banter with Saffa friends of G&GR today in which I accused them of playing 'kick chase' rather than rugby, JDog (@joelwynne) retorted that it was the Reds who actually kick the most. So I thought I'd have a little delve into what's actually going on with tactical kicking from hand so far this year with the help of Rucking Good Stats, just in terms of pure amount of kicking.
Kicking has had a big upsurge so far this season. The average number of kicks per game per team to date is up to 25, from 20 overall in 2011, as teams figure that getting caught with the ball in the wrong part of town isn't paying off under the current ref interpretations.
Turns out Big Joely had it wrong about most number of kicks per match so far. That honour is indeed held by an Aussie team though, in the Western Force, with 31 kicks per match, followed by the Stormers on 28. Both of those are up from 21 last year overall – quite a marked leap.
However, to my mind this doesn't tell the whole story. If a team holds on to the ball for vast stretches of the match, won't they, with a balanced game plan, end up kicking more in total? If another team's strategy is just to give the opposition the ball and pressure for attacking mistakes, won't that mean they are less likely to have the ball with which to kick and reduce their number of kicks over all?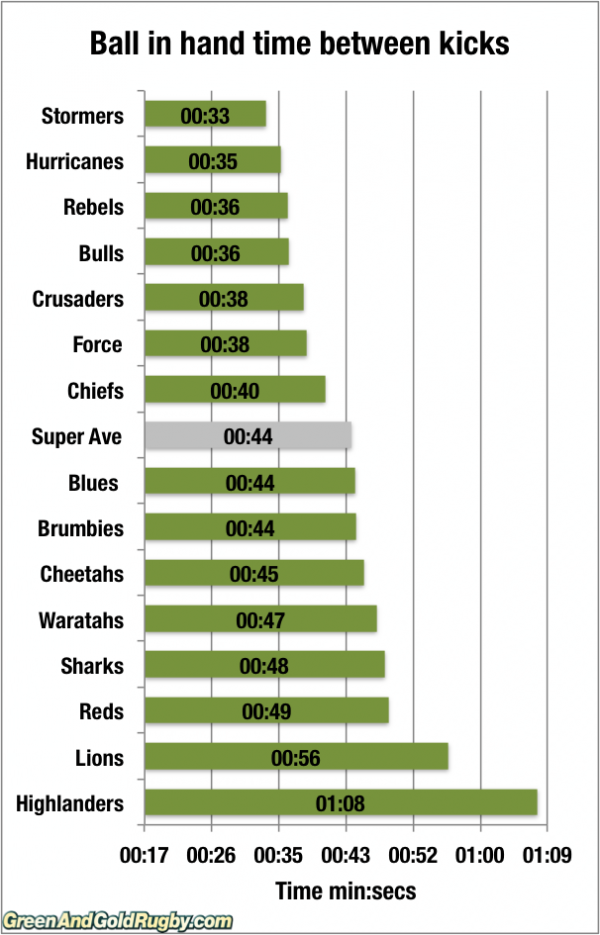 To solve this conundrum, Rucking Good Stats took on a measure I suggested last year – number of kicks per time with the ball.
And here's what you get. JDog's own team The Stormers are the key kicking culprits, with only 33 seconds of ball in hand between hoofs. They also have the highest % of kicking to touch and lowest amount of kicking infield – this is all about territory and having the 3rd best attacking line out in the comp.
With the lowest number of rucks per match as discussed in my last stats article, this is no fluke but a well executed game plan that has them with 6 wins from 6.
By comparison the Force actually drop back to 6th with 38 seconds between kicks and the Reds, well they have the 3rd highest amount of time with 49 seconds of keep-ball between punts. Below them we get into freakville, with the Lions and Highlanders forward packs winning the 'run your arse off' awards.
Can a team unpick the Stormers' tactical strangle hold, or will it take a relaxing of referring on the attacking team to prize off their grip?