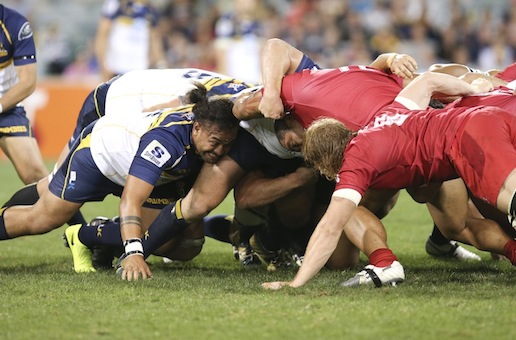 Whichever team can gain the ascendancy at the set piece in Saturday's Reds and Brumbies clash will go a long way to winning the game.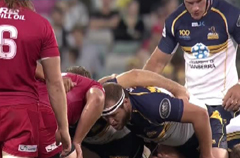 The Brumbies have been strong all season at scrum and lineout time. The Reds lineout wasn't that strong in early rounds but has made some significant gains over the last month, whilst there must be questions as to whether the Reds scrum can hold the Brumbies.
On average teams are winning 90% of their own scrums in Super Rugby in 2013 – the Reds are winning 87% and the Brumbies are winning 90% so those statistics suggest there is a slight advantage to the Brumbies, however where the Brumbies dominance can really be seen is in the percentage of ball teams win when packing against the Brumbies – only 78%, which is the best in the competition, whereas teams packing against the Reds are winning 90% of their scrums.
At lineout time the numbers are very close – the competition average is 84% of lineouts won on each team's own throw.  The Reds are winning 86% and Brumbies 84% and when it comes to results for opposition lineouts both the Reds and Brumbies are conceding  85% to other teams so there is little to split the teams in this area.
The Brumbies dominated the Reds set piece in their round one clash earlier this year and as a result controlled that game. The Reds will have to at least break even in this area on Saturday if they want to win this game.
The statistics for all teams at set piece in 2013 are shown below.