Welcome to Green and Gold Rugby's preview of round four of the Queensland GPS First XV Rugby season.
Round three pitted the competition's likely top four against it's probably bottom four.
Round four will feature two heavyweight clashes and a potential 'spoon decider.
For your guide on how to tip, keep scrolling down.
If you've missed coverage of earlier rounds, or simply want a recap to guide your thinking when looking to tip:
Click here for round one's match reports and video highlights
Click here for round two's match reports and video highlights
Click here for round three's match reports and video highlights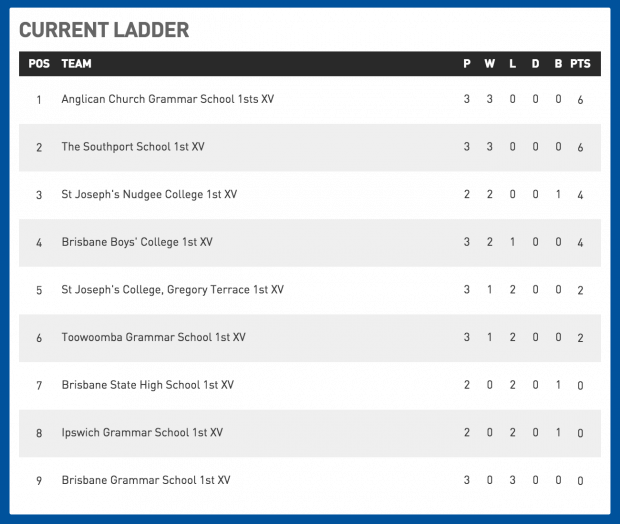 GAGR Writers
TheKing and WarrenWobble both tipped perfect weeks, braving the threat of Toowoomba Grammar to back BBC.
HJ Nelson and Getwithme didn't share that faith, dropping a game each for the week.
1. TheKing (11/12, 91%)*
 = WarrenWobble (11/12, 91%)
3. HJ Nelson (10/12, 83%)
 = Getwithme (10/12, 83%)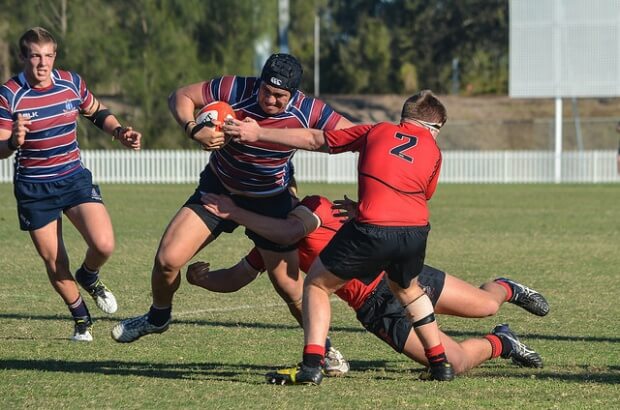 From the Crowd
HighCutBoots and Red Black are the only undefeated members in Green and Gold Rugby's official tipping competition, with three consecutive perfect weeks.
Join the official GPS Rugby First XV tipping competition here:  Official Green & Gold Rugby GPS tipping competition
To join, enter the competition number 10448, and password: greenandgoldrugby
---
Game of the Round: Brisbane Boys' College at Nudgee College
WarrenWobble:  This game is probably BBCs best chance to roll Nudgee for a number of years. But two words are going to make this tough. Ross & Oval. It's been a veritable graveyard for BBC over the decades.
Nudgee have this in the tight five, but the loosies are a draw. The halves and the centers are also a close draw. And BBC have it in the outside 3 by a whisker.
It will be a cracker and my sense is there is a bit of ticker in this BBC team and that will unsettle Nudgee and their highly intense supporters. I think BBC will stick their McSporran in front in the second half, but the challenge will be keeping it there as the brethren look to mow them down in the shadows of full-time. Nudgee by 3
TheKing: Nudgee's attack couldn't be considered impressive last week against BGS despite scoring nine (!) tries. Poor defence from BGS gifted them at least three of those, but they won't get a 21+ point boost this time around.
That being said, Nudgee's backline chemistry should have improved with an extra week's training.
Meanwhile, the injury to Australian Schoolboy centre Len Ikitau has dented BBC's defence and limited their attacking options. BBC now rely solely on the flair of Tiaontin Raoren and Jayden Ngamanu to spark their backline. They're definitely not an easy pair to stop, but Nudgee are the competition's premier defensive unit.
In my mind, the game comes down to this: Can Nudgee hold out Raoren and Ngamanu enough to off-set their attacking set-backs?
At Ross Oval I'll say yes – but I have a feeling this will go down to the wire – Game of the Year contender on Ross this week, no doubt about it. Nudgee by 5.
Late mail in from BBC has Ikitau playing, with Queensland II winger Ben Simpson joining him in the starting XV. This changes everything – I'm taking BBC by 5. The loss of openside flanker Jack Farrel may prove costly for BBC, but I'm predicting this to to be the first real upset of the season.
The winner of Saturday's match will take home the inaugural Halley Appleby Memorial Cup.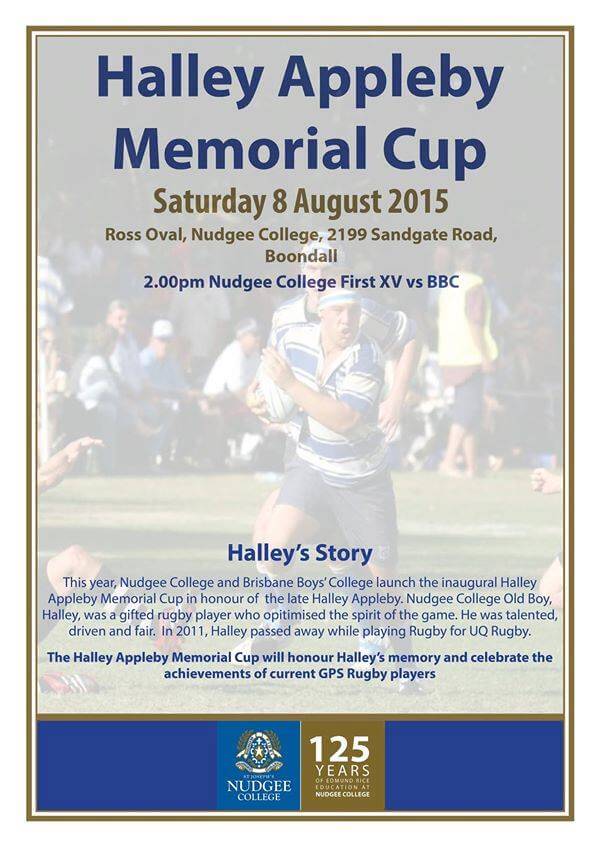 HJ Nelson: As much as I'd like to see BBC knock off NC, I don't think it will happen. A lot will depend on who is injured and who is playing, but NC to have too much depth, and BBC bad luck to continue. NC by 14
Getwithme: Game of the round out at Nudgee this weekend. One cannot help but notice the lack of quality distribution with the loss of Moseley. With BBC building for his one for the last 18 months, they'll be primed and ready for the hostile reception this weekend. If BBC can bring over the whole of PNG and sit somewhere they can actually see the game, the support might get them over the line. If not, Nudgee to grind an exciting BBC backline down. NC by 7.
---
Toowoomba Grammar at Churchie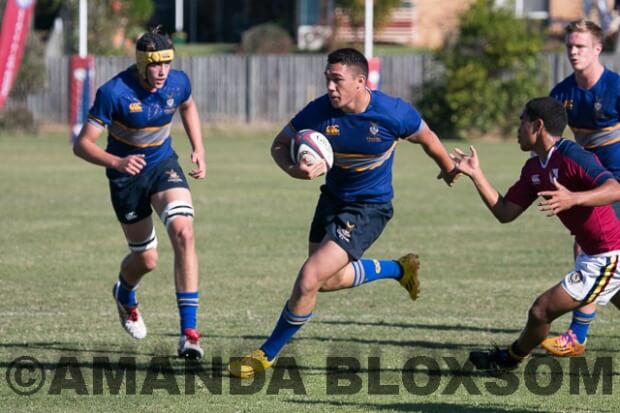 WarrenWobble: The Toowoomba boys will be angrier than Mel Gibson in a synagogue about the previous weeks loss. If the truth be known they were a bit lucky to make the result look respectable in the end. And that spells "problem-o" for Churchie.
I think the Blue and Gold will stick it to them and they are smart enough to know they have to cut the ball off before it gets to the centers, unlike State High who just sat there like a couple of kids playing playstation, while the Churchie centers ran rings around them last week.
The match up of the 2 number 12s will be worth the price of the admission at Churchie and I'm told they will definitely be charging to get in. Churchie by 10
TheKing: Churchie played their best 80-minutes of the season last week against Brisbane State High, winning 39-zip.
It was a complete team effort – the front row carried, tackled and scrummaged well. Lock Harry Hockings was a game-breaker at the lineouts. In the back-row Sam Wallis was strong all around and James MacMillan pinched five turnovers at the breakdown.
The backs ran riot too – for the first half hour it didn't look like they could be touched.
I can't wait to review the match ups on Saturday between the front row, flankers, and two of the best inside centres of the competition – Ashton Watson for Toowoomba, Jayden Su'a (pictured) for Churchie.
Churchie will win it by six, but it will be a classic match. Can't wait.
Tune in to the Churchie livestream from 2:00 pm, located here: http://livestream.com/Churchie-LiveStream/ACGSvTGS
HJ Nelson: Churchie to continue their unbeaten run. TGS couldn't quite do enough to get the points at home against BBC, and will struggle away from home.
McMillan, Su'a and Croft are in great form, and will be too good. Churchie by 10
Getwithme: Churchie well rested after a good win against State high, should look for a strong home crowd and a weakened TGS after a tight loss to BBC. Broad brim hats will be at a premium, but the boys from up the range to go down by 4.
---
Brisbane Grammar at Brisbane State High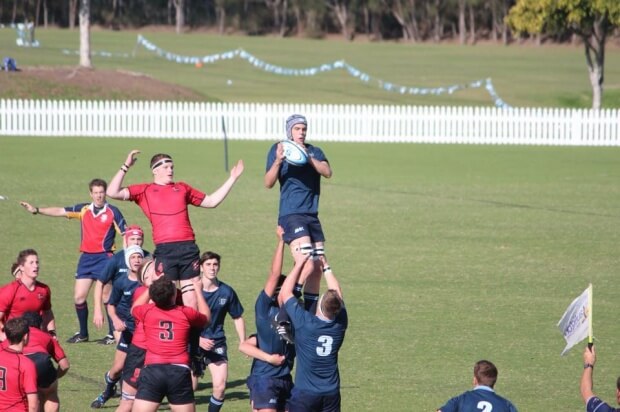 WarrenWobble: For Grammar this game is a bit like Caitlin Jenner the cross dressing, sex change, ex Olympic runner. You only get one chance to come out and this could be the only chance Grammar get to come out and win one this season.
However, my fear for the young Grammar lads is that State High can't be that rubbish 2 weeks in a row and the BGS wikki-leaks defensive pattern from last week was a thing to behold. It's going to be hard yards to turn that around in a week. State High by 7
TheKing: Brisbane State High and BGS were both beaten by 30+ on the weekend by teams who will no doubt be battling for the Premiership over the coming weeks.
This Saturday is a must-win match for both teams, potentially deciding who receives the honour of the wooden spoon.
Brisbane State High went close to scoring against Churchie, but were held out by strong defence. Strong isn't the word I'd use to describe BGS' defence.
As a matter of fact 'defence' isn't a word I would use to describe Grammar's defence.
But, when teams get beaten down like Grammar did they tend to come out all guns blazing next week.
This is a match State High should win, but I'm going to tip with my heart. It's a risky tip, and I'd advise tipping the opposite. Go the Light Dark Blue by 4.
HJ Nelson: Both teams have been playing OK, but then got thumped last week, and will be desperate for a win.
Hard to judge if home ground advantage will be enough for BSHS to get the points. Should be a close, high scoring game. BSHS by 3
Getwithme: Another home ground disadvantage to BSHS this weekend against a BGS side who will like their chances. Grammar to suck the life out of a big State High side with several penalties. Another tight one, with Grammar heading back to Northgate with only their academic pride. State high by 9.
---
Southport at Ipswich Grammar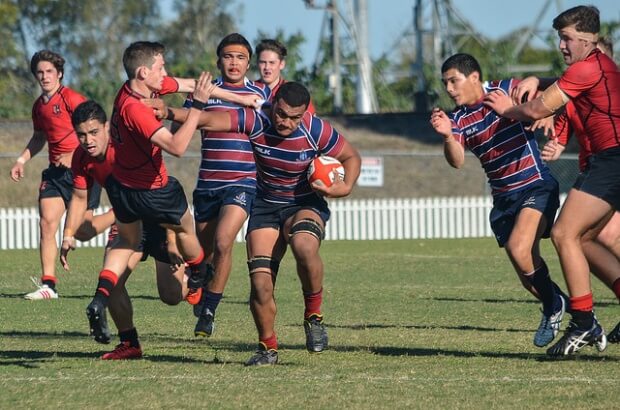 WarrenWobble: The Westies hit the coast and the boys from Ippy will be hurtling down the M1 with their surf mats strapped to the roof of their utes.
After a week off to re-charge those batteries the red and white will be fired up to give TSS a run for their money. Don't be surprised if initially this is a bit close.
A few over-bleached sphincters will close up on the sideline just after half time, but will relax a little as TSS run through the play book and Ippy get bored of tackling.
Ippy will have time for a quick surf and an ice cream cone at the beach after the game. And afterward TSS will start to think they might be the only code to bring a premiership home to the coast – god knows the Suns and Titans are useless. TSS by 14
TheKing: Southport wear the yellow leaders jersey after three rounds for good reason – they play incredible attacking rugby.
A big buzzword from me this week was the creation of scoring opportunities. This is the area where TSS are the best in GPS Rugby. Jordan Lenac, Tyler Campbell, Jai Whitbread (if available) and Dylan Riley are simply incredible athletes, and are worth 30-points a match consistently.
Ipswich haven't got a snowflakes chance. Southport by 25.
HJ Nelson: TSS should be too strong at home. I thought Riley may have been hampered last week, when his centre partner Whitbread went off very early. But he and Lolesio combined well. Gooch also made the most of his shot at the 1st XV wing spot picking up a hat-trick. TSS will stick to the same game plan again this week, but will need to watch Robertson (15) closely. TSS by 14
Getwithme: With Southport surfing back after a comfortable victory against GT, they'll be happy that there was less 'your mum' jokes than points. They won't get that luxury against IGS, and a big pack will try dominate the scientifically created, man giants of TSS. A physical clash up front, by TSS with too much class out wide. TSS by 17.
---
To join the GPS 2014 tipping comp, please follow this link to http://mysportstips.net/. It's not too late!
Comp Number – 10403
Comp Password – rugby