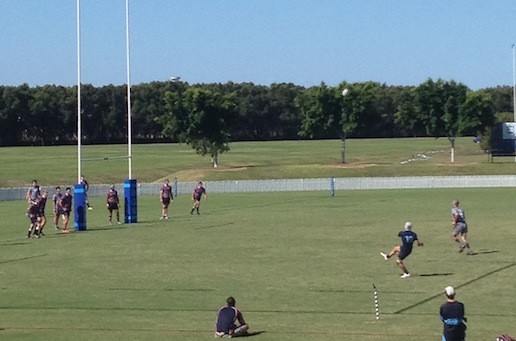 The boot of Sam Greene and some spirited Brisbane Grammar School play have earned BGS a hard-fought 26-23 victory over a well drilled Southport School side.
With both sides taking a 'points first' approach, one would be forgiven for thinking that this match would be one for the purists. This was not the case, with a crowd of well over two thousand witness to a fantastic game of schoolboy rugby.
All season Grammar have elected to kick for goal upon earning a penalty inside the opposition's half. It was clear from the outset that this match would be no different, as Greene knocked over Grammar's first points with a simple kick in the first couple of minutes. Grammar lead 3-0.
It was also clear from the outset that Grammar were here to play, especially up front, the forwards immediately getting the better of Southport's at the breakdown. The latter were being penalised for every minor infringement. However, TSS earnt a penalty for offside inside the Grammar 22 following the kick-off and elected to kick for goal. A poor kick from returning fly-half Mitch Third resulted in a 22 drop-out for Grammar.
A great run from flanker Luke Papworth gave TSS immediate territory and again earnt a penalty. Inside centre Nili Fielea, having a big impact with ball in hand, worked with centre partner Vince Cooney to put winger Brock Andersen through a gaping hole — only to have the ball dribble forward after he tried to push a final pass.
Some great work in the ensuing lineout by Grammar vice-captain Jack Cornelson earnt Grammar a scrum after TSS could not clean up the scraps. But the Grammar scrum really began to encounter issues at this stage. The TSS front row was absolutely demolishing Grammar and the feed was given straight back to Southport. Third dropped the ball cold off the scrum and was looking a tad off the pace at this stage, following his stint on the sideline last week. After some sloppy play from both sides a penalty was awarded to TSS 40 metres out from the Grammar line. Third stepped up and slotted it easily. The score sat at 3-3.
A Grammar offence within two minutes of the restart gave Third the chance to grab more points, 47 metres out from the posts. He stepped up coolly and easily made the distance, giving TSS a 6-3 lead.
Greene began to take over at this stage of the game, with a really nice kick pinning TSS inside their own 22 and leaving a kick as their only option, gifting the ball to Grammar 30 metres out. A swift lineout move put halfback Sam Burke straight through and the following phase brought a penalty near the sideline. Greene elected to take the shot but missed it, leaving the score at 6-3.
After some forcing-backs was played by the back three of both sides, a kick from Third fell straight down the throat of Grammar winger Matt Marsden who set off on a wonderful run, beating three or four TSS defenders before drawing the last man and passing to outside centre Josh Birch, who ran 20 metres to score the first try of the match. Greene converted the kick 15 in from touch and Grammar led 10-6.
A kick from Greene following a penalty against TSS gave Grammar a lineout 40 out from their own line. A fantastic steal from TSS lock Michael Parfitt gave the TSS forwards their first chance to have a real crack in the form of an onslaught of pick and drives. The Grammar defence was then caught napping as the ball was swung wide to winger Isaac Nathan who easily slipped through a defender to score TSS's first try. The score sat at 11-10 going into the break.
The restart presented an immediate opportunity for Greene who dummied and went straight through. A TSS penalty for entering the ruck from the side gave Greene a chance to increase his points tally, 10 in from touch and 35 out. He kicked true and put Grammar up 13-11.
Greene immediately kicked following the restart but pushed it too far, presenting TSS a lineout 30 metres out. The ball changed hands a few times following some poor kicks from both sides and an eventual penalty for Grammar gave Greene a very tough chance at some points. Roughly 40 out and 5 in, Greene stepped up and again kicked well, 16-11.
The TSS forwards immediately perked up and took the game on, consistently getting over the gain line to give TSS some momentum and eventually entering the Grammar 22. Some great leg drive from the TSS forwards nearly earnt them a pick and drive try, only to be held up. A penalty was awarded from the scrum following some poor decisions by the offside Grammar backs and TSS tapped it quickly. Two phases later hooker Jake Lyon was over and Third put TSS in front, 18-16.
Fielea dropped the ball cold off the restart. Grammar inside centre Lakehm Aiono made a half-break but was called back, the referee claiming no advantage. An easy kick was missed by Greene following a scrum penalty but he made amends, stepping up to a much harder kick two phases later and putting Grammar back in front, 19-18.
More kicking from both sides eventuated in a TSS lineout on halfway, pick and drives the constant theme for 50 metres and Lyon was in for his second. TSS led 23-19.
The tension was unbearable as no one quite knew how long was left. With Grammar in possession of the ball 40 metres out from their own line a break was made by Marsden who flew down the sideline and entered the TSS 22. Pick and drives had Grammar two metres out from the line, the crowd all on their feet, sensing it was the last play of the game. Some fantastic defence from TSS meant that Greene had to call for the ball. He stepped Third and palmed Fielea before dishing to Marsden who stepped off his right to score the match-winning try. Greene kicked the conversion with ease and it was all over: Brisbane Grammar School had defeated The Southport School 26-23.
Stand-out Players (BGS):
1. Cody Blackhurst – Was a menace at every ruck, making a nuisance of himself all day and had some great gains off the back of pick and drives.
6. Michael Gilbert – Probably the best player on the ground, stealing balls at rucks, forcing penalties and making some crunching tackles.
8. Jack Cornelson – Easy to see why he has earnt higher honours this year, great all-round game.
10. Sam Greene – Grammar would not be half the side they are without his direction and experience. Great game with the boot and his match-up with Paddy James in the last game of the year is one to watch.
14. Matt Marsden – Looked dangerous with every touch, very slippery character.
Stand-out Players (TSS):
2. Jake Lyon – Pair of tries were well deserved, worked hard around the park all day.
6. Cato Perrin – Did not give up, kept working all day and was absolutely blowing by the final whistle.
12. Nili Fielea – Number of big runs and huge hits got the Southport men going, big influential player.
14. Brock Andersen – Another slippery character, looked great with every touch that he had.