Despite dropping to fifth in the World Rugby rankings, many commentators in Australian Rugby are still feeling positive about the Wallabies, but I disagree. When you lose tight games against New Zealand, and then South Africa, and then Argentina, and then France, and then Ireland, something is wrong. When you've only scored 2 second half tries in 6 tests, something is wrong. It's systemic, institutional, and it's not going away. The burning desire to put opposition teams to the sword, that killer instinct that was so prevalent in the Waratahs this year is missing from the Wallabies.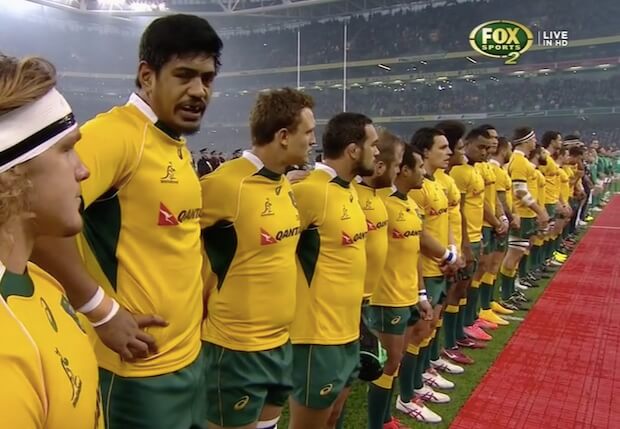 At 1:30 am on Sunday morning, the fourth ranked team in the world – coincidentally our World Cup pool buddies, England- will be aiming to twist the knife in the heart of Australian Rugby one final time for the the Spring Tour. With a formidable pack, a new hope at flyhalf, and home ground advantage in front of one of the most passionate audiences in world rugby, it'll be a bloody tough one for the Wallabies to pull through. To help you sort out what happening to the Wallabies and what England will throw at them, here's the Green and Gold Rugby Preview, live from London.
Form
The English Rugby team finished second in the 2013/14 6 Nations (February through March), missing out on the championship by a single conversion against France. England went undefeated against every other team in the 6 Nations, but ended up in second place through their 9 point deficit in points differential.
England went on tour to New Zealand for the June International window, going down 3-0 despite pushing the All Blacks to the absolute brink in the first two tests. Denied in the first test through an 82nd minute Conrad Smith try, and falling by a single point in the second, England were being trumpeted as World Cup final certainties. While the All Blacks aura was back in full force for the third test, England came back from tour confident they could beat anyone.
For the QBE Internationals in November, England again took the game to New Zealand in the first week, eventually losing despite scoring a try of the year nomination and a penalty try through scrum pressure. New Zealand won that thriller 24-21 at the Home of Rugby. England faced off against South Africa in the second week, scoring a try with two minutes remaining to cut an 8 point lead to just 3. England couldn't work themselves in to position for a shot in time, and South Africa escaped with a win.
With 5 losses in a row, the English media were heaping the pressure upon their team. Their big win against Samoa last week only serves to heap more pressure on them to perform against the Wallabies. This is just as big a test match for the English as it is for the Wallabies.