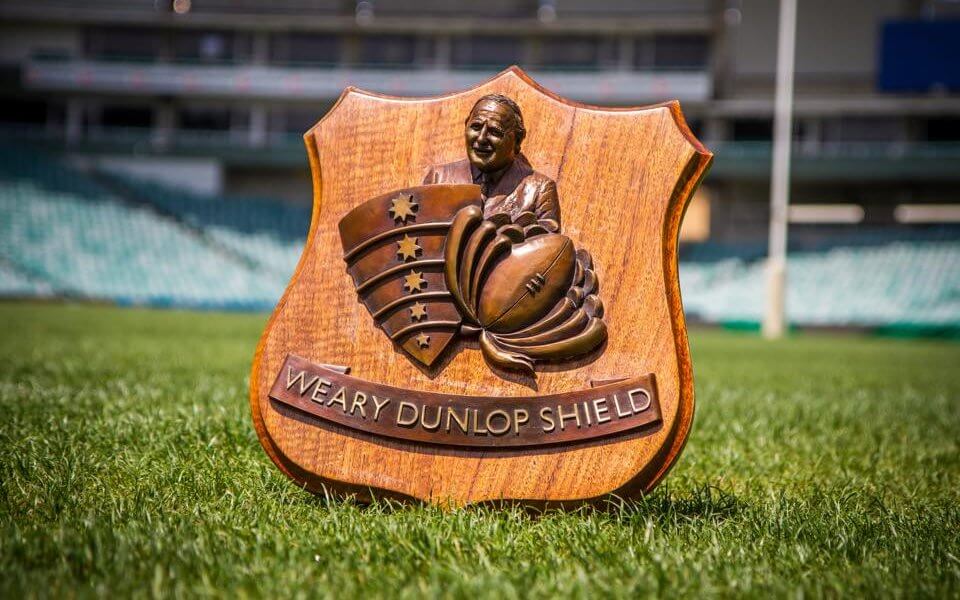 I'm Xaviera, and I'm a Waratahs fan.
There, I've said it. Now I can start the 12 steps…
In keeping with the theme of disclosure, I'm a huge fan of Simon Cron, having seen first hand what he did with Norths. I'm also fond of Daryl Gibson. He's a good human, although shy, and one on one, he has a quiet aura about him. So, for all these reasons, I really want to see the 1874 boys and girls do well on the rugby field. But we're only three matches in, and already it's a tough gig being a Waratahs fan.
Trying to establish a form line for this match has been tricky. Let's start with the Tahs. Touched up by the Highlanders in the pre-season, but solid when the A-team were on the field, they then came out and pantsed the Rebels at Brookie, 47-5. Key points to note from that match – it was tight until Adam Coleman left the field injured, the Rebels water boy was some bloke called Sanchez, and the Tahs only kicked into gear when the Rebels starting losing bodies to the naughty chairs. The Tahs finishers then did their job. From there, the Tahs pulled one out of the bag at home against the Stormers, a match they would have lost last year. They had another near-death experience in Durban, ending up with a snog from their sister. Again, a match that would have been lost last year. Despite all this, they turned up again last weekend, albeit 30 minutes late.
What about the Rebels? They got lucky in their first match, with two massive brain farts from the Reds giving them a huge leg-up, and even then, the Reds led, despite being down two bodies. Interestingly, the referee that night was the same bloke we'll have on Sunday. They then had the benefit of a good onsen and the opportunity to work on their playbook as they took on the much improved, but still brittle and injury-ravaged, Sunwolves. Perhaps the most interesting match was against the horses – can someone tell me what is going on in Canberra? Has the Beetrooter snuck into the Brumbies camp? Has someone nuked Fyshwick? Whatever it is, they're not happy campers and so the Rebels ran away with it.
*Onsen = Japanese hot springs.
WHY SHOULD I BOTHER?
So where does that leave us? Nothing if not intrigued. George Lucas's blokes look like they're buying into Ben Darwin's theory of cohesion, and the merger of west and south seems to be coming along nicely, although I think Mafi may have taken the Hollywood aura a little too far after his recent collision with an angry gnat. But have they really been tested? Plus they've played two matches at home, and one away against a team rated 0.1% chance of making the quarter-finals. Meanwhile, the Tahs have been a conundrum.
So, it's a chance for both teams to send some clear messages. Is the Rebel Force the real deal, or are they just pretenders? Have the Waratahs been lucky so far, or unlucky? How will they survive their journey around the globe? Will Weary Dunlop return to Melbourne?
KEY MATCHUPS
Where to start? The big-ticket items.
The halves. Wise old Willy against the newbie young buck (and his understudy. Hands up if you could pick Mick Snowden out of a lineup? Thought not.). Jack (keeping 10 warm for…Jack?) opposite the Wallaby incumbent who, despite kicking 100%, has been flat.
The back three. Izzy v DHP – the two best aerial players in Australia, and possibly world rugby, plus their partners in crime. High balls, defensive reads, involvement all key here.
X-Factor. KB v Jack Maddocks. The former seems to have recovered from his rib damage, the latter has been on fire (as an aside, how good would he be in sevens? Surely Andy Friend must be sniffing around?). Should be electric.
The packs. As ever, these blokes will decide who wins, and those behind them will determine the margin. The Tahs have been less than best, the Rebels solid. The Tahs have some old hands back on deck to steady the ship, so this should be a ripper confrontation.
GAME PLANS
After their poor scrummaging in Durban, I was fearful Jed Holloway was going to end up performing involuntary colonoscopies on his locks in Buenos Aires, but the scrum seemed to be less worse than expected. That won't stop the Rebels targeting it, perhaps with a view to inducing a yellow card, which could turn the match.
Both teams like to run the ball, and they've both clocked up serious run metres, with the Vics sitting 4th, their northern cousins 7th. The Tahs have lacked penetration through the forwards, so they may have to go around and over instead, but that will require winning some decent pill first.
The Rebs have had some discipline issues, with the worst penalty count in the competition, but so far have got away with it. Eventually, it will catch up with them, and they haven't managed to improve this facet of their game much, so a potential Achilles Heel.
This could and should be a close one so the finishers may well determine the outcome. That didn't work well at Brookie for the visitors, but things have changed since then.
PREDICTION
In a reflection of how difficult it is to pick a winner, taking into account all of the above, the bookies have the Tahs favourite! Despite a 1-1-1 record, despite serious travel, despite an incomplete game, despite a dysfunctional scrum. I hope they're right. If so, it will make the conference a ripper. If not, then the Rebels will open up a significant lead, and the rest of the teams will be playing for second, and a long shot at a finals berth. It will also mean the Rebels will have passed another test and will be one step closer to being the real deal. If so, their next test will be their first match-up against the bros from across the dutch. So, with hand on heart, Tahs by 1. And pass me a drink.
MATCH DETAILS
Date: Sunday 18th March 2018
Venue: Allianz Stadium Sydney
Kick–off: 16:05 local (AEDT)
Referee: Brendan Pickerill
Assistant Referees: Federico Anselmi (AR1) Graham Cooper (AR2)
TMO: Damien Mitchelmore
TEAMS
Waratahs
1. Tom Robertson
2. Damien Fitzpatrick
3. Sekope Kepu
4. Ned Hanigan
5. Rob Simmons
6. Michael Wells
7. Michael Hooper (C)
8. Jed Holloway
9. Mitch Short
10. Bernard Foley (VC)
11. Curtis Rona
12. Kurtley Beale
13. Lalakai Foketi
14. Israel Folau
15. Bryce Hegarty
BENCH
16. Hugh Roach
17. Harry Johnson-Holmes
18. Paddy Ryan
19. Tom Staniforth
20. Will Miller
21. Mick Snowden
22. Alex Newsome
23. Taqele Naiyaravoro
Rebels
1.  Tetera Faulkner
2.  Anaru Rangi
3. Jermaine Ainsley
4. Matt Philip
5.  Adam Coleman (c)
6.  Lopeti Timani
7.  Ross Haylett-Petty
8.  Amanaki Mafi
9.  Will Genia
10.  Jack Debreczeni
11. Marika Koroibete
12.  Reece Hodge
13.  Tom English
14.  Jack Maddocks
15.  Dane Haylett-Petty
BENCH:
16.  Mahe Vailanu
17.  Ben Daley
18.  Sam Talakai
19.  Colby Fainga'a
20.  Richard Hardwick
21.  Michael Ruru
22.  Billy Meakes
23.  Sefa Naivalu