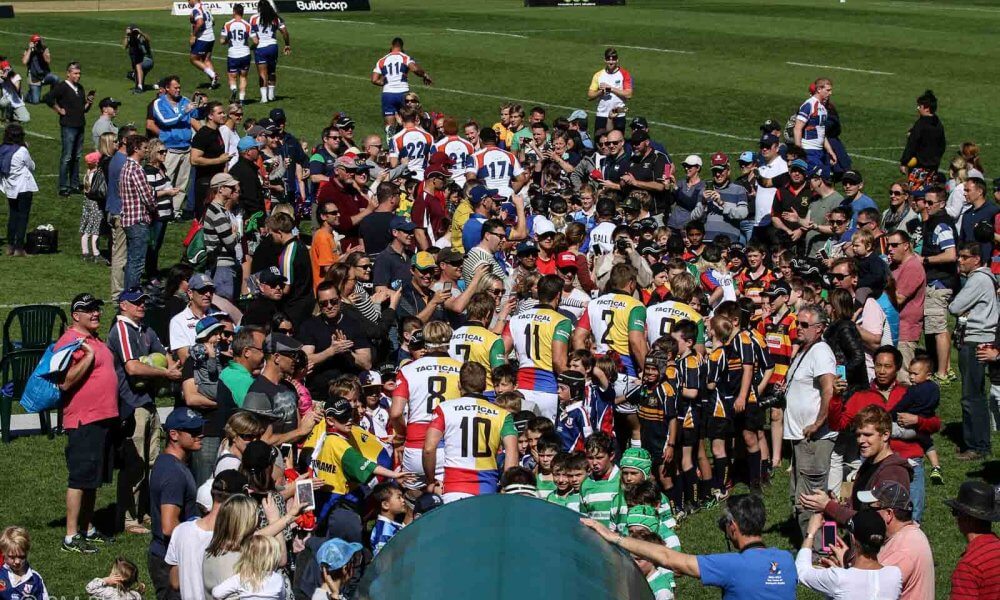 This is exactly the type of final round you want in a competition. Plenty of action, no doubt, and plenty to play for across all teams participating. All but two teams are still a chance of making the finals, which is awesome. Then we've got a Horan Little Challenge match (between the Rams and Eagles) and of course Green and Gold Rugby's own new Benn Robinson Bell will be awarded.  As a reminder, here's the table as it currently stands.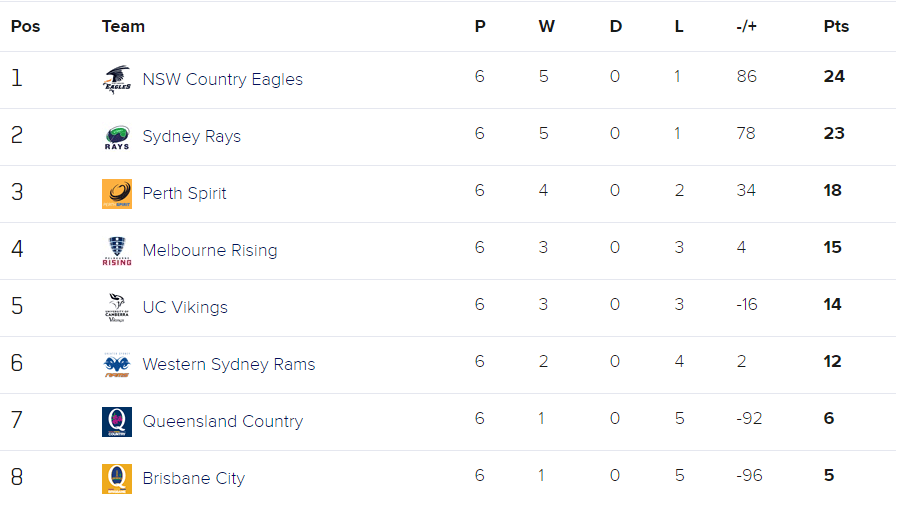 To further add to the excitement of the final round, the NRC will pay tribute to the important role that Pacific Islander communities play in the Australian Rugby community, with all four fixtures set to showcase some scintillating Pacific Island rugby and entertainment.  Full credit to the Western Sydney Rams for really driving this initiative and for the ARU and all teams for embracing it for the final round. Get behind it!
---
WESTERN SYDNEY RAMS v NSW COUNTRY EAGLES (STREAMED VIA FOXSPORTS.COM.AU)
SATURDAY 8 OCTOBER AT CONCORD OVAL (SYDNEY). KICK-OFF 1:00PM (LOCAL TIME)
REASONS NOT TO MISS THE MATCH:
Ok, so the Eagles sit atop the NRC ladder at the moment by one point so a win this weekend should be enough to secure them the Minor Premiership and a home final next week.  There is the off-chance they can win and finish second but that would entail them winning with no bonus point and the Rays winning with a bonus point by a margin to bridge the 8 point gap between them and the Eagles. Yeah, I know. My head hurts too so I won't even go into what's needed for the Rams to make the finals. But they can but they need to win this one and then rely on other results going their way.
A simpler outcome for some silverware on offer is that whomever wins this game, finishes the season with the Horan-Little Shield. The Rams won it last week following their upset victory over the Rising and will be dead keen to keep their hands on it until next year. Then there is the whole Benn Robinson Bell thing happening too with again the Eagles front runners to make it ring for the first time, but the Rams (and Rays) still a chance to ding-a-ling-a-win it. Check out the article here for all the variances.
As mentioned above the Rams have really engaged the Pacific community all season so this weekend sees the culmination of their hard work. The final rounds of the Pacific Island tournament occur this weekend at the Rams v Eagles game from 1.00pm, with NSW Fiji and NSW Tonga looming as contenders for the trophy. The day will feature Cook Island drumming, traditional singing, a variety of Pacific Island-themed food stalls and a Pacific Island fashion show. Check out the below video to get you in the mood.
WESTERN SYDNEY RAMS:
1. Matt Gibbon, 2. Brandon Paenga-Amosa, 3. David Lolohea, 4. Will Skelton, 5. Senio Toleafoa, 6. Rhys Allen, 7. Tupou Sopoaga, 8. Tyrone Viiga, 9. Waldo Wessels, 10. Mitch Walton, 11. Luke Smart, 12. Paul Asquith (c), 13. David Minute, 14. Roland-Keni Kotobolavu, 15. Albert Nikoro .
Reserves: 16. Aaron Blacklock, 17. Andrew Tuala, 18. Jack Payne, 19. Thomas Alexander, 20. Jordan Taupou, 21.Harrison Goddard, 22. Selesitino Kalounivale, 23. Vatemo Ravouvou.
Form: L – L – L – L – W – W
NSW COUNTRY EAGLES:
1 Paddy Ryan (c), 2 Folau Fainga'a, 3 Sam Needs, 4 Ryan McCauley, 5 Tim Buchanan, 6 Sam Figg, 7 Rowan Perry, 8 Sam Ward, 9 Jake Gordon, 10 Andrew Deegan, 11 Alex Newsome, 12 Kyle Godwin, 13 David Horwitz, 14 Reece Robinson, 15 Andrew Kellaway.
Reserves: 16 Luke Holmes, 17 Jed Gillespie, 18 Cam Beetham, 19 Rohan O'Regan, 20 Tom Cusack, 21 Tayler Adams, 22 Apakuki Ma'afu, 23 Angus Roberts
Form: W- W – W – W – W – L
TIP:  I'd love the Rams to get up but just think the Eagles are too polished. Eagles by 12
---
CANBERRA VIKINGS v PERTH SPIRIT (LIVE ON FOX SPORTS)
SATURDAY 8 OCTOBER AT VIKING PARK (CANBERRA). KICK-OFF 3:00PM (LOCAL TIME)
Reasons not to miss the match:
So another match with both teams still in finals contention. The Spirit are sitting in 3rd place so a win secures them a finals spot. If results went their way, they could even sneak into 2nd. Again for the Rising, a win secures them a finals spot. There's permutations around making it even if they lose, but I don't have the space go into that just now.
Viking Park will keep with the theme of the round as Pacific Island teams will participate in a curtain raiser Sevens competition, with traditional food stalls and dances also planned to entertain fans.
It's a really tough one to pick as both teams have struggled in these conditions.  Perth have played three games on the road this season only winning one (against the Rams at Concord Oval). Meanwhile the Vikings have played three games at home this season, only winning one (also against the Rams). What it means is we can expect the unexpected next this week as the Rams aren't playing and they can't both lose!
CANBERRA VIKINGS:
1 Sione Taula, 2 Josh Mann-Rea, 3 Ben Alexander, 4 Tom Staniforth, 5, Sam Carter 6 Jordan Smiler, 7 Dan Penca, 8 Jarrad Butler (c), 9 Joe Powell, 10 Isaac Thompson, 11 Lausii Taliauli, 12 Jordan Jackson-Hope, 13 Andrew Smith, 14 Eli Sinoti, 15. Robbie Coleman
Reserves: 16 Robbie Abel, 17 Faalelei Sione, 18 Ray Dobson, 19 Blake Enever, 20 Dean Oakman-Hunt, 21 Brent Hamlin, 22 Alex Horan, 23 Nick Jooste.
Form: W – L – W – W – L – L
PERTH SPIRIT:
1. Pek Cowan, 2. Heath Tessmann (c), 3. Jermaine Ainsley, 4. Kieran Stringer, 5. Onehunga Havili, 6. Ross Haylett-Petty, 7. Richard Hardwick, 8. Brynard Stander, 9. Ian Prior, 10. Jono Lance, 11. Eric Vasukicakau, 12. Ben Tapuai, 13. Billy Meakes, 14. Marcel Brache, 15. Maniera Eden
Reserves: 16. Anaru Rangi, 17. Laione Mulikihaamea, 18. Shambeckler Vui, 19. Grayson Knapp, 20.. Michael Ruru, 21. Ryan Louwrens, 22. AJ Alatimu, 23.Semisi Masierewa.
Form: W – L – W – W – L – W
TIP: This is a flip of the coin one. I'm going to go with the Vikings. Spirit by 4.
---
MELBOURNE RISING v SYDNEY RAYS (STREAMED VIA FOXSPORTS.COM.AU)
SUNDAY 9 OCTOBER AT FRANKSTON OVAL (FRANKSTON). KICK-OFF 1:00PM (LOCAL TIME)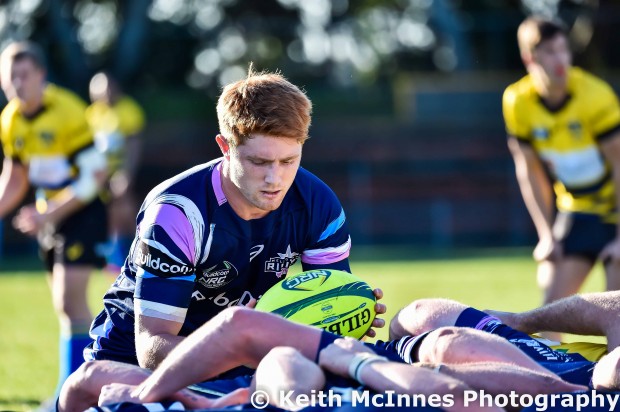 REASONS NOT TO MISS THE MATCH:
Guess what? Both of these teams are in finals contention too! Obviously the Rays are sitting pretty in 2nd spot and a win of any quantity (or quality) basically secures them a home semi-final and, as explained above, they can even finish on top of the log with a big win. In a convoluted way, the Rays are even a chance to claim the Benn Robinson Bell but are reliant on the Rams denying the Eagles any points. The Rising, sitting 4th, secure a finals spot with a win. They could finish third and they could miss out, so in the end they just need to win.
The final day of the NRC Pacific Island Round will kick off with Frankston Festival of Rugby in Frankston Oval, Victoria which will include the Melbourne International Sevens tournament followed by the Rising v Rays. Gold medal-winning Aussie Sevens star Ellia Green will attend the day, and a huge contingent of Fijians will play in the Sevens tournament headed up by Melbourne Fiji and a number of other Bula Fiji teams from Fiji, Victoria and South Australia, plus Samoan, Tongan and Maori teams from local clubs.
For what it's worth the Melbourne Rising have never lost to the Rays, albeit that was in their previous form as the North Harbour Rays. As for this season, the Rising have just lost one game at home (their last, against the Rams) however this match will not be played at their usual base, Harlequin Oval, but rather at Franskton Oval where they last played in the last round last year (defeating the Sydney Stars 18-10). What it all means is that the Rising are a legitimate shot in this match and should challenge the Rays who have been super impressive all year.
MELBOURNE RISING:
1 Cruze Ah-Nau, 2 Pat Leafa 3 Tyrel Lomax, 4 Sam Jeffries, 5 Steve Cummins, 6 Ikapote Tupai, 7 Jordy Reid, 8 Colby Fainga'a, 9 Nic Stirzaker, 10 Lloyd Johansson, 11 Ah-Mu Tuimalealiifano, 12 Sione Tuipulotu, 13 Tom English, 14 Dom Shipperley, 15 Jonah Placid.
Reserves: 16 Siliva Siliva, 17 Tom Moloney, 18 Tim Metcher, 19 Alex Toolis, 20 Rob Valetini, 21 Keisuke Yamada, 22 Mick Snowden, 23 Taiso Silafai-Leeana.
Form: L – W – L – W – W – L
SYDNEY RAYS:
1. Ezra Luxton, 2. James Hilterbrand, 3. Angus Ta'avao, 4. Connor Vest, 5. James Brown, 6. Jack Dempsey, 7. Chris Alcock, 8. Michael Wells, 9. Dewet Roos, 10. Sam Lane/Angus Sinclair, 11. Harry Jones, 12. Irae Simone, 13. Con Foley, 14. Lochie Creagh, 15. Johnathan Malo/Josh Turner.
Reserves: 16. Damien Fitzpatrick, 17. Rory O'Connor, 18. Lawrence Hunting, 19. Angus Hall, 20. Michael Smith / Harry Bergelin, 21. Matt Lucas, 22. Sam Lane/Angus Sinclair, 23. Johnathan Malo/Josh Turner.
Form: W – W – W – L – W – W
TIP: If consistency counts for anything then the Rays will win by 8.
---
BRISBANE CITY v QLD COUNTRY (LIVE ON FOX SPORTS)
SUNDAY 9 OCTOBER AT BALLYMORE (BRISBANE). KICK-OFF 2:00PM (LOCAL TIME)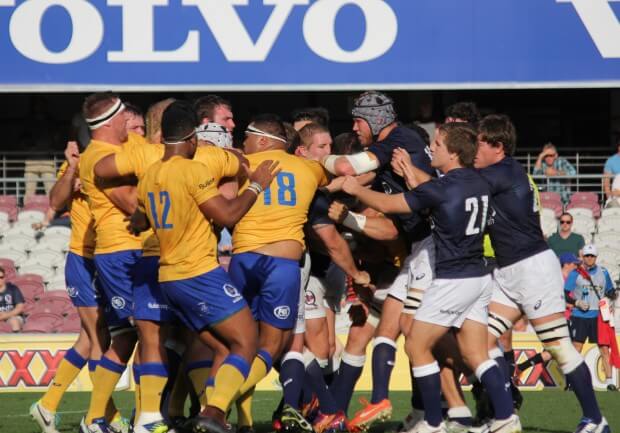 REASONS NOT TO MISS THE MATCH:      
Fox may now regret broadcasting this match and not Rays v Rising which actually has finals implications, however it must be noted astute observers of the game (me in my season preview) suggested this game could well have been a finals decider. It's not as it turns out, but there is still the Andy Purcell Cup to play for.  Brisbane have won it on both previous occasions and you can be damn sure that Queensland Country are determined to claim it for the first time. They should be confident too after their upset win over the previously undefeated NSW Country Eagles last weekend.
There has always been a strong pacific influence on Queensland Rugby and it has become more prevalent of late, so it is only natural that the QRU are right behind the NRC theme this weekend. As a curtain raiser to the main game, Queensland Tonga will play the winner of the Willie O Cup (NSW Tongan rugby tournament) and there will also be women's Sevens matches between Brisbane Fiji and Brisbane Tonga.
There are plenty of potential Super Rugby match ups this weekend (Talakai v Tupou; Rodda v Tui; Sorovi v Tuttle; McIntyre v Mason) but the real excitement is the return from injury of two try scoring geniuses. Izaia Perese makes a welcome return to the 13 jersey for QLD Country having missed the last couple of weeks. Meanwhile the Fresh Prince of Ballymore, Junior Laloifi makes his return to the Brisbane City side from the bench following a long break from a hand injury. Laloifi is Brisbane's all-time leading try scorer and an absolute crowd favorite.
BRISBANE CITY:
1 Pettowa Paraka, 2 Andrew Ready, 3 Sam Talakai (c), 4 Luke Beauchamp, 5 Lukhan Tui, 6 Adam Korczyk, 7 Michael Gunn, 8 Isi Naisarani, 9 Moses Sorovi, 10 Jake McIntyre, 11 Alex Gibbon, 12 Toby White, 13 Brad Lacey, 14 Chris Kuridrani, 15. Jayden Ngamanu.
Reserves: 16 Matt Mafi, 17 Markus Vanzati, 18 Feao Fotuaika, 19 David Findlay-Henaway, 20 Criff Tupou, 21 Angus Fowler, 22 Junior Laloifi, 23 Tuaina Tualima.
Form: L – W – L – L – L – L
QUEENSLAND COUNTRY:
1, Ben Daley, 2. Alex Casey, 3. Taniela Tupou, 4. Izack Rodda, 5. Tyrell Barker, 6.Ted Postal, 7. Maclean Jones, 8. Angus Scott-Young, 9. James Tuttle (c), 10. Mack Mason, 11. Liam McNamara, 12. Duncan Paia'aua, 13. Izaia Perese, 14. Tyrone Lefau, 15. Tom Banks.
Reserves: 16. Feleti Kaitu'u, 17. Sef Fa'agase, 18. Kirwan Sanday, 19. Patrick Morrey, 20. Liam Wright, 21. Isaac Fines-Leleiwasa, 22. Mitch Third, 23. Liam Jurd.
Form:  L – L – L – L – L – W
TIP: It's QLD Country's time. The visitors by 6