In what we thought would be two pretty lopsided matches, we got one rout, and one extremely close bore-a-thon! After last week's fantastic quarter final games, we get this semi-final letdown. But alas, we're down to two teams, the Nearlies v the Dutch Dirt Farmers for the big dance.
We'll also take a look at the Kiwi NPC final and round it out with Brisneyland Local's tip for the RWC 2023 final! So let's settle down at our desks, make it look like we're doing some work, and dive in for a good bit of rugby banter.
New Zealand 44 defeated Argentina 6
See KARL's excellent G&GR match report here.
The Kiwis qualified for their fifth Rugby World Cup final after a complete shellacking of the FISMs. There's little doubt that the Nearlies were completely dominant early Saturday morning, dotting down seven tries with Richie Mo'unga icing three conversions and one penalty. Will Jordan continued on his try-scoring way, snagging a hat-trick while Shannon Frizell also bagged himself a double.
In what can only be described as a bizarre circumstance, Ian Foster may go on to win the World Cup and then have to relinquish his role as ABs coach. If he's unemployed after the cup, I know a team that is looking for a coach who actually knows what he's doing. He certainly would have the credibility.
On another interesting note, Cheika demonstrated why we don't want him to come back and coach the Wallabies by having a whinge about the referee after his team's whopping defeat. Let me tell you Cheik, it wasn't the adjudicating that cost you the game, they were outclassed across the park, Angus Gardner had nothing to do with your loss. Just when he looked like he had turned into a reasonable human being, he reassumed the mantle of 'tool' yet again.
South Africa 16 defeated England 15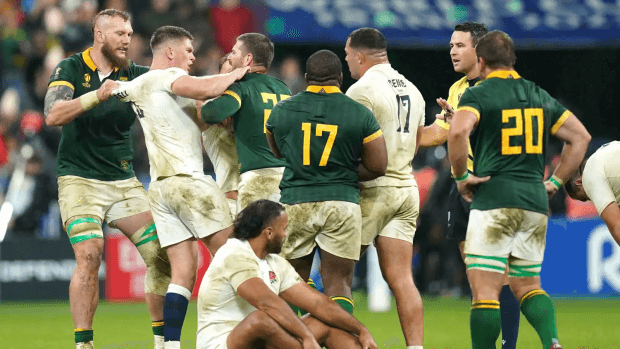 Read Sully's brutally honest G&GR game review here.
Handre Pollard's last-minute 3 pointer secured The Catholics spot in the Rugby World Cup final as England somehow managed to out Bokke the Bokkes and get within 1 point. The Soap Dodgers executed their excruciatingly boring game plan to perfection and slowed the game down to a pace that even the Bokkes thought was too slow. The first half saw four Owen, 'I can whinge at the referee with the best of them' Farrell's penalties to give the Pommies a 12-6 lead. The Saffa coaching staff (read Head Water Boy Rassie 'I am about to lose my shit' Erasmus) were clearly unhappy with the execution of the game plan and made the big, but very accurate call, after just 30 minutes to hook starting flyhalf Manie 'I'm having a shocker' Libbok and bringing on Handre 'Cool Hand Luke' Pollard.
A clutch drop-goal from Mr. 'No Arms' gave his side a 15-6 lead heading into the final quarter, but then the Bokkes finally managed to get their grunt going forward and hit back with Rudolph Snyman snagging a nice try from close range with Handre Pollard's conversion leaving a two point differential. The Bokke scrum then really started to slam home the advantage over the England bench front row, and a scrum penalty in the last three minutes minutes was iced by Pollard to give them a 16-15 lead which was enough to snatch the come-from-behind victory.
In what can only be described as one of the worst games of rugby I have ever watched, it was really the most disappointing match for an RWC semi-final. An absolutely dour affair, with little to no imagination, and just when you thought any team couldn't play slower than the Saffas, the Poms demonstrated how to do it. OMFG. I know our very own Nutta will probably disagree with me, as he would've loved the craft of the front rows in the scrummaging battle and the skill of popping their opposite numbers. But, I found the pace of the game, the constant water breaks (without approval to come onto the ground by the officials), and the lack of ball in play time to be just shite.
But England, and let us be 100% honest, no one, including our own resident Soap Dodger Keith, thought the Poms would make it this far, let alone only go down by 1 point in the semi-final. So well done to them. They did better than our Eddie-coached orange ones.
I do have to mention one point that really ground my gears during this game: it was the constant gobbing off to the referee, Brendan O'Keeffe. It was just appalling. Farrell was the worst of it. Lucky BLL never got his referee's ticket. Had it been me adjudicating this game I would've cheesed a few players for being gobshites. It's a trend we don't need in our game.
NPC Grand Final – Taranaki 22 defeated Hawke's Bay 19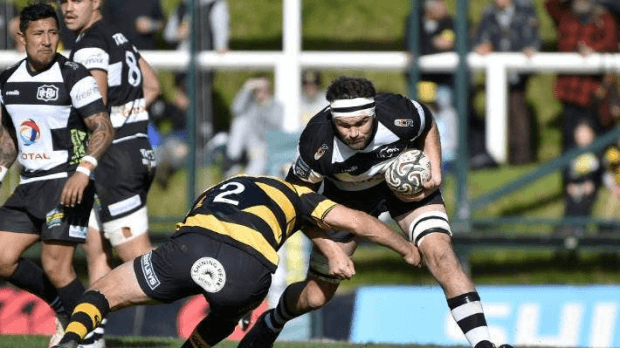 In what turned out to be a very tense battle in New Plymouth, Taranaki managed to edge out Hawke's Bay 22-19, regardless of the territorial advantage they held in the last quarter of the game. Taranaki showed themselves to be the team capable of winning a title all season, with the emergence of flyhalf Josh Jacomb becoming the icing to their cake full of talent.
The hosts would not be beaten, though, and after a knock-on allowed them to get themselves out of danger, Taranaki was able to close out the win; the crowd storming the pitch to celebrate.
Taranaki 22 (Meihana Gindlay, Daniel Rona, Adam Lennox tries; Josh Jacomb 2 cons, pen)
Hawke's Bay 19 (Lolagi Visinia, Tom Parsons, Geoff Cridge tries; Lincoln McClutchie 2 cons)
HT: 15-14.
RWC 2023 Big Dance Next Week: South Africa v New Zealand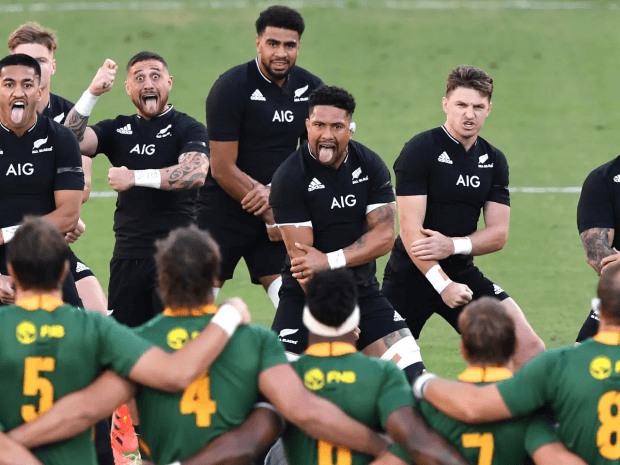 The All Blacks and Springboks have played each other 105 times, with the All Blacks leading the collective tally 62 to 39, with 4 matches drawn. Here are some interesting stats worth looking at.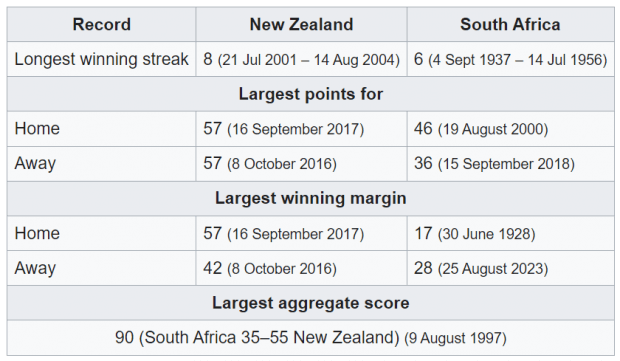 In their last 10 matches since October 2017, the Kiwis are ahead 6-4. The last time they met in a World Cup was 21 September 2019 at the International Stadium Yokohama with the All Blacks coming out victorious 23-13. Noting, however, that South Africa went on to defeat England to win the 2019 RWC.
So where do we go from here? Form? I would have to say although the Kiwis got off to a bit of a shaky start, their form has been one of constant improvement; that can't be said for the Springboks. With Wayne Barnes likely to be the referee, if the Bokkes talk to Wayne the way they bleated to Angus Gardner I think they'll be in for a tough evening.
We don't know the selections, or if there are any major injuries to come out of the semi-final matches. So I reserve the right to revisit this prediction. But at this stage, I'm tipping our ANZAC brothers the All Blacks by 7.
Happy Monday to you all. Have at it!