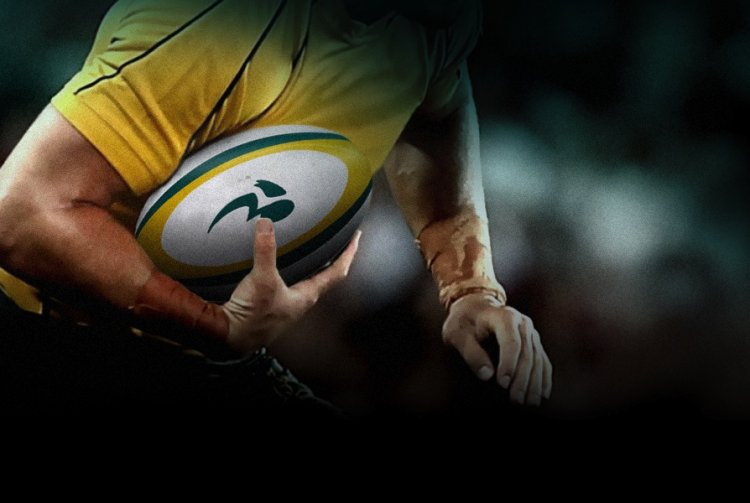 Day Two and still waiting: it's been a good 48 hours since we learned that the Dark Shark has been rubbed out from any further contribution to Wallaby history. He's had his security pass taken off him and been escorted out of the building. He's not even been given the courtesy of clearing out his desk. There's a lot of us rugby folk that are not entirely happy with this development and would like to know what the f*ck is going on! WHAT THE F*CK IS GOING ON?
Well, it's actually about 52 hours and I'm still breathlessly waiting for details of what happened to Lote Tuqiri. We know that his very generous contract has been terminated. This is a contract that we've heard is worth about $600,000, or $700,000 or is it a million a season until past the next Rugby World Cup? That apparently makes him the best paid Wallaby in Australia, well…..next to Gits that is.  I'm also surmising that this price would be a reflection of his estimated value to Australian rugby for the term of the contract.
I think its about time that someone told us what the hell is going on? What do we know so far? We know that Lote was a marquee signing from 'Jeu à Treize' (Game of Thirteen) in 2002. Most of us would agree that he has provided some value for money since (who doesn't think that try in the air in the RWC03 final wasn't memorable). In the early days he was a dynamic winger who probably peaked around 2004 – 2006.
His signing was notable in that he was one of three mungo players that were recruited to send a message to league that union had really arrived, and it extended the union footprint to capture a large group of fans who supported these guys. Bums on seats! All of the league converts contributed to the Wallabies success, none more so than Tuqiri. As it turned out, all had difficulty with the culture.
Unfortunately, Lote's performance in the past Super 14 season with the Waratahs was not as prominent as in previous seasons. Some pundits say that the Tahs 'stodgy' style of play has contributed to this outcome. This season, Lote has gone looking for more work off his wing and to some extent ends up 'trucking' a lot of ball in the traffic; getting over the advantage line but doing what you do in league, running at the man not at the space. It appears that Robbie Deans wanted Lote to run around his opposition, not run at them. So, this is the reason that he hadn't yet been selected for any of the domestic tests. However, Deans has admitted that he would have been selected in the just announced Tri-Nations squad if he hadn't been sacked. The irony is that it may have been one of the other league converts, Timana Tahu, that would have missed out.
Lote blotted his copybook on a number of well documented occasions beginning in Capetown in 2005 with the Mat Henjak business. John O'Neill, Il Duce of Australian rugby, was pissed off with the standard of behaviour of some of these players and told them in no uncertain terms they'd be getting the heave-ho if it continued. According to JO'N, Lote was sent a 'Dear Lote' letter which documented the 'no uncertain terms'. A formal warning you might say, with a 'show cause' provision next time it might happen. Well, it looks like the 'next time' has happened…..apparently? Crown Casino? Out too late during test week? Having a drink during the lead up to the test? Breaching the player's code of conduct? Who knows?
JO'Ns not telling, 'cos Lote is taking it to court and he would have been advised by his brief not to talk about it publicly. They said it's an industrial relations matter between the employer and the employee, which is interesting as it was announced on the very day the new Australian industrial relations laws came into being (called Fair Work Australia). I guess I can understand that as a potential defendant JO'N would be a bit reluctant to get into too much detail. Lote knows what's happened, according to JO'N, and can talk about it if he likes but nobody is actually telling the long suffering fans.
Most people have a bit of time for Lote, as they can see his positive contribution to rugby in the past and are not happy with the way this has been executed, if I can use that term. We know business is business and times have changed in the professional era. But to be cut down in this manner, when he still has something to offer Australian rugby goes against the 'fair go' mantra. And to not tell us what it's all about is just not good enough.
The upside for Lote is that he is a very marketable piece of merchandise. In Europe, you'd think he could command a $750,000 – a million a season when you look at his cv and think how highly regarded he is over there. Sonny Bill Williams, Le Gaz and Il Gowie? They're all on reputedly large contracts. Lote has runs on the board and could out earn all of them. Rugby league? Dream on, they couldn't afford him. Where would you rather play, Paris or Penrith Park?
The interesting thing is that for the French Top 14 clubs the contract window expired for signings on 1 July; however, the two promoted sides SCA Albi and Racing-Metro 92 have until next Friday to complete their signings. In the UK there are still plenty of contract negotiations going on for the upcoming season. Japan? Regardless of what Eddie might think I'm not sure that a competitive and angry Lote is quite ready for semi-retirement just yet.
So, the only one that's really able to tell us what's going on is Lote himself. Mate, forget the tweets and tell us what really happened. How about a statement, or better still a press conference (OK, with your brief present so you don't overstep the mark). You can start winning the public relations battle with the ARU by getting the fans onside right from the start. Give us a break, you've got a lot of support out there in rugbyland.
Lote, what the f*ck is going on?