If you missed Green and Gold Rugby's coverage of Day One of the Hong Kong Sevens 2016, follow this link: http://bit.ly/25QAOxG
USA 22 defeated Australia 7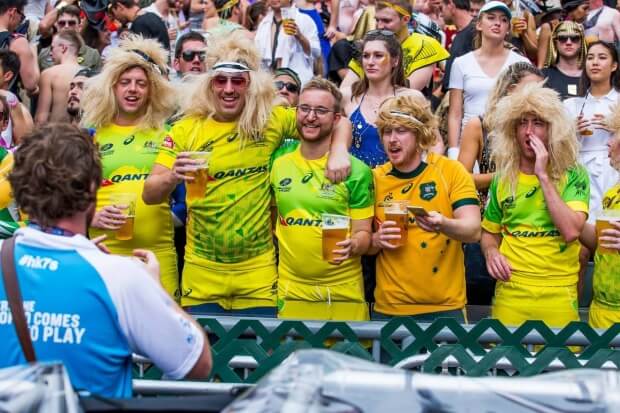 Australia have fallen to the USA 22-7 in a Pool-deciding clash at the 2016 Hong Kong Sevens.
The Australians scored first before conceding 22-unanswered points to an American side that well and truly had their measure.
The press defence that brought so much success to the Aussie Sevens proved the key to their own undoing as the US crossed for three tries out wide.
Head coach Andy Friend said that while he expected the fifth-placed USA to put up a fight, he was disappointed in the level of performance in his own camp.
"We're a better side than that," Friend lamented. "We weren't clinical and didn't do the things we set out to achieve, and that was disappointing.
"At half-time we spoke about working hard in the middle to force them out wide. Our press defence has been one of the features of our game in the first two matches, but in that match we pressed when we didn't need to press.
"USA were smart enough to play a little deeper and beat us on the outside."
"I think the work we put in for our first try was good, but after that we put on a master-class on how not to play Sevens. You can't turn the ball over, you can't give away easy penalties, you can't defend in isolation, and we did all of those things," Friend said.
The highlight of the match for Australian came in the first minute as Con Foley won a not-releasing penalty from the first phase.
Hot on attack, Australia drew the US in before launching a raid on the left wing to score through Allan Fa'alava'au.
James Stannard continued his strong form from the boot by converting his 10th from 12 attempts.
It all went downhill from there.
Another US penalty had Australia on the front foot before a turnover sent the Eagles into counter-attack mode.
Fa'alava'au saved the day with a dumping try-saver but the damage was already done as the US spread the ball wide for a simple try.
Australia continued to race out of the defensive line in midfield, tempting fate by offering their opposition an avenue to utilise their greatest strength.
The constant wide attacks forced the Aussie's to expend valuable energy in recovery efforts, a recipe for disaster considering the shortened three-man bench.
American captain Madison Hughes found the lead for his side, taking a switch and running against the grain to beat multiple defenders to score.
Dangerman Perry Baker added insult to injury with his next try, stepping off his left then right to leave John Porch clutching at thin air en route to scoring.
The Americans were shutting Australia out of the game with ease, helped in no small part by a near-constant flow of penalties crucifying the favourites.
Another wide attack from the Eagles at the end sounded the final death-knell for Australia, losing convincingly three-tries to one.
The US sealed top spot in Pool C, booking a Cup Quarter-Final with a hapless South African side.
Australia, finishing second, will face arguably the competition's form team in England in their own Cup Quarter-Final in what will be a enormous match at 3:04pm AEDT.
If Australia bumps in to the USA again in Hong Kong, will they change up the elements of their strategy that cost them so dearly, or will we see the side stick to the guns that have carried them to the Cup Semi's in three of the last tournaments?
According to Andy Friend, Australia are a team that loves to hunt the ball – and don't expect to see that change any time soon.
Australia 45 defeated Portugal 7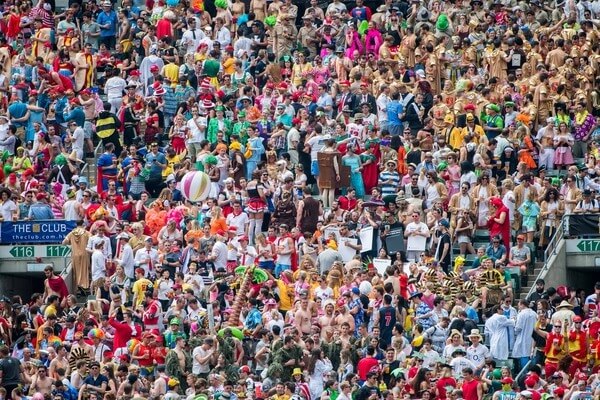 Australia have stormed to an 45-7 win over bogey-team, Portugal, in the second Pool C match of the 2016 Hong Kong Sevens.
Australia constructed a typically-excellent attacking performance, scoring seven tries while dominating both territory and possession.
The impressive win came at a cost as star playmaker Lewis Holland was assisted off the field in the first minute, limping on his left leg. 
Winger John Porch played an exceptional match in both attack and defence, chopping down all runners who dared come his way and finishing each opportunity in attack to score a hat-trick.
"It was great for me personally to get a hat-trick but it was off the back of a good, solid performance from the boys," Porch said. "We started a bit slowly in the first half but to finish it off like that was a credit to the team.
"This year we've really focused on getting up off the deck and putting pressure on the other team in defence, so that we can put the points on them in attack.
"When you have someone like James Stannard kicking the goals all day long it all feeds back in to the pressure we can apply, and those are the results right there," Porch said.
Holland was dragged down awkwardly in a tackle in the first minute of the game, but Australia only needed six men to score their first through Ed Jenkins.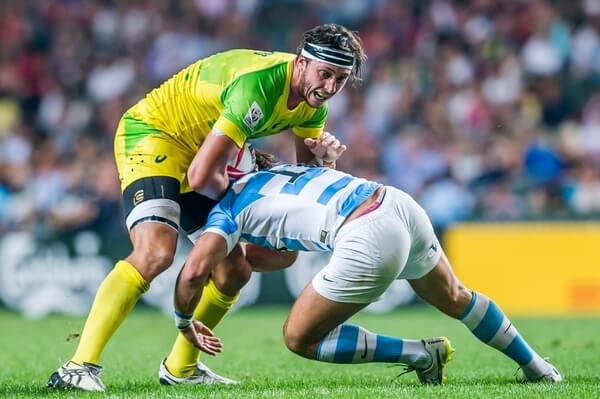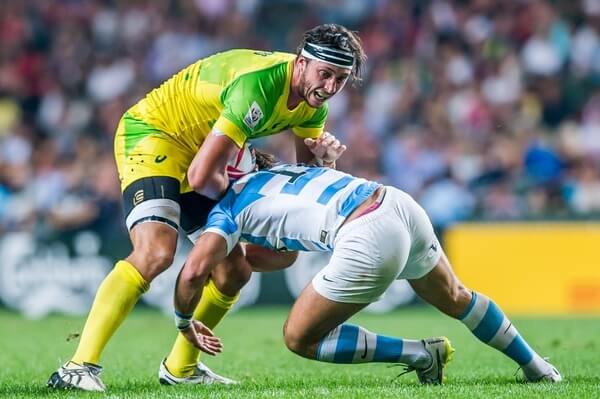 Cam Clark provided Jenkins the ball early and sat back to watch his captain pinball between defenders to stretch out and score.
Australia created ample opportunities to score in the first half but found finishing them difficult until the dam wall burst in the fourth minute.
Australia's breakdown dominance stole possession back inside Argentina's 5-metre zone and winger John Porch dove over to score.
Australia soon returned, attacking from side to side before hooker Con Foley straightened up the attack to waltz through for the side's third try in the sixth minute.
Portugal's iconic Aderito Estevez was shown a yellow card on half-time and Ed Jenkins capitalised straight away to open the second half.
A moment later forward Sam Myers powered through two defenders on the line for Australia's fifth try in nine minutes.
Australia conceded their first try of the tournament via the referee's whistle as Allan Fa'alava'au's try-saving effort on Estevez was deemed high, earning a yellow card and penalty try.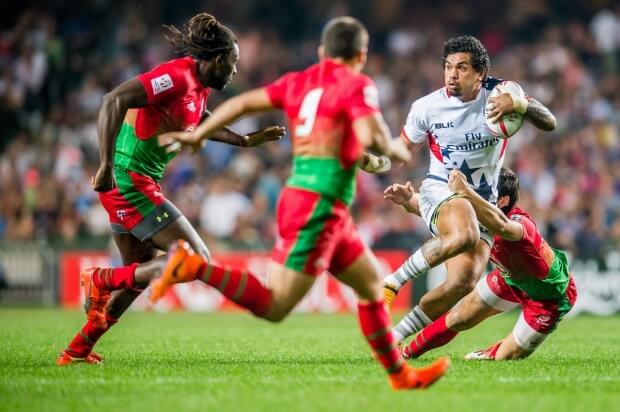 Australia weren't done yet; debutant Frankie Winterstein set-up John Porch's second try on the left wing with a minute to play before Porch crossed again for a third in extra time secure a dominant 45-7 win.
James Stannard score 10-points with five conversions, taking his tournament tally to nine goals from 11-attempts.
In the earlier Pool C match, Argentina blew yet another considerable first half lead by conceding 26 unanswered points, setting up a blockbuster finale between the USA and Australia tonight.
When asked about Australia's plans for taking on the USA in 8:10pm AEDT Pool C decider, hat-trick hero Porch responded that "we're just going to charge bloody hard through the middle and then force it out wide and the points will take care of themselves.
"I'm not really worried about how Perry Baker is going to attack," Porch emphasised when quizzed on the American superstar he will face off against. "I've just got to focus on playing my game and making sure I do all the right things."
In injury news, Lewis Holland's injury is significant and precautions will be taken to minimise the damage to his leg, said head coach Andy Friend.
The decision means that Australia will take on the rest of the tournament with 10 men with Holland joining Nick Cummins (ankle) and Tom Kingston (hamstring) in the injury ward.