Australia defeat Argentina 28-0
Australia were in control from start to finish as they put Argentina to the sword, 28-0, to open 2016's Hong Kong Sevens campaign.
Australia, while not strictly clinical, were calm, cool and collected in both attack and defence.
Two tries either side of half-time and a resolute display of scrambling defence were enough to outclass Argentina.
Former Wallabies winger Nick Cummins made his Rugby Sevens return late in the second, going close to scoring a hat-trick but falling agonisingly short with each effort.
Forward Sam Myers played down the side's performance when speaking with Green and Gold Rugby after the match.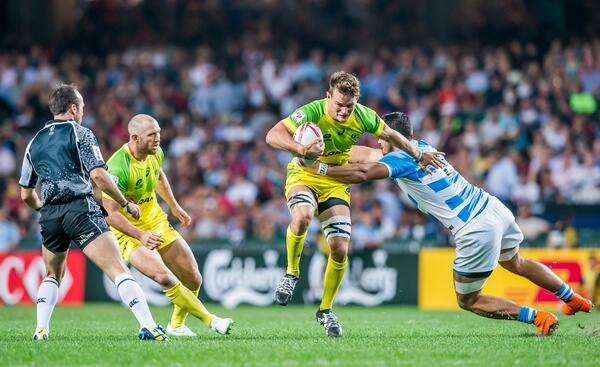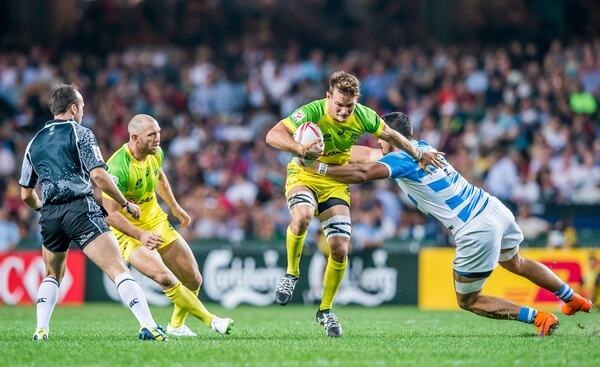 "I wouldn't say we were clinical, at least not by the standards we keep for ourselves," Myers said.
"There are no easy games any more in Rugby Sevens, so we've really worked hard to keep physical in defence for the last few months, and that there was the result.
"It's great for us when the backs can score those splash plays from distance because we get a chance to rest, which feeds in to the rest of our game
"We've got so much depth that we can really threaten from start-to-finsh.
"I think the Badge [Cummins] was thrown a bit by the step up in pace from the last time he played Sevens. We saw him run out of steam there, but he's been putting in the hard yards at training so he'll be better for the experience," Myers siad.
Australia entered the field the battle to the all-familiar chorus of Hong Kong jeering and rewarded the nay-sayers with a slow start.
A lineout on halfway allowed Australia to settle down the match by returning to a set-piece move.
Centre Cam Clark bent the line on a strong overs-line, drawing two defenders through contact to offload for winger John Porch to race away untouched.
James Stannard kicked his first of four conversions on a perfect kicking night.
Argentina knocked on the re-start and could only watch as captain Ed Jenkins played advantage, viciously fending off a defender to score his 100th career try.
The whole team performance in the first half was solid, with Myers and Jenkins the only read standouts.
In the second half Australia's defence proved just as deadly.
Argentina were able to bend the line on a number of carries but couldn't land the finishing blow in the face of ruthless scrambling defence that never took their foot off the throat.
Playmaker Lewis Holland went on to beat his man for pace one-on-one from a lineout move, skipping outside from first receiver to reach 21-0.
A ruck turnover on halfway sent super-sub Allan Fa'alava'au racing away across-field, streaking between defenders and dummying the cover to seal the match well and truly at 28-0.
Former Wallabies winger Nick Cummins was injected off the bench midway through the second-half, going close to scoring three tries but falling agonisingly short each time.
Australia play Portugal at 4:10pm AEDT and the USA at 8:10pm AEDT.
The Australian Men's Sevens team are fast running out of time to prove themselves capable of winning a tournament before August's Olympic Games.
Spearheaded by playmaker Lewis Holland and supported by a diverse array of former Wallabies, Super Rugby representatives and Rugby Sevens specialists, Australia occupy fourth place on the leaderboard behind Fiji, South Africa and New Zealand.
Australia have reached the Cup Semi-Finals in each of the last three tournaments, but are fast earning a 'Bridesmaids' tag for falling at the final hurdle.
The Happy Valley tournament has traditionally been a slim picking ground for the Thunderbolts, last achieving Cup success in 2004, before that in 1988.
In the 2016 edition of the Hong Kong Sevens, the stakes are higher.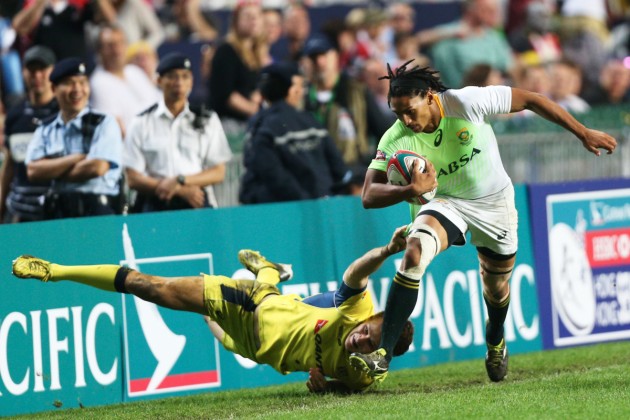 Personnel
With just four tournaments to go before setting off on their Olympic Dream, head coach Andy Friend must decide whom of the 25 players utilised thus far have earned the right to join the 12-man Olympic team.
Speaking with Green and Gold Rugby earlier in the week, Friend mentioned that this Australian side would be the strongest Australia had fielded since the Sydney Sevens.
On Rugby Sevens biggest stage, the players who can demonstrate an ability to win under enormous pressure will do their selection chances every favour.
Former Melbourne Rebels and Waratahs winger Tom Kingston was a late withdrawal from the match day squad, spurring the inclusion of former Samoan Rugby League international Frank Winterstein for a potential debut.
Other new faces in the squad are former Wallabies wing Nick Cummins, who returns to the Australian Sevens fold after several years playing fifteens, replacing teen sensation Henry Hutchinson.
Captain Ed Jenkins also makes his return after a stint on the sidelines.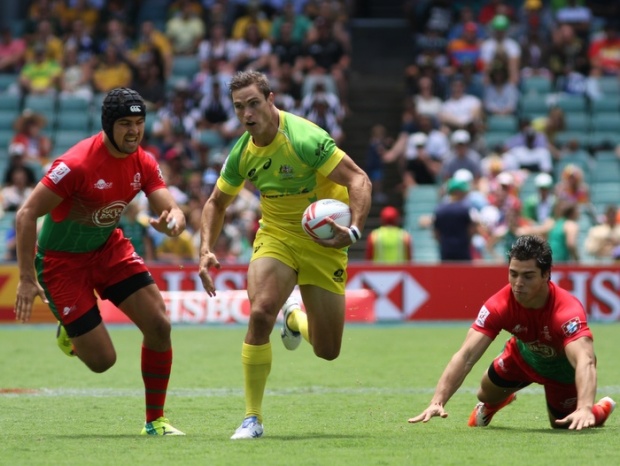 Australian Sevens squad for the Hong Kong Sevens 2016
1. Nick Cummins. Place of Birth: Port Macquarie, NSW 
2. Frank Winterstein. Place of Birth: Canterbury, NSW
 3. Sam Myers. Club: Northern Suburbs, NSW. Hometown: Grenfell, NSW 
4. Lewis Holland. Club: Queanbeyan Whites, NSW. Hometown: Queanbeyan, NSW 
5. James Stannard. Club: Souths, QLD. Hometown: Brisbane, QLD 
6. Con Foley. Club: University of Queensland. Hometown: Brisbane, QLD 
7. Cameron Clark. Club: Northern Suburbs. Hometown: Sydney, NSW 
8. Stephan Van Der Walt. Club: Souths, QLD. Place of Birth: Kersdop, South Africa 
9. Ed Jenkins. Club: Sydney University, NSW. Hometown: Sydney, NSW 
10. Allan Fa'alava'au. Club: Endeavour Hills, VIC. Hometown: Melbourne, VIC 
11. John Porch. Club: Northern Suburbs, NSW. Place of Birth: Orange, NSW 
12. Boyd Killingworth. Club: Warringah Rats, NSW. Hometown: Collaroy, NSW
Unavailable for selection: Tom Kingston (hamstring), Tom Cusack (wrist), Pama Fou (shoulder), Nick Malouf (knee), Tom Lucas (knee), Simon Kennewell (ankle), Pat McCutcheon (hamstring), Greg Jeloudev (foot), Henry Hutchison (foot) and Henry Speight (eye).
Fixtures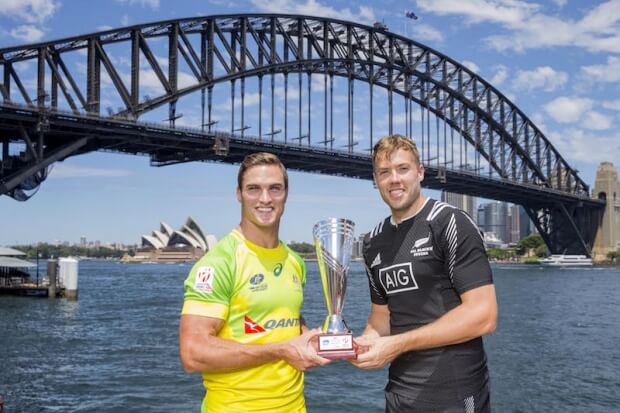 Australia have landed in Pool C alongside fifth-placed USA, sixth-placed Argentina and bogey-team Portugal.
The United States are Australia's biggest threats in the Pool, squaring off at 8:10pm AEDT on Saturday.
Championed by winger Perry Baker, who led the try-scorers in Vancouver with eight en-route to a Plate Final loss to Samoa, the US backline is as dangerous as they come when on-song.
Centre Martin Iosefa was named to the Vancouver Sevens dream team with a number of excellent performances, while speedster Carlin Isles maintains cult-hero status in Hong Kong.
New England Patriots safety Nate Ebner will also make his Sevens debut in Hong Kong.
Argentina aren't exactly easy-beats either, but their form is wildly erratic. Argentina play Australia on Friday at 11:30pm.
At the Sydney Sevens the Argentines pushed the All Blacks to the absolute brink in extra time before falling in the Cup.In Las Vegas, Argentina were thrashed 26-12 by Australia in the Cup Quarter-Finals, pitting them against the All Blacks in the Plate competition. Los Jaguares raced out to a 19-0 half-time lead against New Zealand before succumbing 24-19 in extra time.
In Vancouver, Argentina blew another three-try lead with a horrible second half performance to lose their Bowl Semi-Final against France, 19-17.
Portugal are a team Australia face with great trepidation each time they play, pushing them to the limit most notably recently in Sydney. Australia take on Portugal at 4:10pm AEDT on Saturday.