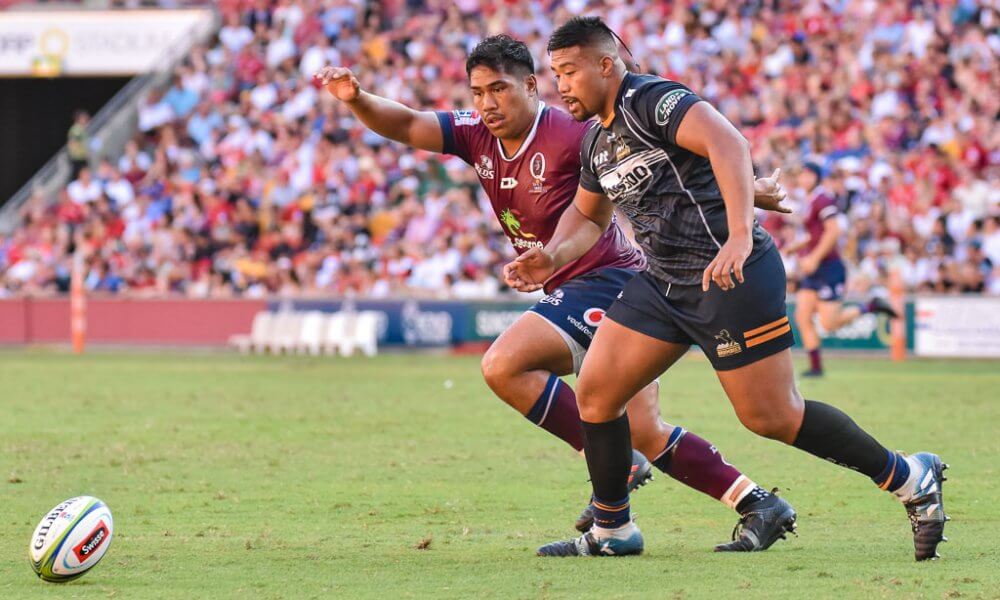 Fridays Rugby News sees Wallaby dark horses, rule changes, English rugby savaged, and Leicesters bold bid.
---
Wallabies World Cup Dark Horses?
In an opinion piece over at stuff.co.nz  Brendan Venter is talking up the Wallabies chances at the world cup amd I don't like it one little bit. Venter says, 'I think Australia will prove the dark horses at the Rugby World Cup in Japan, with the Western Force's exit having strengthened their cause owing to those players having been absorbed by Australia's four remaining franchises. When Australia had five Super Rugby teams, their talent was spread too thin because they don't possess enough professional players. A lack of player depth has always been an issue within Australian rugby but, if the Wallabies get their best players onto the field, they can be a force to be reckoned with.'
Our best players? I wonder who they could be? It turns out Venter wants Australia to scrap our Wallaby eligibility clause before the world cup and let anyone with a passport play. Here are a couple of more quotes.
'Auckland-born lock Will Skelton, who represented the Waratahs for four seasons before signing for Saracens, is showing how big of a star he is playing for a team that boasts the likes of Maro Itoje, Nick Isiekwe and George Kruis in the lock department.'
'For Skelton to be a starter for Saracens in the No 4 jersey is incredible. The ARU would do very well to ditch their overseas player eligibility rules and include the 18-test cap Wallaby in their side along with Nic White, who is plying his trade for Exeter Chiefs in the English Premiership.'
'Like the expansion of Super Rugby, everyone thought the overseas player eligibility ruling would be a good idea. However, it hasn't worked for either Australia or South Africa. Although the South African Rugby Union has decided to scrap test selection restrictions because it didn't keep the top players in the Republic, the ARU is still applying the 60-cap rule for overseas-based players in the hope that it will retain premier playing personnel in the country. However, the reality is that only money will keep top players in their home nations.'
Sure money talks but, not every player feels the need to leave the country they love for a few extra dollars. There are plenty of examples of players knocking back big money offers to stay home close to family and friends. And there are examples of players staying around to get there 60 tests up. Skelton and White didn't bother to do that, and that's fair enough but if they're not eligible they're just not eligible.
Jackalling Dead?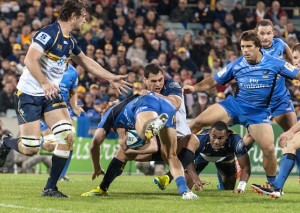 Last weeks player welfare symposium in Paris organised by World Rugby looked at ways of creating a greater contest at the ruck. They don't think it's okay for players stooped over the ball to cleaned out at top speed or to get crocodile rolled off the ball by their necks. And to be fair they probably have a point. So what solution did they come up with? Que Phill Kearns… One, two, three; BRING BACK RUCKING!
Well sort of, there's talk of no handsies at all and only playing the ball with your feet. Now think about that for a second… That's a radical change to the flow of our game.
This from the Guardian.
'The symposium reflected on the way the game has changed since it went open in 1995. The ball-in-play time has virtually doubled, the average number of scrums in a match has decreased by 75%, there are half the number of lineouts with kicking tactically for touch now a rarity. Breakdowns, meanwhile, have increased fivefold.'
So our game has already radically changed in the last 24 years. Maybe it is time to take a step back and bring back a little rucking. It certainly seems a lot safer than what we ended up with when we took it out.
Outlawing jackalling would mean a return to rucking as the lawmakers intended, supporting players remaining upright and looking to drive forward, playing the ball only with their feet. The intention of the law experiment is to commit more players to the breakdown, preferably forwards, and create space behind – but would it enhance safety if laws were applied as loosely as they are now? Not just through the risk of the tackler or his victim being stamped on, but players charging in to repel a drive. Would it increase the prospect of turnovers? In this year's Six Nations, the chances of a team retaining possession at a breakdown were 94%, with set-pieces also returning a figure in the 90s.
Head over to the Guardian for the full article. It's worth the effort.
English Rugby Union Savaged!
Wow! Over the Ditch Stuff.co.nz senior journo, Duncan Johnstone has rounded off at England's reluctance to sign up to the World Nations Championship out of fear of relegation. Check this out!
'Poor old England rugby, wobbling at the knees at the very thought of relegation from a proposed world Nations Championship.
What a load of nonsense. Their argument against a worthy attempt to finally produce a global rugby calendar smacks of the self-centred thinking that has stalled rugby's ability to be a truly competitive sport at an international level.
When the world's richest and arguably most powerful union starts falsely predicting its own doom, what chance does World Rugby really have of initiating much-needed change?'
England has never finished last in the Six Nations and hadn't finished last in the five nations since 1987. On top of their obvious class, it's not an instant relegation if you come last. The tier two nation would have to play England, in England and win to make it into the competition! So the RU are worried that their team will suddenly become shite, come last in the Six Nations, and then lose a relegation game AT HOME! Please.
Here is what Johnstone thinks the chances of it happening are.
'This is akin to New Zealand fearing the All Blacks finish bottom of the southern conference and then face a relegation loss at Eden Park to the likes of Tonga, Samoa, Uruguay, the United States or Namibia.'
'It's just not going to happen.'
Leicester Have Cheque for Cheika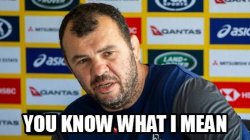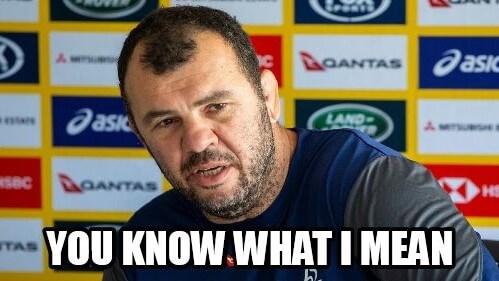 Michael Cheika has said he's off after the World Cup this year and Leicester have just put their hands up and said 'over here! Pick us.' It would have to be a serious cheque to get Cheiks involved because the Tigers are looking especially crap this year and are favourites for relegation. But that seems to be just the type of challenge the national coach relishes. You know, backs against the wall, it's us against the world, all that stuff. He revels in it.
The Tigers have been plunged into a Premiership relegation battle after slumping to 10th in the table under first-year head coach Geordan Murphy.
The club's hierarchy have made enquiries about bringing in Cheika, but are now weighing up the cost of doing so, which one source indicated would be 'prohibitive'.
Crucially, Cheika has coached in Europe before with notable success.
At Leinster, he won the Celtic League title in 2008 and the Heineken Cup a year later — beating Leicester in the final at Murrayfield.
His subsequent two-year stint at Stade Francais did not yield a trophy, but he did lead the Parisian club to the 2011 European Challenge Cup final.
Is he worth the money? Should we be trying to keep him in Australia?