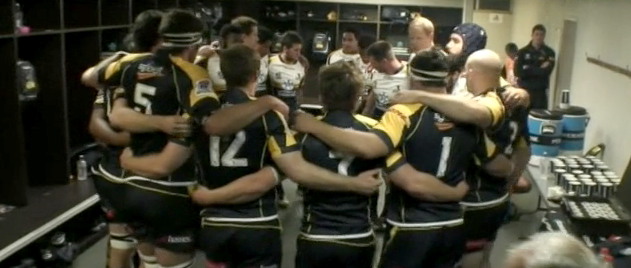 Today I want to talk about the Brumbies and the foundations of their consistent, high quality performances, which are attractive and exciting for fans – and no doubt also for their players.
A statement I make often is, 'You don't need great players, you need players playing great.' Great players are those generally considered great by the informed media, by the fans and, probably, by coaches and selectors. At the beginning of this season, none of these players would have been considered great by any but a biased few: Mogg, Tomane, Speight, Smith, Lealiifano, White, Auelua, Hooper, Fardy, (Sam) Carter, Kuridrani, Power, and more. Yet you see seven of these relative unknowns selected in my unofficial Wallabies Alternative XV. Many of you also selected all or most. How has this happened?
Joel Stransky, summing up his commentary after the game, said simply, 'They moved the ball flat and ran hard'. He might also have added:
They lined not too far apart – this makes for quicker, more accurate passing and easier support.
They lined flat – this assists straight running.
Their support players from 1 to 10, plus the blindside winger, chase the ball.
Their ball-carrier expects support from in behind, and uses it with an offload or immediate recycle.
Their backs realign with urgency and thereby take advantage of opportunities presented.
They have a scrum-half who chases the ball and clears it without any lift, skip-step or backswing – hallelujah!
Their fly-half stays close to his scrum-half and attacks the line – be it for one pace or ten.
They concentrate on leg-drive at the tackle, not 'clearing out', etc, etc.
I could go on and you've heard most of this from me before, but the application of these simple fundamentals – and they really are simple – gives players an opportunity to play. Some months back, the principals of a team in which I have a small interest, asked me if I would look over their team and advise who, in my opinion, were 'good players'. I replied that I could not do that, 'because you don't play any rugby!' I meant any quality rugby, of course, and, in the Brumbies' case, they are consistently playing quality rugby and we can now clearly see who the 'good players' are. Now, if our national coaching staff can likewise insist on the quality execution of quality technique in the fundamentals that underpin performance, we will see lots of very good players. Oh and I forgot to repeat, 'They are all simple'.
Richie McCaw, when interviewed after the Crusaders' win over the Waratahs, explained their much improved second-half display by referring to their half-time commitment to 'getting the basics better'. It was ever thus!
The Waratahs played much better this week. Their urgency of support to the ball-carrier, with good leg-drive on arrival, was a few steps up – not great, but much improved. Their first try was scored simply because support was immediately available – Dennis off-load to Douglas, Douglas off-load to McKibbin, instead of the mind-numbing, pathetically slow, ruck ball, which has become the world norm. Ball primarily in-hand and players back behind the ball-carrier with urgency (at times) gave results. There is some hope for the future.
I thought that it was great to see Richie back, until, immediately, he attempted  to bully the assistant ref, Craig Joubert, then mutter and shake his head in disbelief, that Jonathan Kaplan could dare to penalise him for the most blatantly obvious off-side. This attitude, even arrogance, detracts from a truly great player.
The Reds were average against a dreadful Blues side, but Will Genia was fantastic in his contribution to their victory. His non-stop play, particularly in cover, saved the day, time and again. How sickeningly disappointing then to hear the vitriol being poured on him today, from his supposed supporters, for his 'traitorous decision' to sign with the Western Force. He wasn't a Queenslander in the first place, anyway, and you are all privileged to have had him (or his parents) choose your state and team in the first place!