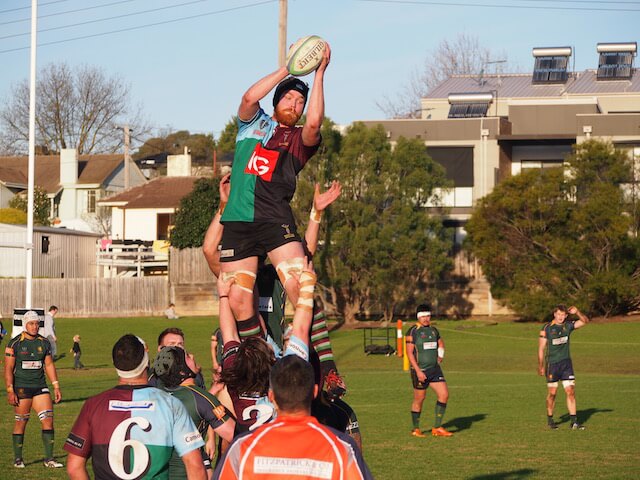 Minor Semi-Final
The Box Hill Broncos have beaten Power House and progress to the preliminary final.
After one of most chaotic off field weeks in the recent history of the Dewar Shield play-offs, the aggression finally moved from the meeting rooms to the playing field.
Due to a protest, the set up for the finals was confirmed by the VRU only on Thursday.  Power House was certain to play but their opponent and the location of the game depended on a possible sanction against Box Hill, which could have seen Endeavour Hills being granted a play-off berth.
In a bruising encounter Box Hill prevailed 27 – 20 against a determined Power House outfit.
After an early lead to the Broncos in the first half, the game took the way of the visiting Power House team and only trivial errors prevented them scoring more points in a rampaging second half.
The "never say never" attitude of the House took them only four points short of the home team, thanks to a beautiful try. But Puaka's conversion, from a near-impossible position (given the wind),  drifted away, which meant that Power House had to push for a try for victory.
Being forced to attempt a major score with tired legs, Power House conceded some space and when the Broncos were 30 metres out from the posts they were awarded a penalty.  They did not hesitate to kick for goal and gained a seven point lead.
Power House did not have the strength to push for another try and the game ended with the red-white and blue of the Box Hill Broncos celebrating.
---
Major Semi-final
Harlequin downs Melbourne to go their fourth straight Grand Final
In the Major Semi-final Harlequin won 20 – 11 against Melbourne, forcing the Unicorns to go through a Preliminary Final to earn  a rematch in the Grand Final in two weeks time.
The majority of the points were scored in the hard-fought first half, which ended with Harlequin leading 20 – 8 at home.
Melbourne managed only one penalty kick in the second half as they did in the drawn match in Round 16; they will have to do better next week against Box Hill.