After seeing his team get trounced by the All Blacks 54-34 on the weekend, Wallabies coach Cheika has come under a lot of pressure from all corners.
The biggest area of concern was the poor defence and strange defensive structures. Revered Australian coach Laurie Fisher chimed in with a tweet criticising the Wallabies defensive strategy.
It seems like Wallabies D is different at every set piece. Constant swapping of positions depending upon field position. Can't fathom it.

— Laurie Fisher (@LordLaurie58) August 19, 2017
The tweet going viral, Cheika Facetimed Fisher early Monday morning. Calling their chat "very, very positive", Cheika believes that he now has the answer to Australia's defensive woes.
"Laurie's one of those top, top coaches, and I've been seeking his advice since he came back home [from a stint coaching Gloucester in England]," Michael Cheika told the Off-White Card.
"And I was listening to him. I was specifically asking him what he thought of our defensive strategies.
"Honestly I've got no idea what he was saying. I got bored. It was probably good stuff but I just got lost. Think he was saying something like, 'pick Billy Meakes you dickhead'.
"And then it hit me. It's all about the bucket hat. That's where he gets his power from."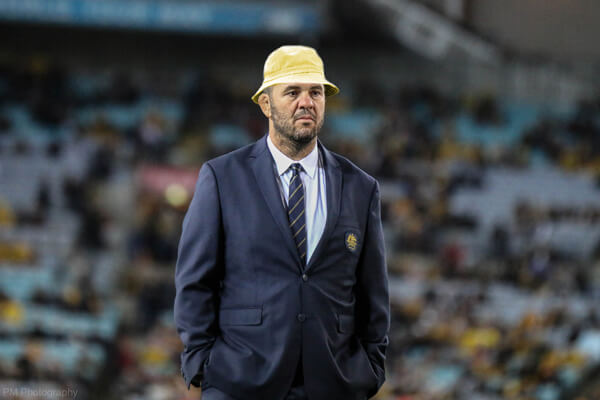 Cheika, who is known for his trademark eccentric motivational tools, insists that this new edge isn't a gimmick.
Many people believe that Cheika's former motivational tools – the golf clubs thing, the Everest poster, ringing up random blokes who leave drunk rants on the Wallabies page – were gimmicks, but Cheika's insistent it's not.
"Well, at first, I did what I usually do in these situations. Print out a massive poster of a bucket hat and stick it on the training rooms.
"But then I realised, you can't just see the bucket hat, you have to become the bucket hat.
"Since then, I've started wearing a bucket hat. It's honestly great. I feel like the lads have been more responsive and shown more passion in training since I've started wearing it.
"The physicality, the aggression, has increased, they've been making their tackles, and Bernie's (Wallabies flyhalf Bernard Foley) has only had 25% of his clearance kicks charged down.
"At least I think that's what's going on. Sometimes when I pull my bucket hat down too hard the front flap comes down too low and I can't see.
"But Nath (Nathan Grey, Wallabies defence coach) said it's looking peachy so I can only believe him."
The Wallabies are set to play the All Blacks in Dunedin on Saturday night.