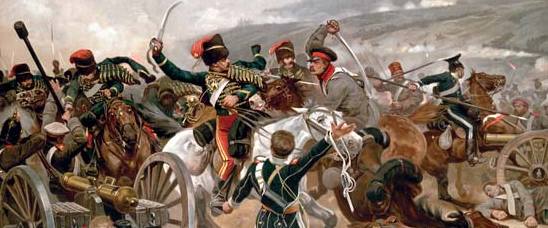 It was hardly Balaclava but at the battle of Trafalgar (Park) in Nelson yesterday the Russians gave a better than expected account of themselves.
However, they failed to turn back the green and gold cavalry, who splintered them time and again in the first half to lead 47–5 at the break.
The Ruskies seemed to be overawed early on with the Wallabies playing one-touch footy, which bamboozled the Russian defences. Too fast, too slick and too skilled.
In the second half they regrouped with their big guns firing and put 17 points down the Wallaby flanks. Dragooned into action, Australia eventually prevailed 68–22 but it took a last minute try by Berrick Barnes to actually win the battle of the half.
In an incomplete performance, the Wallabies failed to keep their foot on Ivan's throat after a powerful and free flowing blitz that led to seven tries in the first 40 minutes. At the break the coach made a number of changes and, combined with the incoming wet weather, the team lost its shape and intent.
This has become a regular habit for the Wallabies. It's good to achieve what you set out to do but it leaves an unsatisfactory feeling in your gut that they're not mentally where they should be. The All Blacks would have wiped these guys off the park.
But there were certainly a number of positives for the Wallabies including a blockbusting return for David Pocock, who in addition to scoring a brace of tries showed us what we had been missing out on without a specialist no. 7 in the side.
And Deans has now recognised this by calling up Matt Hodgson to replace Cliffy Palu. This should have been done earlier in the week so that Hodgson could have had some game time against the Russians to get back into the groove, assuming he'll be on the bench for next Sunday. Not only was a major error made in not selecting him earlier but compounded by short-sightedness.
Another positive was seeing Berrick Barnes back in the midfield. He offers so much more than a Pat McCabe with canny ball distribution, vision, a step, a sound kicking game and a maturity that's sorely needed in a relatively young backline.
Geez — Kafe, Kearnsey and Marto think the sun shines out of his you-know-what and I'm inclined to agree that he adds a whole lot more presence than a bash n' barge merchant. Berro's combination with Adam Ashley-Cooper also looked assured and perhaps a portent for selection next week. Really, this midfield is the only way to go.
The downside yesterday was an injury to Drew Mitchell that has ended his RWC. The Drewster had also scored a brace but seriously tore a hamstring as he lunged to pick up a lose ball. He's been replaced by Lachie Turner.
This is a disaster for Mitchell (and Australia) after such a committed and intensive rehab. Turner is a logical choice and won't let anyone down if required.
The Ruskies were simply overwhelmed by the Wallabies' skilful, fast and expansive play. The ball was moved from side to side but it wasn't a lateral game by any means. The support play in the first half was top-notch.
A number of the 10 tries scored were length of the field variety. A couple involved new winger Radike Lomu, whose speed belies his size and age. He featured a few times early on with some spectacular involvements but the ball generally didn't favour his wing.
The best try for me was the first scored by Mitchell (8 min). Luke Burgess, who had a top game, broke inside his 22m. Linking with Cooper, the ball then moved to Higgers who took it well into the Russian half. An off-load to Barnes had Berrick quickly sizing up the situation and kicked for the Drewster's wing. Mitchell picked up a good bounce to score.
Pocock, Horwill and Moore were replaced at halftime by Elsom, Simmons and Faingaa. Phipps replaced Mitchell when he went off although he didn't have any opportunities to shine on his wing. Ma'afu came on for Slipper and had a reasonable dig.
Apart from Pocock, Squeaky Moore was the forward with the mostest, with Sharpie again prominent in all aspects of play and topping the tackle count.
The Ruskies scored three tries against the Wallabies, the latter two when they went to sleep. Their winger (no. 11) Vladimir Ostroushko was a handful every time he got the ball —  he was big and bustling. I was also impressed with no. 8 Victor Greshev; his workrate was high and frequently got over the advantage line.
Like the USA match last week, this game really wasn't the sort of encounter you need just prior to entering a Quarter Final with the Springboks. It was a walk in the park despite clocking off in the second half. I guess it won't be a Red October?
Player Ratings:
David Pocock — 8. He was only on the park for the first half but was my Man of the Match. Made such an impact, especially with ball in hand, workrate and forced a couple of turnovers (even though the stats don't really support all this — meh!). Great to have him back, supported by Hodgo.
Berrick Barnes — 8. You forget what a complete player this bloke is. Showed the form he last displayed against France on the Spring Tour, albeit against lesser opposition. You know, there'd even be a temptation to play him at no. 10 instead of QC in the Quarter Final, or am I channelling mad Uncle Bob?
Luke Burgess — 7. A ball of activity. Passing à la Sydney Harbour Bridge but the style of game allowed him space to do what he does best: run the friggin' thing. His support play was excellent too. This may be the last time we see him on the park in a Wallaby jumper.
Stephen Moore — 7. If the John Eales Medal was based on this year's internationals alone then he'd win it. Consistently the best Wallaby forward around. He'd be rated close to Bismarck du Plessis if the Wallaby tight five were up to it. Squeaky plays like a Pommie hooker. 'Nuff said….
Nathan Sharpe — 7. Sharpie has overtaken Rob Simmons in the locking stakes as probable backup to Dan Vickerman. The other day it was suggested (by Gagger I think) a Vicks/Sharpie combo in the second row, Big Kev at no. 6 and Rocky at 8 (where he played a lot for Leinster). Now that Cliffy is out of the frame that's not such a bad idea — the downside being that it hasn't been trialled. Mmmmm.
Drew Mitchell — 7. Appeared to be back to his best. Injected himself wherever he could and scored two meat pies. Big and strong, he always proved a handful for the Russkies on the fly. Heartbreaking to see him go out this way.