It's not just my kids – after 10 straight losses to New Zealand, it's a question I've been asking myself. As the best ranked side in the world by a distance and the Wallabies likely opponents in the world cup final (should Australia make it that far), the All Blacks are the benchmark.
Each loss has been a story in itself; the Wallabies improving in facets of the game, while finding new ones to spectacularly fumble over. But what does it look like if you take a step back and take a look at the ultimate measure over time – points difference? Does it tell us anything, is there a pattern?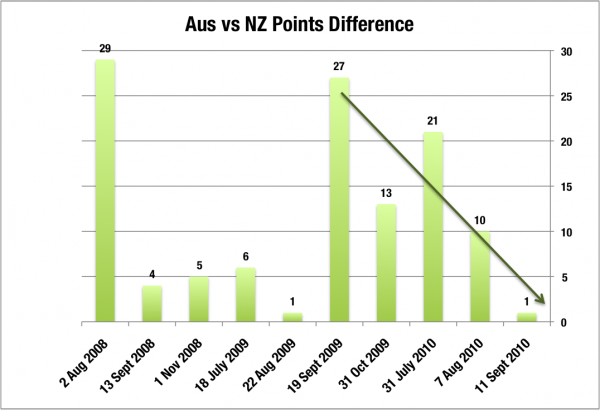 I suspect it depends through which lenses you're looking. One perspective will be that the first five games were a lot closer than the last five – that the Wallabies are in decline under Deans. As of now, these numbers would say that is the macro-trend.
There's also an interesting micro-trend going on within that, starting in September last year when the Wallabies "gave up" in Wellington (to paraphrase Dingo) and resting in September this year when the Wallabies went down by the smallest of margins in Sydney.
So what was the difference between these two halves of the graph?
The injury blight in the pack didn't really hit the Wallabies until this year, so that on its own doesn't explain the big losses at the back end of 2009. It's hard to put the 2010 micro-improvement all down to Quade Cooper, he only played the final test in this series, and had a muted game (for him) at that.
The one variable I could find between those two halves of the graph was this – the Captain. In the 18th July (6 points) and 22 August (1 point) matches in 2009, the Wallabies were led by Stirling Mortlock and George Smith respectively. The walloping in Wellington on the 19th September 2009 was Rocky Elsom's first game in charge, and he has been ever since.
Can it really be that this micro-trend is related to Rocky learning to lead the team? While it may seem a little far fetched, think of what the All Blacks look like without Richie McCaw at the helm.
While I believe  this may be a strong contributory factor, it's probably more to do with a young team finding their way and building self belief against the best side in the world. Not only did that developing team gain an inexperienced captain at that time, it also lost two of the world greats – Mortlock and Smith, with 184 caps between them.
Whichever way you see it, Saturday's result will tell us a lot about how we should view the lines above; blip or trend?