Two months ago, I wrote an article called The Beale at Fullback Experiment. This article analysed Beale's performance in the 15 jersey against his team's traditional opponents from Queensland, and Saturday's Waratahs v Reds game provides an opportunity to repeat the analysis.
The most obvious change is that Beale has started to hit his form now that we are further into the season. Like the other Wallabies, Beale missed the warm-up games with an aim to peak at the Rugby World Cup, so it is perhaps unsurprising that his results at fullback earlier in the year were lukewarm – that was in line with his general performance in any position.
Since the departure of Israel Folau and with the Waratahs' finals chances dangling by a thread, Beale has been reinvigorated, running sharp attacking lines from fullback. Considering that Michael Cheika has not seemed particularly interested in giving the Brumbies' electrifying Tom Banks a serious chance in gold, the Wallabies' 15 jersey is essentially a two-horse race between Beale and Dane Haylett-Petty. In my view, Beale is a shoe-in to win this race.
One of the reasons for this is that Beale's more familiar position of inside centre has been dominated by Samu Kerevi this year. This is still a chance that Cheika will select Kerevi at outside centre in order to keep Beale at 12, but this would be a waste as Kerevi has never looked comfortable at 13 and his impact on the game in that position is significantly diminished.
Additionally, Beale and Kerevi represent two of the three highest-ranked players in Super Rugby for offloads (after Anton Lienert-Brown), a statistic which can create significant uncertainty in the minds of defenders (particularly if Cooper is given the nod at flyhalf, as he is tied 8th for offloads). These two players are also both in the top 6 in the competition for carries, and are the only Australian players listed there. At this stage, I think the strongest argument is that both players need to be on the team.
As playing Beale at flyhalf last year was an abject failure and playing him on the wing would under-utilise his playmaking abilities, the only remaining way to get Beale on the team is to play him at fullback. Dane Haylett-Petty can be pushed to the wing – where he played last year in all three matches against Ireland as well as against England and New Zealand in order to accommodate Israel Folau. Modern backfield structures often utilise one winger essentially as a second fullback so this should not be a significant issue.
Two months ago, the depth of my article's analysis was curtailed not only by Beale's low ebb of form but also the fact that he still slotted into the line at inside centre on attack more often than not. I felt that Beale was often guilty of aimlessly running sideways and not drawing the defender before passing the ball. Beale was far more actively involved against the Reds this weekend despite being positioned further from the action, getting 2 touches on the ball in the first minute of the game as part of his role as an important link player in the Waratahs' sideline-to-sideline backline attacks. He continues this role for the remainder of the game, just as he did in their South African tour.
One issue that Beale still presents at fullback is his weak defence. Even putting aside his tackling woes, he is also sometimes less than decisive when cleaning up loose balls or kicks behind the defensive line. Who can forget Elliot Daly's second-half try in 2017 at Twickenham after Beale was undone by the balls failure to touch the sideline? More evidence of this is provided only 5 minutes into the Reds game after a charged down kick-off return by Cameron Clark. Beale dives on the ball, but it appears to slide through his legs as seen below, gifting possession back to the Reds and leading to JP Smith's almost try and Angus Blyth's actual try.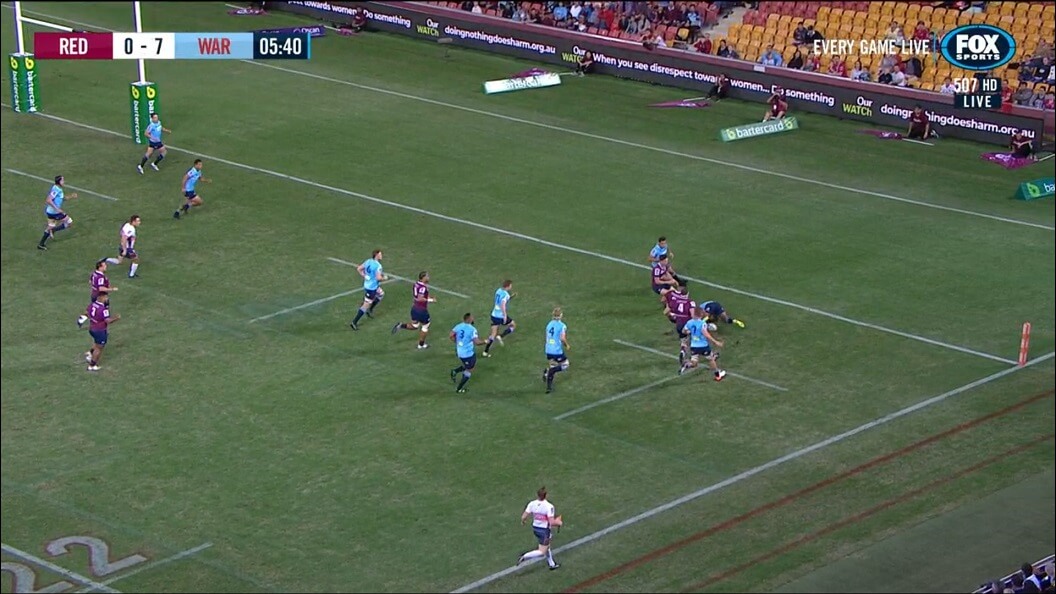 The first time Beale gets the ball with an opportunity to counter-attack occurs two minutes in from a 22-metre restart. He puts a high ball up and weakly contests it himself. Ideally, a different player than the one kicking should be contesting a high ball. Beale's second opportunity comes in the 11th minute after receiving a Matt McGahan clearing kick. Beale runs 20 metres unopposed before losing it in contact with Chris Feauai-Sautia (pictured below).
A fullback in the vein of Haylett-Petty or Banks would have run hard at the line, made a few metres post-contact, and then recycled the ball from the ensuing ruck. On first viewing I did not solely blame Beale for this, as he is confronted by a solid defensive wall and is clearly looking for support options to pass to (as described by Phil Kearns in the commentary), but on second watch there are a number of support options available and he even dummies to Bernard Foley. In fact, Foley is available beside him when he takes the kick and as Rod Kafer's commentary indicates, the better option may have been to shift the ball to prevent the defensive line from preparing a big hit on the initial carrier. The best way that I can interpret this moment is that Beale was hoping to sell the dummy well enough to get on the outside of Feauai-Sautia, but Feauai-Sautia only has the one player to mark and was never going to change his mind about it.
Like all great players, Beale's subsequent action after a mistake is to redeem himself, in this case with a contested high ball take from a kick by Foley (seen below). Unlike in the previous game I analysed, Beale starts his run from the fullback position in the attacking line which is wider than the inside centre position, and this is what enables him to be in a position to contest the kick. Considering that fullbacks are the primary recipients of contestable high kicks, this is a good sign.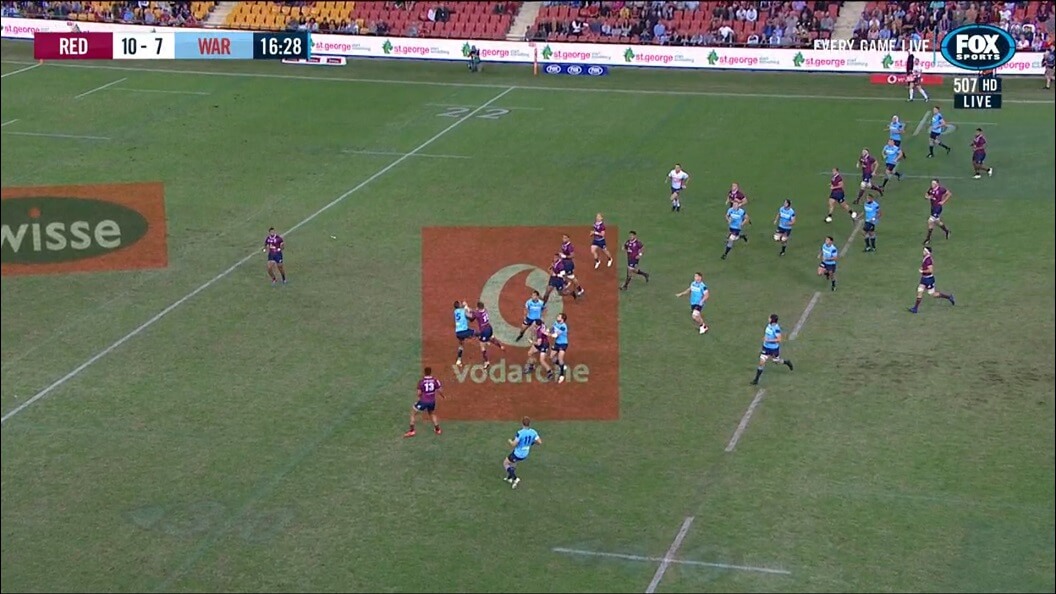 Beale's next touch is similarly gifted, stepping around several defenders and getting the ball down over the try line having received the ball near the sideline about 12 metres out (pictured below). This run was contingent on Foley straightening the line with his previous touch, and serves to showcase that their well-tested combination works even with Beale at fullback.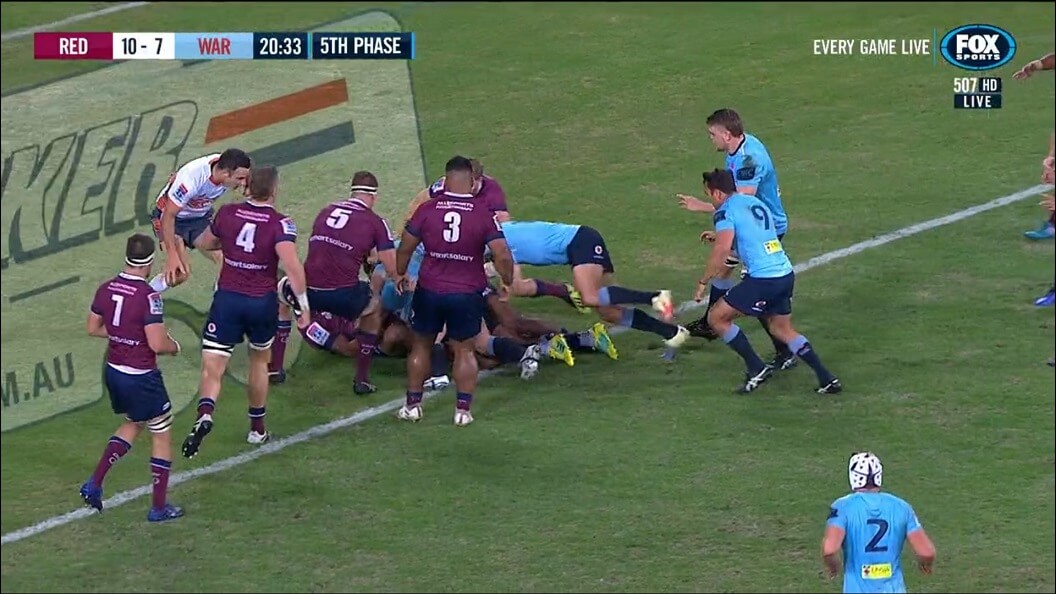 Beale is called upon to defuse a second loose ball after a Bryce Hegarty kick in the 28th minute. In almost a carbon copy of his previous attempt he dives on the ball but nonetheless fails to secure it (see below), leading directly to Sefa Naivalu scoring in the corner.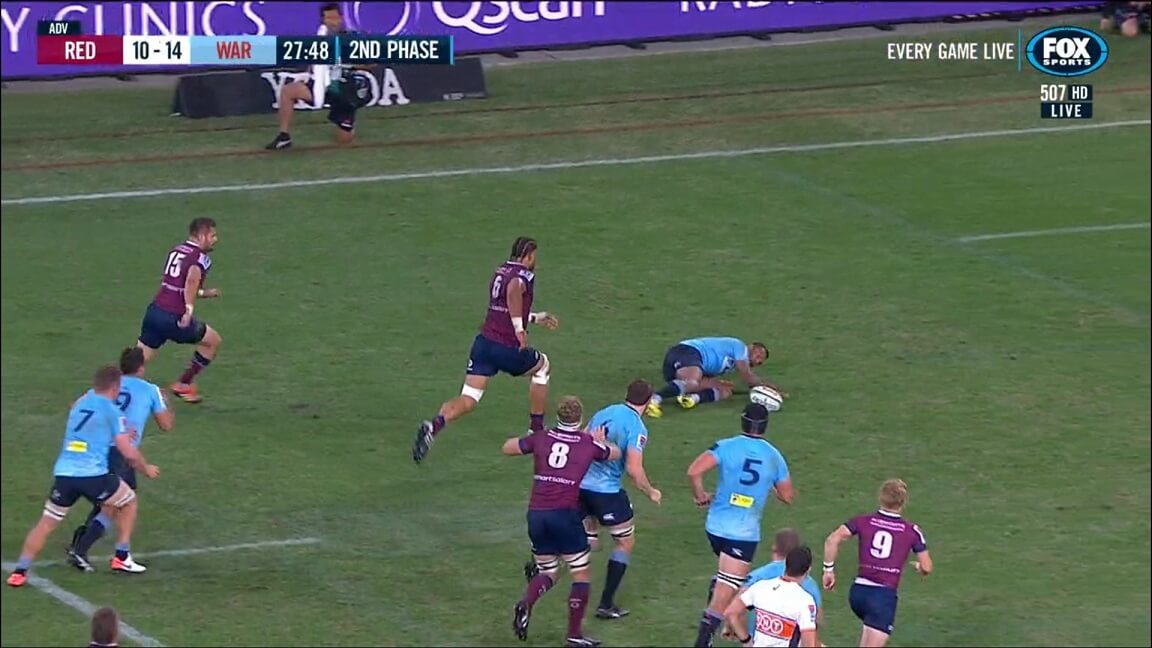 Feauai-Sautia manages an intercept in the 40th minute which creates Hegarty's first try, and to his credit Beale is the first to react and even manages to run him down from behind. Beale manages this a second time in the 46th minute when Lukhan Salakaia-Loto picks up a loose pass, tackling him but not preventing the offload which puts Alex Mafi over the line.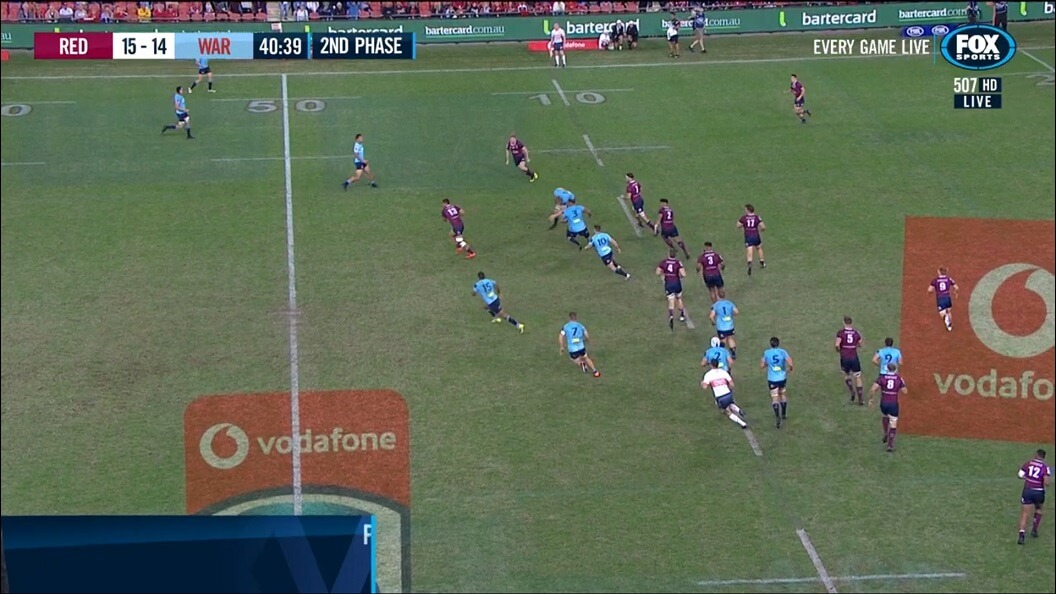 Beale's counter-attacking knock-on in the 11th minute is not repeated in the 52nd minute despite a very similar situation, with Beale making the pass before he hits the line.
Beale has long been one of the premier playmakers in Australia despite the fact that he can no longer fill the flyhalf role at the very top level, and he gifts Michael Wells five points in the 53rd minute with a good pass – though a lot of the credit has to go to Wells, who runs a good angle.
In the 66th minute, Beale goes on another counter-attacking run and spots some space behind the Reds' defensive line. After receiving the ball 10 metres into his own half, he puts a chip up 5 metres over the halfway line and regathers it (see below). He goes to ground just inside the Reds' 22-metre zone, making 25 metres for his team past the defensive line and recycling the ball quickly. The sudden territorial gain catches the Reds off guard and they concede an offside penalty.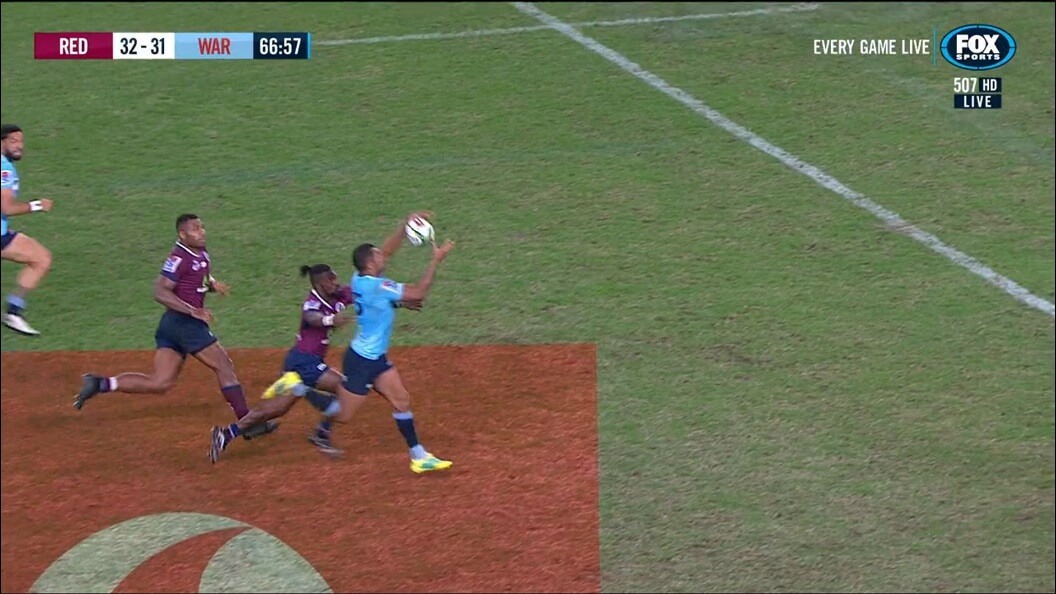 Beale takes another high ball in the 68th minute, cementing his ability to compete in this area of play. In addition to those, Beale has a generally solid kicking game which was discussed previously in an article analysing the Waratahs v Rebels kicking minigame. His passing game was on point with nearly every pass being a spinning, speeding bullet-type ball right in front of the man. This is integral to the Waratahs' game plan.
Kurtley Beale is hitting the form we all know he can achieve. He is an elusive runner with a keen eye for attacking opportunities and an impressive ability to get the ball away in the tackle, especially in broken play. His kicking game is the best at the Waratahs and one of the best in the country. Promisingly, against the Reds he showed an ability to compete for the high ball and insert himself into the attacking line at opportune times as a playmaker. He also has a fantastic working relationship with the likely Wallaby flyhalf Bernard Foley which appears to be firing even with Beale at fullback.
The only concerning aspect of his play, as has long been the case, is his defence. Beale's tackle success rate is up from 66% last year to 69% this year – not a stellar improvement. In fact, he has actually declined with time, considering his tackle success rates of 77 and 76% in 2015 and 2016 respectively. He seems to step up at Wallabies level and achieved 72% last year, but this still a poor tackle success rate. Tom Banks has a 70% tackle success rate so is should not be an issue in this contest, but Haylett-Petty has improved from 65% last year to 83% this year and is probably safer under the high ball and when recovering loose balls. This makes him an attractive option for Cheika, especially if he is disinclined to consider playing Haylett-Petty on the wing.
Nonetheless, in this pundit's view, Beale should be the man wearing the fullback jersey at the Rugby World Cup. The days of the 10-12 dual playmaker system are numbered, and Beale's kicking game is best utilised in the backfield. Beale is integral to the Wallabies' game plan and the style of rugby they would like to play, and the fact is that (barring injury or controversy) Beale should be selected at fullback over Dane Haylett-Petty, who can still utilise his powerful running and high ball skills as a roaming winger. Above all else, it is good to see that the 82-test veteran is hitting his straps at the right time of the year, and that there are at least two genuine options at 15 in the absence of Australia's highest-paid player.