Iona have claimed their first outright AIC premiership, outmuscling Ashgrove to win 43-16. 
Some bruising defence led by Iona forwards Carter Ozanne, Dominic Dingwall and Sharley Yak restricted Ashgrove to a solitary try in the first half before running away with the game and premiership in the second.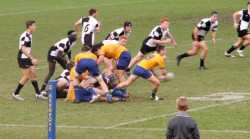 The presence of a large crowd and legendary oldboys such as dual international, Wallaby and All Black Des Connor fired up Ashgrove in this crucial clash and tempers showed as off the kick-off Ashgrove were penalised for tackling a player in the air.
But it was Iona who opened the scoring with a try to winger Mitchell Whiffler after some rumbling pick and drives from the Iona forwards.
Both teams then traded penalties through Ashgrove fly-half Mitch Treleaven and Iona centre Todd Dawson.
Iona's bruising defence limited Ashgrove to penalties, but numerous knock-ons and penalties for late tackles gifted Ashgrove most of the possession in the first half and Treleaven added 6 more points to take the lead.
Iona looked to have overcome their handling woes with captain Brad Wilkin and abrasive lock Matt Burke linking up out wide, and some productive picks from the ruck set the platform for Burke to charge over five metres out off his scrum-half's pass.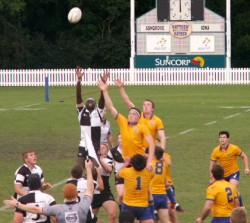 However Ashgrove replied to Iona's growing momentum and some ingenious thinking by Treleaven to chip over the rushing Iona defence resulted in him diving over in the corner, 3 phases after his kick was regathered to give Ashgrove the lead at halftime. The half ended 16-15. 
Knowing their outright premiership hopes hung in the balance of the next 40 minutes, Iona came out all guns blazing and physically dominated their opponent.
The centre pairing of Sione Hola and Dawson terrorised the Ashgrove defence getting them into the opposition 22 and winger David Yabsley crossed after a set piece move orchestrated by stand in fly-half Oliver Caine and Dawson dissected the Ashgrove line to retake the lead.
Iona were beginning to break loose, and a wayward Ashgrove pass sent them back tracking 40 metres into their in-goal giving Iona a five metre scrum.
They continued to outmuscle their opponent and front rower Lachlinn Tessman kept his legs pumping to drag two defenders over the white line to score.
Ashgrove couldn't contain the insurmountable pressure being piled on their try-line defence and shortly after Wilkin burrowed over for another.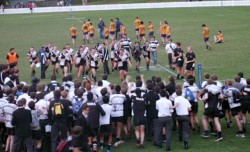 A splitting run by dangerous fullback Jacob Manning deep into Iona's 22 looked to have set up Ashgrove with a promising scoring opportunity, but a loose pass was picked up by Dawson who ran 70 metres and after the ball had travelled through the hands East to West in Ashgroves 22, Caine stepped his way through 2 defenders to dive over underneath the posts for the final score of the match.
Winning the premiership on Ashgrove soil has capped off a remarkable season for the boys from Wynnum, and cements them as an exceptional side, up there with the likes of other outright premiers the 1999,2002-2007 Ashgrove, 2008 St.Laurence's, 2010 Villanova and 2012 St. Peter's teams.
Next weeks final round against Padua will serve as an encore for this team.
But it also leaves the question of whether the once traditionally dominant Ashgrove have fallen off the lofty perch set by the teams of 1999 through to 2007 having not won an outright premiership since then, or whether other schools are simply catching up.
Ether way it sets an intriguing last match against St. Peter's, with Ashgrove looking to avenge their loss last year that happened in much of the same circumstances.
Iona 43 (tries: Whiffler, Burke, Yabsley, Tessman, Wilkin, Caine, cons: Dawson 5, pens: Dawson 1) Ashgrove 16 (tries: Treleaven, cons: Treleaven, pens: Treleaven 3)
Other results:
St. Peter's 23 def St. Pat's 19
St. Laurence's 22 def Villanova 15
St. Edmund's 48 def Padua 5