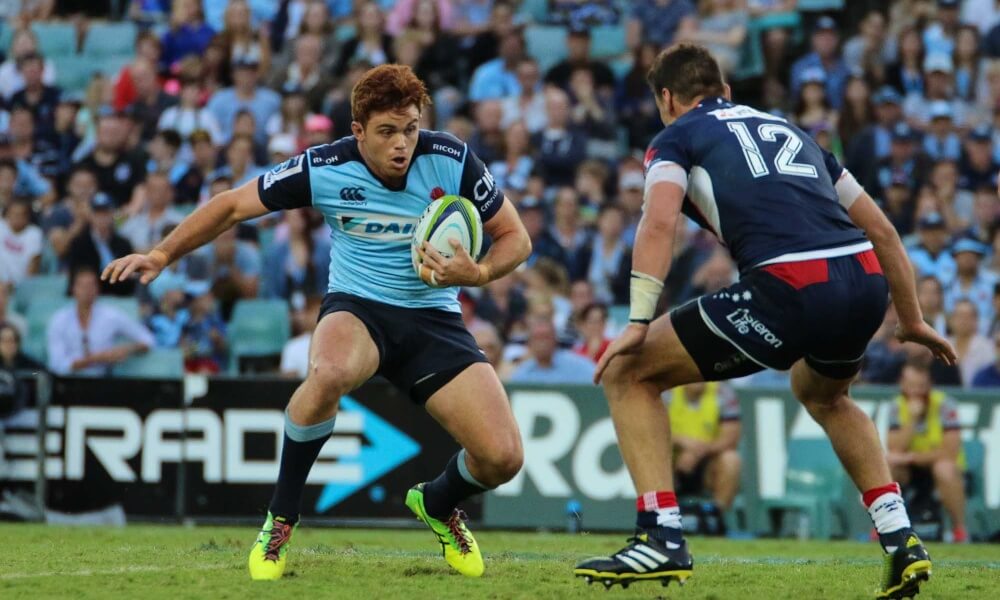 There were a few things we found out in Round 6 of Super Rugby and in other games last weekend.  This week the Tuesday Top 5 covers a new star of our game, Kiwi worry, rugby asses, the theatre, black-washing and report cards.
McKenzie will be an All Black this year
Fullback Damian McKenzie had a Super Rugby game studded with brilliances in Canberra against the Brumbies as he did against the Force, in Hamilton last week. He has scored in all six games this season and is threatening to tie the record of seven which Chris Latham holds.
Damian McKenzie try – Round 5 – Chiefs v Force

The first time I saw him wreck the chances of an Aussie team was when he was an 18-year-old flyhalf and converted a late try from touch for NZ Schools to beat the Aussies 17-16 at Knox in 2013 .
He had handy mates that day such as Akira Ioane, Blake Gibson and Sam McNichol. Australia had 16 year-old winger Henry Hutchison, who looks on-track for Olympic selection in Sevens.
Even then he looked like a fullback with the wrong number on his jersey. But at 78 kgs—Sevens maybe after school, but nothing else.
How wrong was I?.
The affable young Kiwi has proven that with his weaving running and last-second passes, in a team good enough to beat a rest of New Zealand side, that small men at fullback have a future if they are brave enough in contact— and he is.
Expect to see him on the bench against Wales.
---
Lions' skipper Warren Whiteley celebrates unexpected win against the Chiefs
We shouldn't worry about the Kiwis
We keep hoping the Kiwis will lower their standards.
The 2015 All Blacks were ropey in Sydney. The Wallabies beat them at the breakdown and they offloaded the ball standing still—even Carter looked ordinary. But they got revenge in the next match and had a decent win later in the year; so I heard.
Darn it.
But their Super Rugby teams would suffer this season with some great players absent, and hey—the Brumbies humiliated the Hurricanes in Round One and the Highlanders, the 2015 Champions, looked average against the Blues.
But look at them now: it's a black-wash. They have only one team in the bottom half of the table, whereas the Aussies and South Africans have three each.
There have been 18 games amongst the old Tri-Nations teams (for 36 participations). Counting draws as half a win – NZ has won 12½ out of 15 participations, South Africa 3 out of 10 and Australia 2½ out of 11.
There have been just three surprises in the 18 matches: the Brumbies thrashing the Hurricanes in Rd.1, the Lions winning in Hamilton, and the Chiefs belting the Brumbies.
So stop worrying about the Kiwis – they're going OK.
Darn it.
---
Josh Hohneck – started as loosehead prop against the Crusaders, Chiefs and Waratahs last year
Untrained props sometimes are
Highlanders v Force
In the third minute Highlander LHP Brendon Edwards is assisted off the field; so Dan Lienert-Brown trots on. At 28 minutes he gets friendly fire from the elbow of no. 8 Liam Squire and has to get assessed.
On comes Josh Hohneck and at 31 minutes there is a scrum; the ref said they're uncontested.
The commentators talk:
Matt Cooper: It is the law, but they're taking the Highlanders word on it.
Grant Nesbitt: What do you mean they are taking the Highlanders' word?
Matt Cooper: That [Hohneck] can't scrummage on the other side.
Christian Cullen: It just doesn't seem right, does it Nisbo?
Grant Nesbitt: They'll be playing touch next.
Lienert-Brown returned after a few scrums but the law is an ass because Laws 3.5 (g) and 3.5 (h) don't cover the case where props have experienced THPs who can play on the loosehead side safely. It would be different the other way – if LHPs had to go to the strength THP side, but this was not the case.
But here's the kicker: THP prop Hohneck started at LHP against the Crusaders, Chiefs and Waratahs last year (and for Waikato), and the other THP, Siua Halanukonuka, had run-on there for Narbonne and Tasman.
---
The Top 14 is more dramatic than Super Rugby
That got your attention. To be exact: they have more dramatics.
For example, the clubs hate each other, and although their presidents are supposed to sit together at matches, they don't have a lot of conversation: it's hilarious.
The Toulon v Clermont match on Sunday had some theatre: it was a big game and Clermont (1st), was only five points ahead of Toulon (4th). Only the top two teams qualify automatically for home semi-finals and not have to bother about quarters.
Toulon warmed up their crowd with the "Pilou pilou" chant. Then their posturing filthy-rich president, Mourad Boudjellal, swanned around on the sideline trying to look cool and scary. This is the bloke who wants to take his French club to the Aviva Premiership.
Pilou pilou chant of Toulon

The game? Aussies Giteau and O'Connor were supposed to be in the Toulon match day squad but weren't. Mitchell was on for 24 minutes but had to retire with a groin problem.
Toulon were leading, six goals to four, when rugby broke out at 76 minutes and Choully scored for Clermont. The shot clock wound down as Parra milked the seconds before the conversion for Clermont to lead 19-18—and they held on.
So; there was a smidgeon of real rugby drama.
---
Aussie teams didn't get great report cards
Round 6 was not great for the Aussies.
Force+B-+++The best Aussie side on the weekend though they lost—their two opening tries were electric. In the past they contested for an hour at best, but they put it to the Highlanders, and defused their kicking game effectively. They had a chance until late in the game.
First two tries – Round 6 – Highlanders v Force

Rebels+B-+++A gutsy effort from the Rebels for their first win in Sydney, showing in parts that they may be the real deal at last. Almost a B but they had their own ration of gaffes and looked shaky in the second half as the Waratahs threatened to come back.
Brumbies+C- +++Not a D. The Chiefs would have beaten any team with their old Brazilian soccer build up and pounce, but the Brumbies' hitherto strong defence was poor in the fourth quarter. Well-beaten by the Stormers two weeks ago and now by the Chiefs, in different manners, will have Larkham scratching his head.
Waratahs+D+++Had a less dramatic repeat of the Highlanders game except their unsuccessful comeback was from 18 points down, not 30. As if poor execution was not bad enough, they are not handling their fair share of injuries well either. At least some new players were getting a run.
---
PS – Quote of the week
When Akker van der Verwe, reserve hooker, came on and scored two tries in eight minutes to help the Lions threaten the Crusaders at the end of the game, on-field commentator Warren Brosnihan, an old Lion himself (after playing league in Australia), said of van der Merwe.
He doesn't run at the trees: he runs at the branches, and he's built like a little warthog.
.