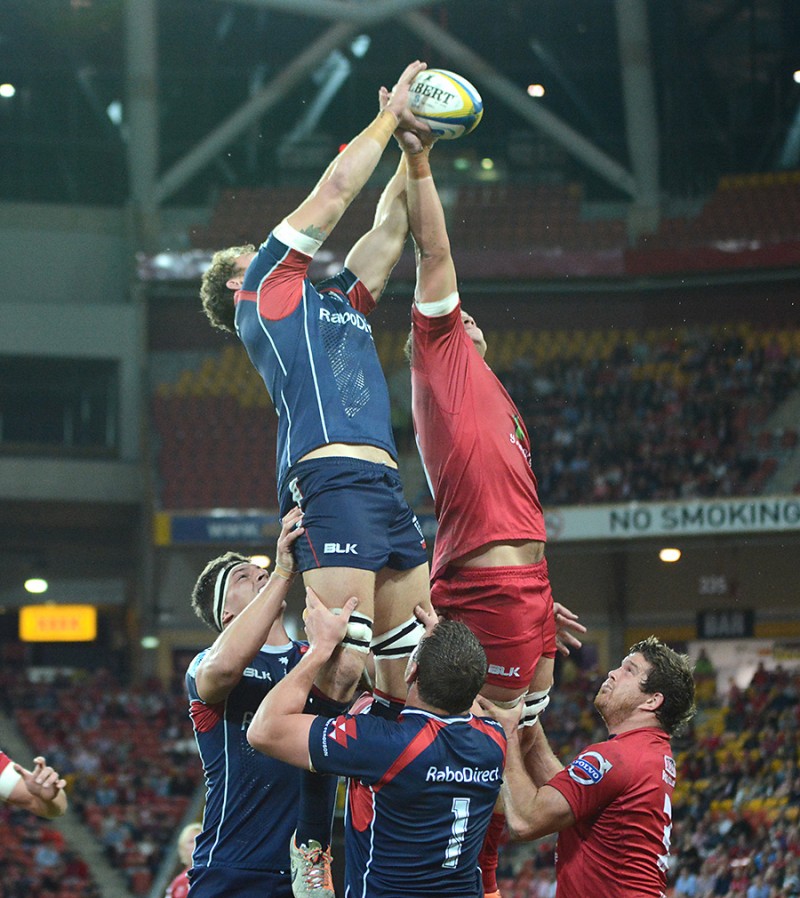 What did we learn from this past week's action?
1 The Reds & The Force took a step back.
Well, maybe the Reds marked time a bit but the Force certainly won't be pleased. The boys from out west were second by a margin in most areas but will be especially dirty at their lack of bite in the tackle and general mongrel, an area where they usually do well.   To be fair, they were always going to be under the pump against an in form side with All Blacks right the way through it.  That said, they won't be pleased.
The Reds didn't do as bad but that performance suggests that getting out of the bottom three will be about all we can expect.  One the plus side, at least the scrum continued to function and they weren't beaten up by the Clan's pack elsewhere either.
Sanchez and Rabbits were ok (I remain convinced JOC's an outside back and will be there when Quade is fit) but the kicking on display was not good. More on that later.
2 Don't lose hope in Melbourne
I like what I am seeing this season from the Rebels and they gave the Brumbies a good fright. It wasn't until Higgers went to the bin that they lost their shape and allowed the Ponies back into it.  Next hit out, the Rebs will want to lower the penalty count as this was a big part of why they lost. That said, cutting out penalties is coachable so it'll be good to see it drop next time.
The Brumbies sure know how to grind out a win. I sensed they would keep trusting their systems and know that eventually they would be given the chance. Tevita is for sure the outside centre we have to take to the world cup. I, and most of us, will wince slightly with each bone jarring hit he makes until then.
While we're in Melbourne, it was good to see the players adapt and keep the skill levels up in the rain. We might need this later in the year.
3 The scrums were again good
I'm not going say sorry for crapping on about the scrums again.  My pet peeve is talking about the latest flash back Australia produces while our scrum is a shambles.  Producing shit hot backs is what we do. It's when Australia produces a pack that can scrum, not another winger, that the rest of the world get scared of us. So that's why I was pleased the Reds were able to get some dominance here and why the team of the week features props who are giving the incumbents a tough time.
Let's hope that next week we see in the Tuesday top 5 a pair of locks that dominate a lineout and smash some bodies at ruck time.
4 Good news on the coaches
Not much more to say here. I like the way Bernie might shape the attack and Nathan Grey is a fine defence coach.  I'd love to see Foley bought in to be forwards coach, or hell, even better, Laurie Fisher.  I don't know if 8 games is enough to get the team humming but it's a start.
It also interested me to see Cheika had Patrick Molihan appointed as team manager. If this avoids another disaster like that which caused Link to quit, all to the good. And if, as seems likely, Beale gets picked in the side, I hope this appointment can keep KB in the shirts he's paid to wear and sending SMS' only after due thought.
5 The Kicking Game – Not up to speed
For my money, one of the tools you have to have to beat top sides is a kicking game. The New Zealanders often play a formation that invites teams to kick at them, which is why running at them is a tactic that has its merits.  That said, we are going to have to kick and on what I've seen so far, we are behind our SANZAR friends here.
We're not accurate enough in where the ball lands (by which I also mean the 10th row of seats) or in the chase.  The Force were bad here though they knew it afterwards but I was not too impressed with what the Reds kicked at Ben Smith either.
We just have to have the ability to stifle teams and to keep them in their own half, especially if we (and I mean the Wallabies) are not dominating possession and are having it done to us. With a scrum of steel and this sorted out, watch out!
Anyone who watched Ireland beat England this weekend just past will have noticed how much the Irish dominated this aspect and how, as a result, it strangled the English out of the game. We're in the same pool as the English. You figure the rest out.
Bonus. We should not fear playing the Welsh.
Here's a repeat of a comment I left on the 6 Nations article which i made after finding myself in the company of an Irishman, a Frenchman and several beers this weekend.
"I am so over Warren-Ball. I watched the Wales vs France game and there's a reason we've beaten them (the Welsh) 10  times on the bounce. It's 'cos Warren Ball seems to think off the ball running, changing the point of attack, second phase runners & so forth are not needed as long as your back line are all 100kg plus and quick. As long as you can tackle hard & low, Warren Ball seems to run out of ideas The current french team would struggle to beat the Montferrandaise 2nd XV and Wales laboured past them. Sure there were some big hits. But Bastareaud is hardly a small target and Roberts et al seem to aim at him, rather than any gaps. There's no reason in 6 months it ought not be the 11th. I do miss Shane Williams though".
We should expect to win at RWC in Cardiff.
What did I miss??