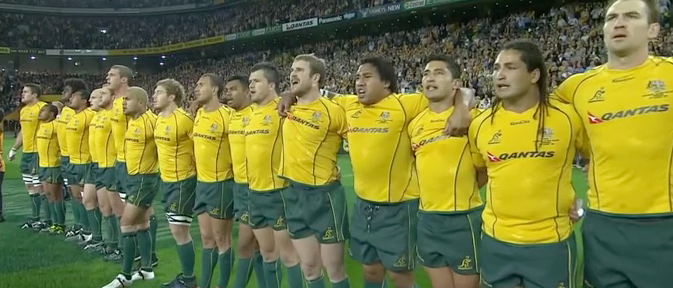 OK, here it is, reasons why we're gonna do it. To be honest, ours are so good, I think we only need 4. I added in the obvious at the end.
Reasons why the Wallabies will win The World Cup:
1 – The X-factor
Australia has so many players with the 'x-factor' right now, we can't get them all on the field at the same time! Sure, there are the backs that everyone talks about – Beale, O'Connor, Cooper and Genia – but even in the pack there are stand out impact players in Pocock, Horwill, Polota-Nau, Elsom and perhaps contentiously, Higgenbotham.
When it's 20-all with 5 to go, every second man in the Wallaby team has the ability to create something from nothing. England has….
2 – The Game Plan
For 3 years the Wallabies were playing 'dance around' rugby. And then, in the last two games of their World Cup build up, this went out the window. In came an aggression from a heavyweight pack that bested both the Springbok and All Black A teams. No longer a lightweight centre-pairing, Fainga and McCabe are a brick wall. And as they did for the Reds, Cooper and Genia are kicking more often for territory and with better results.
Put all this together with the squad's inherent attacking X-factor and you have a team that can not only grind out finals footy, but then attack with a flair few teams can live with.
3 – Timing
Australia has once again timed its run to perfection, winning both the Super Rugby and Tri-Nations competitions this year. Don't believe Graham Henry's blarney, losing a tournament immediately before going into a world cup is in no-one's plan.
While golden oldie teams like New Zealand, South Africa, England, France (all averaging 28 years) and geriatrics Ireland (averaging 29 years) are clinging to aging stars past their best, this successful Wallabies team comes into the tournament with the lowest average age of all squads – at 25 years 363 days – but with experience that belies those years. It's a long old tournament, and the inherent fitness and recovery power of youth is a huge advantage.
On top of this, the Wallaby selectors have had the fullest complement of first string players to choose from than at any time for the past four years. The only sure pick not available is loosehead prop Benn Robinson. Suddenly 'problem' positions like Lock are a problem in a good way – who to leave out.
4 – Fearlessness
For the first time in 40 years the Wallabies have won back to back games in South Africa, and after 10 straight losses, they've now beaten New Zealand in two out of their three last meetings.
The core of the Queensland Reds – Horwill, Genia, Cooper – have now beaten the core of the Crusaders – McCaw, Carter, Read – 5 times in a row in Super rugby. They not only know they can beat the All Blacks, they know how to do it. No northern hemisphere side can say the same thing.
Mirroring this change in dominance is the well documented spat between McCaw and Cooper. Forget the rights and wrongs of it, this saga (which interestingly started during Australia's first win in Hong Kong) says at least one thing from the tweetstar Wallaby – I'm not taking it from you. For a player and rugby nation so used to getting their own way, it's no wonder that this left Richie and his followers foaming at the mouth and beautifully distracted.
 5 – We're the good guys
There's a reason we wear gold.
BELIEVE!