Well that week was just ridiculous. And this time I don't mean the scheduling of that Barbarians match. It was an amazing last round of the NRC#4 – a round deserving of having its best players available (let it go Reg…). As it was the Eagles took it to the limit with Brisbane City that basically knocked the two time Premiers (Brisbane) out of contention and gave the 6th placed Perth Spirit the slightest hope. Next the Rays knocked off the Drua in Fiji ruling out any chance of a finals match in the islands. With the Rams unable to knock off the Vikings, the Perth Spirit left it to the very last play of the regular season to qualify for the finals. And claim the Horan Little Shield for 2017 in the process.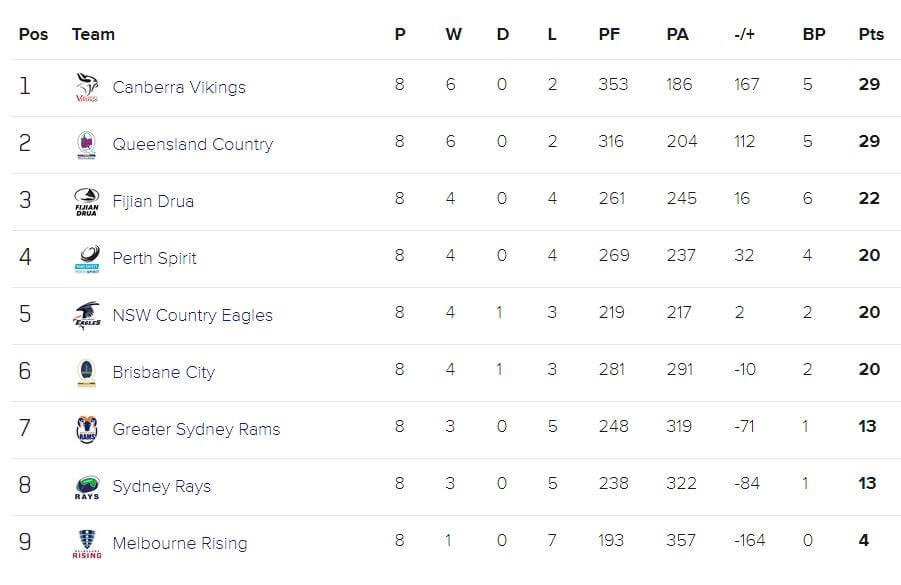 It leaves us with the reigning premiers (Perth) taking on the Minor Premiers (Canberra) in one semi final and a couple of NRC Final rookies facing off in the other. It'd be hard to argue any other team deserved to feature in the finals ahead of these four, so bring on the weekend and a couple of outstanding games of rugby.
Canberra Vikings v Perth Spirit (Live on Fox Sports)
Saturday 4 November at Viking Park (Canberra). Kick-off 7:00pm (local time)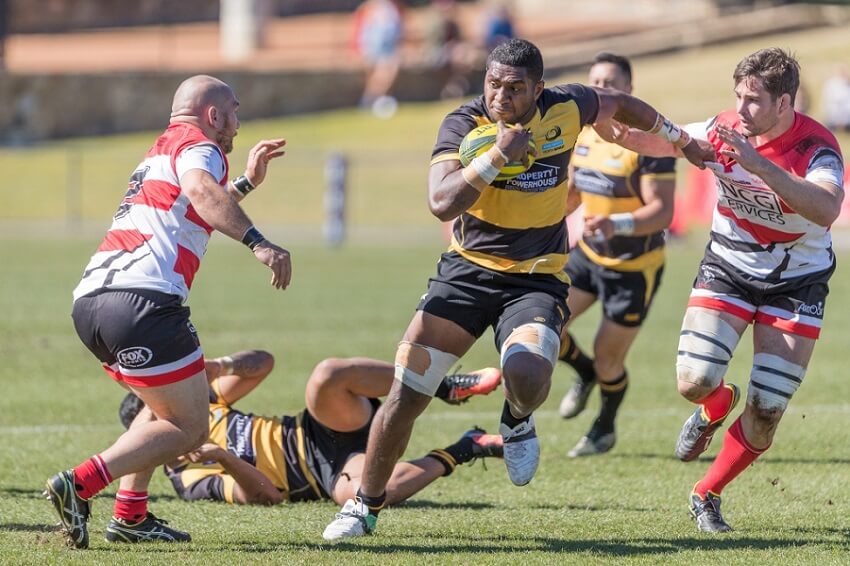 Reasons not the miss the match:
These two teams faced off, in the same venue, way back in Round 2 and it was a belter of a match. You can check out the match review of the game here and there are some highlights below. This match was unique for the physical forward battle that monopolised it. It was a wonderful battle with the matchup between Isi Naisarani and Rob Valetini particularly enthralling. In the end, when the draw looked inevitable, James Dargaville broke the line to send Andrew Robinson away for the winning try. It was a game deserving of a sequel and here we are.
In my eyes Tom Banks is the most notable omission from the Wallaby squad. His form for QLD Country last year, the Brumbies, the Vikings and then the Barbarians last week seem deserving of a shot at the next level, particularly with Israel Folau being rested and Kurtley Beale comfortable at 12. As it stands, Banks knows he's in contention having trained with the Wallabies this year and a big performance in finals footy is always a good statement to make to the powers to be. He's the game breaker that the Spirit will be most wary of.
It took a penalty after the siren, and two results going their way on Saturday, for the Perth Spirit to claim an unlikely finals spot. Runners-up in 2014 and Premiers last year, these Perth lads take travelling across the country in the stride and they will take a huge lift from their win last weekend against Queensland Country featuring a team of substantially club players. They won the title from third spot last year, and will have to do it from one spot down this year. But, again, with everything that's gone on in WA Rugby this year, it just wouldn't surprise if they can string their Cinderella story along just two more weeks.
Form:
Vikings: W – W- L – L – W – W – W – B – W
Perth Spirit – W – L – W – L – W – B – L – L – W
Last time they played:
Canberra Vikings:
1. Faalelei Sione 2. Folau Faingaa 3. Les Leuluaialii-Makin, 4. Dean Oakman-Hunt 5. Darcy Swain 6. Rob Valetini 7. Tom Cusack [c] 8. Lolo Fakaosiliea 9. Ryan Lonergan 10. Wharenui Hawera 11. Andrew Muirhead 12. James Dargaville 13. Len Ikitau 14. Ben Johnston 15. Tom Banks
16. Robbie Abel 17. Harry Lloyd 18. Max Bode 19. Michael Oakman-Hunt 20. Angus Allen 21. Pedro Rolando 22. Liam Moseley 23. Lausii Taliauli
Perth Spirit:
1. Pek Cowan, 2. Anuru Rangi [c], 3. Shambeckler Vui, 4.Richie Arnold, 5. Ben Grant, 6. Tevin Ferris, 7. Kane Koteka, 8. Isi Naisarani, 9. Ian Prior, 10.Peter Grant, 11. Brendan Owen, 12. Louie David, 13. James Verity-Amm, 14. Marcel Brache, 15. Nick Jooste
16. Samo Malolo, 17. Beau King, 18. Baxter King, 19. Matt O'Brien, 20. Michael Hardwick, 21. Michael McDonald, 22. Jordan Luke, 23. Clay Uyen
Tip: This will be another epic forward battle with the Vikings backs probably the difference. Canberra by 4.
---
Queensland Country v Fiji Drua (Live on Fox Sports)
Sunday 5 November at Clive Berghofer Stadium (Toowoomba). Kick-off 2:00pm (local time)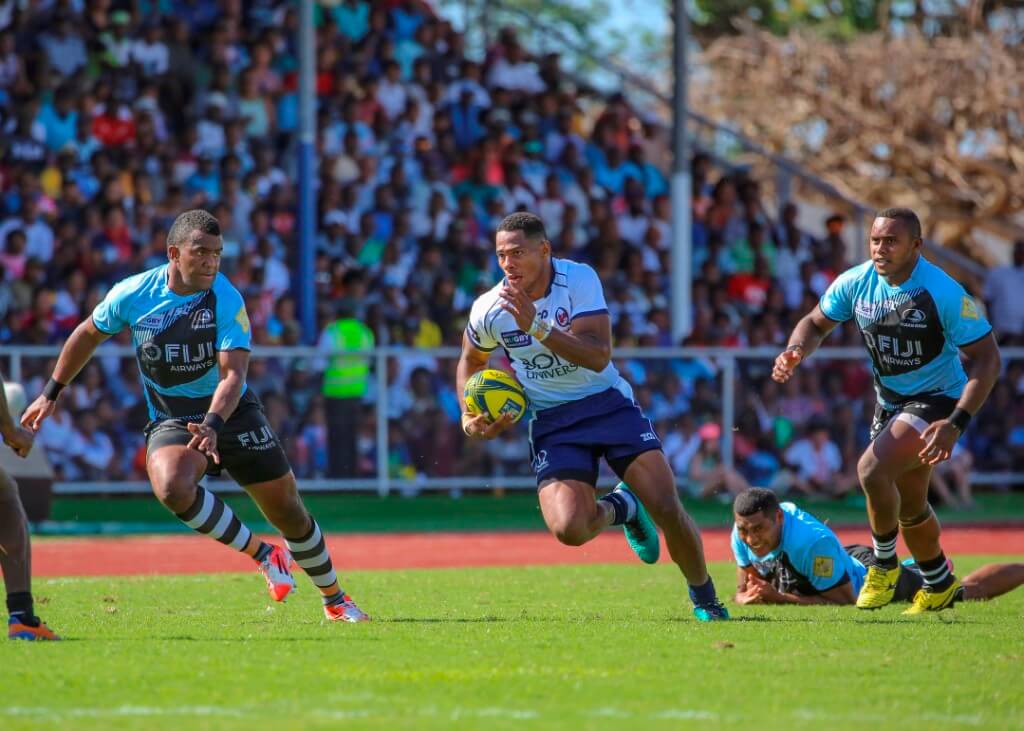 Reasons not the miss the match:
It's only been a couple of weeks since these teams last played each other and it was QLD Country coming out on top in an historic win. The match report is here but Queenslanders were the first team to defeat the Drua in Fiji, a feat assisted by some terrible disciple by the Fijians. The penalty count was 18-5 in Country's favour as the Drua also had three players yellow carded. It's the number one focus for the Drua this weekend as if they can avoid the momentum killing penalties and keep all 15 players on the field, then they have every chance of winning through to the Grand Final next weekend.
Will QLD Country bounce back from the win they should have had last week? Despite being undermanned, they let a strong first half lead disappear against an even more under strength Spirit team. It's potentially cost them a chance to host the Grand Final, despite playing at home this weekend. One thing coach Brad Thorn is able to deliver though, and that's a damn good bounce back performance. After a loss to Canberra in the first game of the season, they bounced back with their first ever win against Brisbane City. After fumbling to an all-too-tight win over the Eagles in Round 6, they bounced back with a massive score against the Rays.  They now have to do it again in Toowoomba this weekend if they want to ensure this season reaches its true potential.
Will we see this Fiji side turn the tide of the back half of their season? After a first round loss to Brisbane, which showed some promise, the Drua were sensational for the next three games in playing some electric rugby to score wins over the Rising (in Melbourne), the Eagles (in Sigatoka) and the Spirit (in Suva). But things went off the rails. They were annihilated by an incredible Vikings outfit in Canberra before being pushed by a Rams team missing most of its stars. Two home losses to Queensland Country and then the struggling Rays threatened to end their season prematurely. As it stands they managed to sneak into the top 4 and are still in with a chance. They'll have to do it without some of their key stars currently off with the Fijian national team.
Form:
QLD Country:  L – W – B – W – W  – W – W – W – L
Fiji Drua: L – W -W – W – L – W – B – L – L
Last time they played:
Fiji Drua:
1 Eroni Mawi, 2. Vesi Rarawa, 3. Kalivate Tawake, 4. Mataiasi Ucutabua, 5. Peni Naulago, 6. Samuela Saqiwa, 7. Vaikali Mudu, 8. Peni Raidre, 9. Seru Cuvuilati, 10. Kini Douglas, 11. Apete Daveta, 12. Cyril Reece, 13. John Stewart [c], 14. Eroni Sau, 15. Apisalome Waqatabu
16. Semi Keli, 17. Osea Naganilau, 18. Samuela Newa, 19. Filimoni Seru, 20. Sakiusa Nadruku, 21. Sakiusa Gavidi  , 22. Meli Nakarawa, 23. Ifereimi Tovilevu
Queensland Country:
1 James Slipper, 2 Alex Mafi, 3, Taniela Tupou, 4 Angus Blyth, 5 Harry Hockings, 6 Angus Scott-Young, 7 Tai Ford, 8 Caleb Timu, 9 James Tuttle, 10 Hamish Stewart, 11 Eto Nabuli, 12 Duncan Paia'aua [c], 13 Chris Feauai-Sautia, 14 Filipo Daugunu, 15 Patrick James
16 Alex Casey, 17 Richie Asiata, 18 Gareth Ryan, 19, Phil Potgieter 20 Ted Postal, 21 Tate McDermott, 22 Tony Hunt, 23 Teti T
Tip: This'll be dependent on with Drua team turns up but I am backing Country's 'bouncebackability'. QLD Country by 9