A few months ago, I wrote that the Wallabies' pre-World Cup preparation was far from ideal. A new coach with new systems. Coaching staff still unclear. Best team still unknown. Lots to sort out. And time was very, very short. Most rivals had been sorting through the options, weighing up different ideas, since 2011.
Above all, I therefore suggested, the compressed preparation would be about answering questions. How many of these questions would be answered? Would the five pre-World Cup games remove at least some unknowns, allowing the coaches to focus on the few outstanding areas? Ultimately, I suspected that there just wasn't enough time: there would be too much uncertainty for the players to develop confidence in each other and their brand new team structures.
The great news for Australian rugby – the superb results aside – is that many of these questions have indeed been answered. It is incredible how much has been worked out in a short space of time.
So let's review the areas where clarity has emerged in place of opacity.
Can the Wallabies front up at the scrum?
For a World Cup played in autumn, in the UK, with England and Wales as guaranteed opponents and (hopefully) more like-styled teams to come after that, you have to scrum well. Have to. Not negotiable.
But even a few months ago it was unclear whether we'd have the personnel to do so at test level. Now, all four of the guys who have been given the opportunity – Sekope Kepu and Greg Holmes in the 3 shirt, James Slipper and Scott Sio in the 1 – can do what is required at the top level.
Holmes and Sio in particular were really untested at international level (Holmes since the pre-smart phone days, at least). Both were both given a starting audition and excelled, showing that, should injuries strike, they can step up to the plate. Moreover, both have looked more than useful in the loose too, putting in some good runs, clean outs, and tackles.
As for the other contenders, the two Ben(n)s are gone. We are never ever getting back together.
Who is going to direct the team around the park?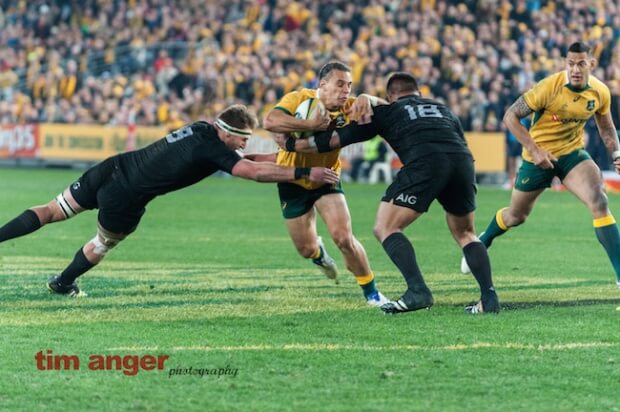 Just over a month ago, all of the following had a legitimate claim to be among the best 10 and 12 on offer: Quade Cooper, Matt Giteau, Kurtley Beale, Bernard Foley, Matt Toomua, Christian Lealiifano. Have I left somebody out? Not you, Karmichael.
It is now crystal clear that our best combination for now is Toomua and Giteau, with the latter kicking the goals. No defensive liabilities to hide there. Left foot, right foot combination. Experience. Interchangeable at first receiver. Good in contact. Like to take the line on. Dependable, with low error rates.
This is our best combo. That alone is worth cheering.
Where did Australia's locks go?
The picture at lock was just as murky. Was Rory Arnold going to zoom into contention as a big, rangy lineout machine? Adam Coleman? Why not Luke Jones? Was including James Horwill in the squad anything but blind hope, given his two red cards and awful form this year? Dean Mumm—what?
Again, lots of answers here now. Horwill and Mumm both had great bench cameos against the Boks and the Pumas respectively, and followed it up with great showings against the All Blacks. Both got through a tower of work.
My favourite stat from the weekend? Somehow, James Horwill tackled Julian Savea no fewer than six times. With no misses. Way to man-mark from those kick-offs, Kev. But who would have thought a few weeks ago that of all people Dean Mumm and James Horwill would look likely for the World Cup? Nobody.
The other issue is the lineout. Could it work with Will Skelton? The All Blacks had the lineout under all sorts of pressure on the weekend, stealing two and forcing an overthrow. Easy to point the finger at the Pooper or Simmons' absence. But if we look more carefully at the tape, a clear pattern emerges. Whenever the call was for a one-action plays – where the Wallabies relied on simply getting their jumper up quicker than his marker – the ABs read it like a book and the pressure was on. Whenever the called play involved a feint or a deception, it was good, clean ball.
In sum, the Wallabies just weren't ambitious enough with their calls. A review of the tape from the Boks match is a good counterpoint here: with Rob Simmons calling a series of feint plays, the Boks lineout never even gets close to the Aussie ball. We might not need Simmons calling the plays necessarily, but we do need to call more sophisticated plays.
The obvious outlying question is whether Skelton and the Pooper can fit into the one back five, with a lineout dependent on only two primary jumpers. That remains to be seen (see below).
What combination can work in the backrow?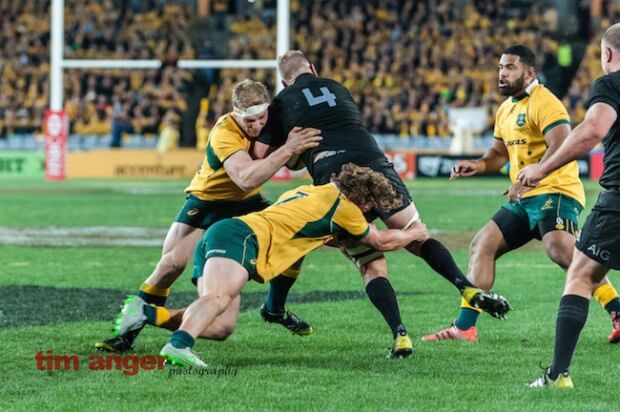 Just over a month ago, there was a lot of doubt over whether Michael Hooper and David Pocock could start together. Each starred against SA and Argentina. It became obvious that they have to play together. They have now done so, and how. Question answered.
At 8, Scott Higginbotham got first crack at the job and fluffed it badly. He got hooked against the Springboks, there's no other word for it. Now, you wouldn't bet on him being on the plane to the UK without a spate of injuries. It  looks much more likely that, if fit, Fardy, McCalman, Palu, Hooper, and Pocock will go, with Dean Mumm providing cover at 6.
It belabours the obvious, but a happy camp is an effective camp. And when selections effectively make themselves, it minimises the tough calls that the coach has to make.
Who is going to be the captain?
Again, just over a month ago, this was far from certain. Now, it seems odd we were ever asking. True, Stephen Moore gave away a couple of unnecessary penalties on the weekend. But he communicated superbly with the referee, engaging the sir's attention for long periods and bringing up the team's grievances clearly. Concerns dispelled.
What do we still need to know?
In addition to the Skelton-Pooper issue, the following remain the most important questions that Cheika will want answers to before the Wallabies run onto Twickenham:
Is the scrum (and the lineout) stronger without Will Skelton? Is that enough to relegate the Mountain to a bench role?
For all the 80 minute conditioning programme, is Skelton still, in fact, more effective coming off the bench, using his footwork and size against tired defences?
Is there a role for Kane Douglas? Or has the big enforcer left his run back to Australia too late?
What is going on with the wing spots? AAC is a lock. But three matches; three left wingers tried (Rob Horne, Joe Tomane, Drew Mitchell). Is Henry Speight going to get a chance to audition too? (NB. He should, he's a gun.)
Did the new idea of having Israel Folau fill in periodically at first receiver against the All Blacks help us, or did it only confuse Nick Phipps?
Will Phipps' old-fashioned shocker be written off as a once-off, or is there a major liability underpinning it all that will force the coaches to look at Nic White and Will Genia anew?
Can we successfully tackle the temptation to go too wide too early, instead keeping the 10 flat to the line and hitting forwards running unders lines to compress the defence? This worked beautifully in the second half against the All Blacks.
How is Wycliff Palu going to fit into this team given he hasn't played 80 minutes all season? In many ways, World Cup rugby is about reducing risk. Is Palu an unnecessary gamble?
What have you got?