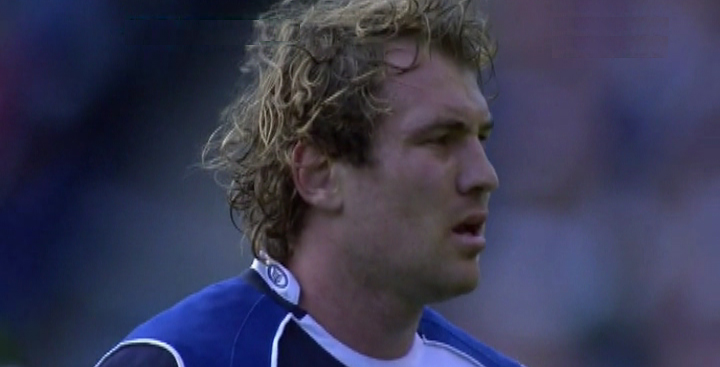 After the Heineken Cup Final in 2009 Brian O'Driscoll said Rocky Elsom was the best player he'd ever played with.  During his time in Ireland playing for Leinster the Irish crowds chanted 'Rocky, Rocky, Rocky'.
Back home we looked forward to his return to the Wallabies and most people agreed he was one of the few Wallaby players that would be selected in a World XV.
Two years later he's just lost the captaincy of the Wallabies and opinions on whether he should be in the starting side are divided. Some argue that he hasn't been the player he was ever since he returned form his playing stint in Ireland. In his defence others argue that once he regains some match fitness he'll show everyone that he's still a world class player.
Whilst he's signed a contract with the ARU, there are reports that none of the Australian Super Rugby franchises want him on their playing roster. There are rumours that he was behind the troubles with the Brumbies this year and before that in 2009 when considering joining the Reds he told them it was his way or the highway when it came to what changes he wanted made.
If we leave the debate behind on Rocky as captain, let's turn to what we expect from Rocky on-field. There have been complaints that he doesn't do enough work and that he plays too wide. My statistics for the Tri Nations games played by the Wallabies so far in 2011 show that Rocky is doing a lot more than most people give him credit for and my analysis on the Wallaby back-rowers showed that he has been playing quite close to the ball except when there is a genuine opportunity out wide.
For this article I decided to take a look at Rocky's ball running. I remember a powerful ball runner who was very damaging with ball in hand in 2008 and 2009. In the accompanying video I've included some examples of his ball running in 2008–09 for the Wallabies and for Leinster in the Heineken Cup final and so far in 2011 for the Wallabies.
Is the way he's running the ball now any different to what it used to be? It appears that there's not much difference in Rocky's style pre-Ireland and in 2011. He may be a little slower but even that's debatable.
The only difference that is really apparent (and this may be the answer to all the conjecture) is his hair. Maybe Rocky's like Samson and should let his hair grow again to regain his powers!
I believe that a fit Rocky Elsom is still a huge asset for the Wallabies and that being relieved of the captaincy will help his game.
[youtube width="600″ height="450″]http://www.youtube.com/watch?v=c0w07nent4g[/youtube]