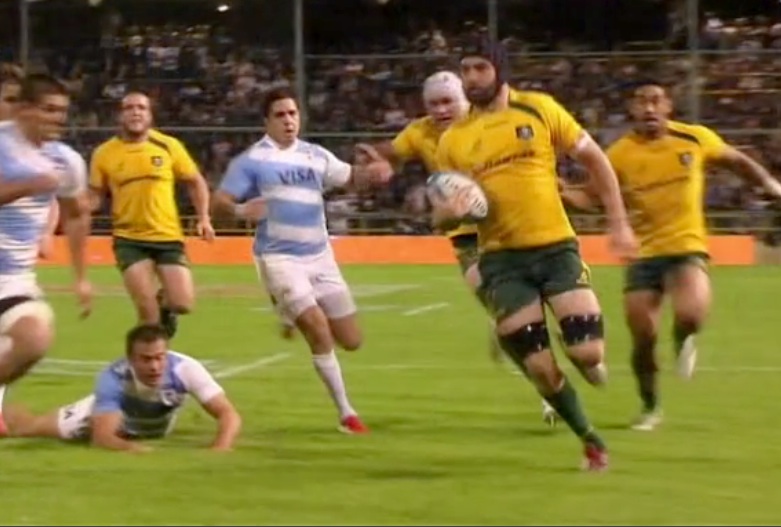 Here are a few video analysis notes from the Wallabies' Test against Argentina in Rosario last weekend.
1. Defence
In phase play the Wallabies are dropping three men back – Genia, Folau and the openside winger, who is staying deep until late. The All Blacks use this structure, but the Springboks tend to get their wingers flat into the line earlier.
To make it work the inside defence needs to realign fast and drift accurately. This isn't happening for the Wallabies and we're seeing wingers – like Joe Tomane –   getting caught in no-man's land. When it comes to kick-chase and kick returns, the Wallabies are dropping up to five men back, which is a lot! This is leaving big gaps for forwards to cover, and if the opposition doesn't return the kick but runs instead, we're seeing carnage.
So why are we doing it? A few reasons I can think of:
On kick returns it creates an attacking opportunity

The opposition has been out-playing the Wallabies for territory this series. Cutting down the space for kicking helps to nullify this game

The more men back helping Izzy with tackling and positioning at the moment, the better
2. Tevita Kuridrani
As Bob Dwyer says – he's got a few rough edges, but the basics of what he does are what the Wallabies have been missing: dominant spot tackles and getting over the gainline with ball in hand. The more time he gets, the better he looks
3. Scott Fardy
We all love him, but wait till you see what he does in a seven-man scrum against the Argies. Just perhaps he could be a lock option?
4. Quade Cooper
He showed us some silky skills on Sunday morning, but it's these two decisions NOT to do something that show his improvement
5. Simmo
There's been some conjecture that he was actually just standing his ground when Contemponi ran into him. Here's the tape