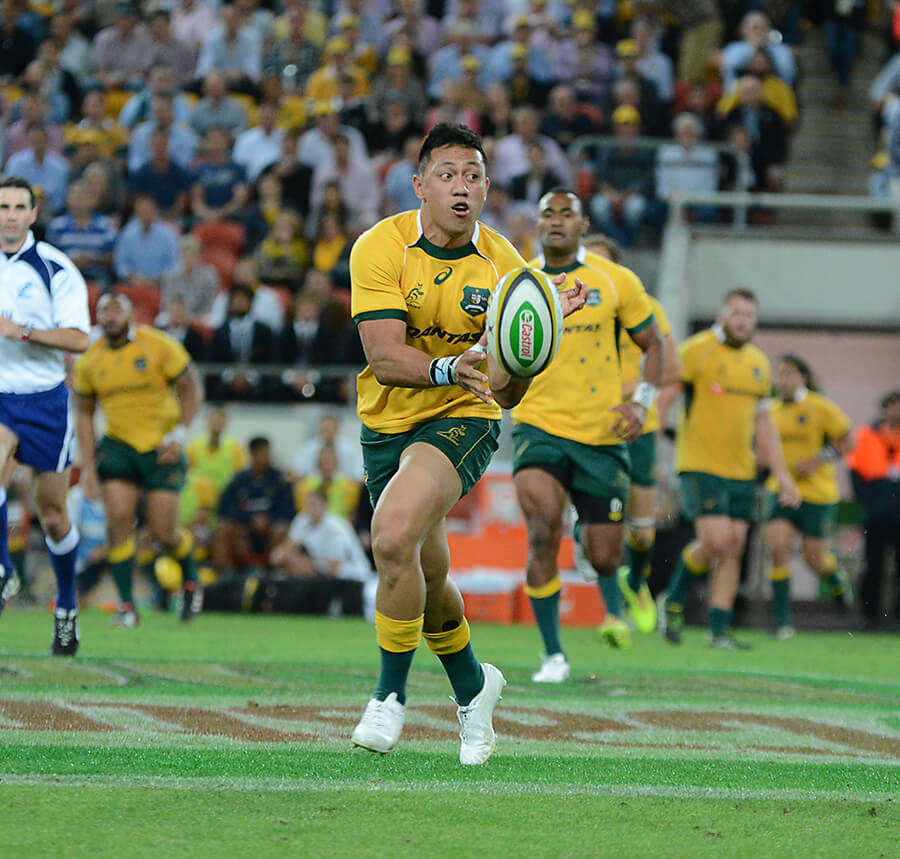 It's easy to forget that until this Saturday Australia were ranked 3rd in the world. Yeah, their form has been very up and down and they've taken a lot of stick over the last few months, some of it rightly so but they've still been top 3, beaten both Argentina and South Africa and destroyed France at home.
I can't deny that at times they've looked all at sea on the pitch but lets be honest, as with their try against Argentina, when they've found their rhythm they've actually played some pretty awesome Rugby and there isn't a team in the Northern Hemisphere that is taking them lightly ahead of the End of Year Tours.
That's not to say there haven't been big issues and of course it's frustrating that the good play has been in small bursts but when it's been on, it's been brilliant, and I thought it'd be good to focus in on something really positive from their heartbreaking loss on Saturday to illustrate this. So I thought I'd do an Anatomy of a Try for the Phipps score.
It all looks so simple, a great break, bit of recycling and a try, but this sequence literally has everything you could hope for in it. Great back play, a phase game that absolutely dismantles the All Black transition defence and poise and calm that leads to a great team score.
It might seem pretty ballsy to run a set play on your own 22, but you know the defence is a bit more relaxed, you know the back three will be sitting deep and, as we've seen all year from the All Blacks, you know they will drift.
So it's a great call to run a slice. A slice is 12/13 switches once the ball is in play and the 10 either hits 13 short, 12 wide or 14 on the slide behind 13. It's a move that isolates the 10, by flooding his channel. If the defence is man on you normally have the defending 12 step into help 10, leaving 13 isolated by the attacking 12 and 15, but the Wallabies know Fekitoa is inexperienced and read him perfectly as he drifts out. Lealiifano is drifting wide as he wants to pull him there. If he doesn't come Lealiifano has the outside break, if he does then he has the cut back.
I'm a big fan of Lealiifano and i'm glad to see him back in the 12 shirt. He's a very complete player, he tackles his weight, is an outstanding distributor and is aggressive on the carry when he has to be. He's also deceptively quick, just watch how he eats up the yards once he's made that break. He's almost the complete opposite of Toomua, who I felt has looked a bit lost and unfit during the tail end of the Championship.
When we get to the other end of the pitch we see players make a couple of marginal decisions that might have gone the other way but on the whole everyone up's the ante and makes sure they leave the All Black red zone with their prize.
Notable in all of this is the aggression in the Australian ball carrying and clearing, be it forwards or backs – Cooper clearing out McCaw and Kuridrani sorting out Read. Also noticeable is Fainga'a smashing both Whitelock and McCaw on separate occasions clearing them a good meter or two behind the ruck.
As an Englishman I can honestly say I'm not convinced any of the NH teams have the ability to play at that pace and intensity for a full 80 minutes, it was on a level I feel we've not seen this year in international Rugby and i think Australia can expect a reasonable return from the upcoming games.
It's the type of rugby everyone has been wanting from the Wallabies, and it's a great starting point for them moving towards the End of Year tests. Yeah there are issues, both on and off the field but this is a team with some genuinely world class backs, and others coming back from injury. There is a whole year to get the correct structures in place.