Thursdays Rugby News sees DHP sticking around, The Reds head to New Zealand, The title of "Dirtiest bloke in New Zealand Rugby", and Michael O'Connor officially announced as third selector.
---
DHP COMMITS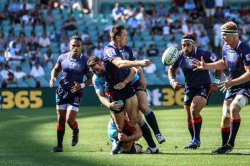 Melbourne Rebels captain Dane Haylett-Petty has broken the exodus trend and committed to Australian Rugby and the Melbourne Rebels until the end of 2021.
Haylett-Petty broke the news on Melbourne radio station SEN 1116 during an interview promoting rugby in Melbourne.
"I've really enjoyed my time in Melbourne since arriving last year," stated Haylett-Petty.
"This environment has really helped me develop as a player on the field, and as a leader off the field.
"The intensity that we bring to training, the level of competition that exists within the clubhouse – everything we do here is geared towards to making us the best possible version of ourselves.
"I wanted to do what was best for my development as a rugby player, and that was to stay here in Australia and to continue my journey here at the Rebels and Wallabies."
The 29 year old full back has played 31 test for the Wallabies, and will play an important part of the team heading into the World Cup later this year. Right now though, DHP is focused squarely on the Super Rugby season a head.
"There's a special feeling around the Club at the moment. Just missing out on finals in 2018 really re-focused us as a group.
"You can feel it in every team meeting, every field session, every review; there's a desire there to get better with everything we do."
Rebels Coach Dave Wessels was happy with DHP signing one, saying  "I've been lucky enough to know Dane for a long time now. He's a good man and works very hard to be the best he can be both on and off-field.
"We feel like we've got some really good people on the boat now and our goal is to keep this group together for the long term. Dane's re-commitment is a big step in this process."
DHP isn't the only Rebel to recently recommit to the Melbourne club, with Dave Wessels also extending his contract to 2021.
Wallabies coach Michael Cheika said in a statement.
"Dane is a real competitor and has quickly stepped up to the standard of Test footy,"
"The outside backs are a really competitive position in our side and Dane often leads the way in how he prepares during the week and his commitment during games on the weekend.
"He's had that experience overseas which has helped mature him as a footballer and I know how desperate he is to have a big part to play in the World Cup later this year."
REDS HEAD TO DUNEDIN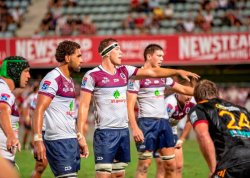 Brad Thorn has opted to go with a Samu Kerevi Jordan Petaia combination in the centres against the Highlanders as he begins to solve the puzzle of his best combination at 12 and 13.
Captain Kerevi has moved to inside centre, pushing Duncan Paia'aua to the bench, and brings youngster Petaia in to 13 and pushes Chris Feauai-Sautia to the wing.
There was a chance of seeing a monster centre combination in Kerevi and Feauai-Sautia, but Thorn has rewarded Petaia's efforts and hoping to see some of his flair rather than strength in the midfield.
Former Rebels Sefa Niavalu and Byrce Hegarty (also former Tah) will make their debuts in the maroon jersey on the wing and at full back respectively.
Souths prop Feao Fotuaika, who has made a massive transformation over the preseason has been rewarded with a start against the Highlanders.
Backrower Fraser McReight and back Isaac Lucas could also make their Super Rugby debuts after being named on the bench.
Meanwhile, the Highlanders have namedAll Blacks stars Waisake Naholo and Aaron Smith to the starting team that now boasts four All Blacks. 
There are five changes to the Highlanders starting team that beat the Chiefs with just 14 men, with flankers Shannon Frizell and Dillon Hunt added to the starting forward pack.
Teihorangi Walden will replace Thomas Umaga-Jensen at inside centre to round out the changes for the home side.
1. Feao Fotuaika 2. Brandon Paenga-Amosa 3. Taniela Tupou 4. Izack Rodda (vc) 5. Lukhan Salakaia-Loto 6. Angus Scott-Young 7. Liam Wright 8. Caleb Timu 9. Moses Sorovi 10. Hamish Stewart 11. Sefa Naivalu 12. Samu Kerevi © 13. Jordan Petaia 14. Chris Feauai-Sautia 15. Bryce Hegarty
Reserves
16. Alex Mafi 17. Harry Hoopert 18. Ruan Smith 19. Harry Hockings 20. Fraser McReigh 21. Tate McDermott 22. Duncan Paia'aua 23. Isaac Lucas
Highlanders
1. Ayden Johnstone 2. Liam Coltman 3. Tyrel Lomax 4. Jackson Hemopo 5. Josh Dickson 6. Shannon Frizell 7. Dillon Hunt 8. Luke Whitelock (cc) 9. Aaron Smith 10. Josh Ioane 11. Tevita Li 12. Teihorangi Walden 13. Rob Thompson 14. Waisake Naholo 15. Ben Smith (cc)
Reserves
16. Ash Dixon 17. Daniel Lienert-Brown 18. Siate Tokolahi 19. Jack Whetton 20. Marino Mikaele Tu'u 21. Kayne Hammington 22. Marty Banks 23. Matt Faddes
THE DIRTIEST BLOKE IN NZ RUGBY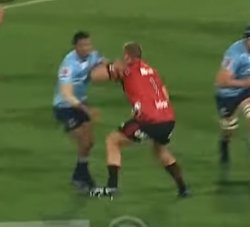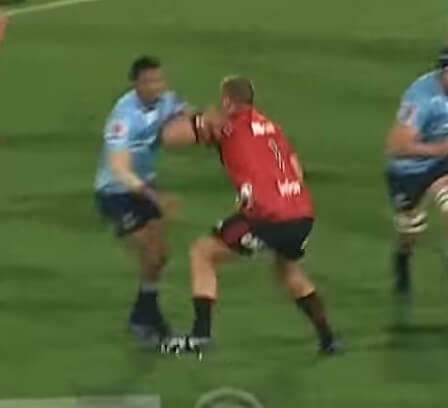 The title of the article would allude some to think it was written by an Australian, and there would be plenty of names that would come to mind for the title of "dirtiest bloke in New Zealand rugby", but in fact the original article, posted in the NZ Herald takes aim at the referees inability to stand up to the Crusaders.
Author Chris Rattue, also dubs Joe Moody the dirtiest bloke in New Zealand Rugby.
Rattue tells of how watching the match at Eden Park reminded him of watching Sean Fitzpatrick play back in the day. A man whose gravitas helped him "rule the roost" of the field he was on.
The only problem was the boot was on the other foot, and it was the Crusaders who got away with murder at Eden park.
Rattue even compares the penally tries to that of a match between Fiji and the All Blacks: "If it had been Fiji on attack against the All Blacks at Eden Park, involving the exact same scenarios, both those tries would very likely not have been given. We all know that."
The article highlights many cases of unfair, un-sportsman like, and even cynical acts of play that should have been penalised that ultimately were ignored, along with bizarre decisions that all went the way of the men from Christchurch.
He finishes his article with a simple message
"Message to referees: Don't let the Crusaders take the whistle out of your mouth. The Crusaders are good enough already. They don't need your help."
The article highlights a subconscious favouritism shown towards champions, and every supporter of the opposition will tell you how said champions had the 'rub of the green' so to speak. 
What makes this more interesting is that as a kiwi, Rattue had highlight a bias towards the Crusaders, a championship New Zealand team, getting away with cynical play. Many at home and abroad would agree. 
Though when someone highlights that the All Blacks get similar treatment from match officials, we are treated with a James Franco like response of "they hate us because they ain't us." But is the reputation of power around NZ Rugby influencing officials?
Will this be a turning point for officials to acknowledge there is a difference between flirting with the line and breaking the line when it comes to teams playing against New Zealand?
O'CONNOR OFFICALLY BACK IN AUS RUGBY
It was covered in Tuesdays News that former Wallaby player and Sevens coach Michael O'Connor was expected to be announced as part of the new Wallabies selection committee, as the independent selector.
On Wednesday Rugby Australia made the announcement official, Michael O'Connor is back in the Australian Rugby fold.
O'Connor was a 12 cap Wallaby, who went on to achieve success in Rugby League, has worked in talent identification and coaching, playing a big part in growing Australian Mens Sevens, working with the likes of James O'Connor, Bernard Foley, Nick Cummins, Nick Phipps, Pat McCabe, Tevita Kuridrani, Lachie Turner and Liam Gill over the years.
He previously served as the independent Wallaby selector under John Connolly in 2006-07.
Rugby Australia CEO Raelene Castle said that RA interviewed many potential candidates but it was O'Connor's experience and philosophy around selection that ultimately won him the role.
"We interviewed a number of quality candidates for the role and it was Michael's approach and philosophy around selection that really stood out." Castle said
"He brings to the table immense experience in talent identification as well as the perspective of having played at the highest levels and coached at international level and has performed a similar role for the Wallabies in the past.
"We believe Michael's skills will compliment the skills of both Michael Cheika and Scott Johnson and create a very open and challenging selection environment in an important year for the Wallabies."
As part of the announcement O'Connor made the following statement about returning to the Wallabies fold.
"I've gained a lot of different perspectives in over 20 years of involvement in Rugby at a local, national and international level and I feel privileged to be able to take on this role as a national selector. I've got a great passion for the Wallabies and I'm not taking this opportunity lightly, it's a huge honour.
"I'm very much looking forward to working with Michael Cheika and Scott Johnson. I have worked with Johnno before with the Wallabies back in 2007 and while I haven't worked with Michael previously I have followed his teams very closely throughout the years and I think I've got a very good understanding of how he likes his team to play.
"The most important thing in this role is understanding what the Head Coach is looking for, the way he wants to play and then finding the players that fit into that framework and having that discussion.
"I'm sure there will be some different ideas and perspectives thrown into the mix and at the end of the day, we all just want to see the Wallabies be successful."
He took part in a longer interview with RUGBY.com.au that takes a deeper look at his insights, his beliefs around selection and even some of his ideas around combinations.